Seadrill Partners Facing Tough Seas Ahead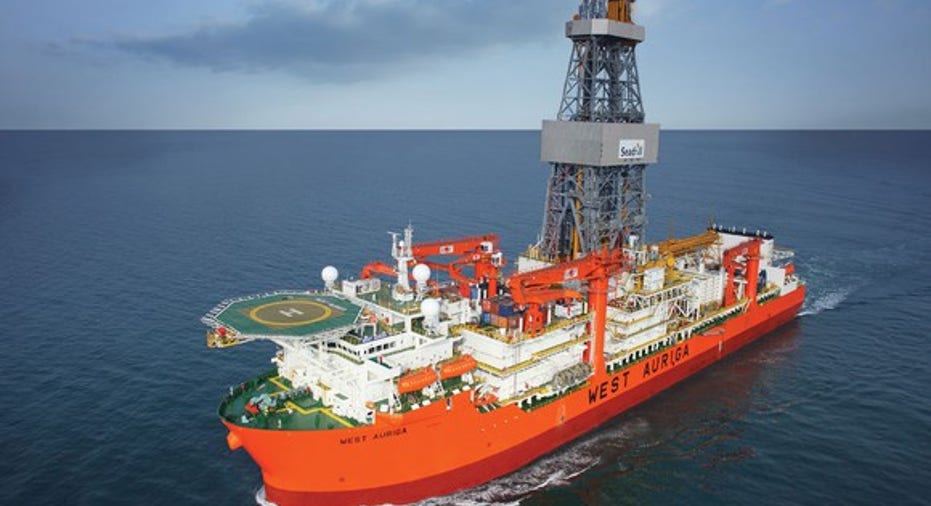 IMAGE SOURCE: seadrill corporate website
Offshore drilling, by its very nature, is a capital- and debt-intensive operation. For that reason, oil producers in the midst of low-price oil will first turn to more economically viable options such as proven land-based reserves. This leaves offshore drilling providers, such as Seadrill Partners , in the unenviable position of staying afloat until higher prices once again drive an increase in offshore investments.
Granted, Seadrill Partners does have some promising financial indicators, but here's why 2016 will be incredibly challenging for the company and, therefore, a risky bet for investors.
Little offshore demand
Seadrill Partnersowns and operates offshore drilling units, enabling oil producers to tap hard-to-reach oil reserves deep beneath the ocean floor. In a downturn, oil producers will frequently cancel or suspend these operations, opting to rely on more cost-efficient and lucrative operations. The suspended contracts have left the current U.S. offshore rig count in operation at a measly 21, down six from a year earlier. The active onshore rig count, though, which also dropped over the past year, is slowly increasing as oil prices climb above $50 per barrel. Since oil producers will first turn to the cost-effective onshore drilling, it's reasonable to expect oil producers to return to offshore operations if oil prices continue to recover. For the time being, though, this is far from a guarantee.
Even Seadrill's leadership expects production to remain low for the remainder of the year. In its first-quarter report, the company describes the offshore market as "challenging." The report continues by saying, "Customers' focus in 2016 and 2017 will remain onstrengthening the balance sheet. Oil companies continue to cut activity for 2016 and 2017. This will severely affect any new demand and could lead to more contract renegotiations and terminations."
Seadrill Partners, a subsidiary ofSeadrill Limitedfounded in 2012, has no new contracts beginning in the second quarter, and a contract was cancelled in May. Seadrill Partners will receive $125 million from the cancellation, received in equal payments in the second quarters of 2016 and 2017. While this will lead to a short-term bump in revenues, expect a drop once again in the third quarter. The drop is primarily because the company has not been able to replace the lost revenue from early contract terminations and suspensions.In the likely event Seadrill Partners cannot secure any new contracts for 2016, it's $3.6 billion in backlog will fall even further, which is particularly astounding when you realize its backlog climbed as high as $14 billion less than two years ago.
IMAGE SOURCE: SEADRILL PARTNERS FIRST-QUARTER PRESENTATION
Good news on the horizon?
Even with lower revenues, Seadrill Partners is by no means a lost cause. Its first-quarter cash flow from operations stood at $215 million, up from $154 million in the first quarter of 2015. Its positive cash flow has enabled it to increase its cash on hand by $150 million from one year ago, and with less maintenance obligations due to lower demand, I expect it will continue to grow its cash positions through 2016. On top of that, the company has been able to maintain a its dividend payments. This has led to a yield of over 18%, far higher than that of its peers. This sky-high yield looks questionable on the surface, but it is promising that the company feels confident enough in its financials to continue to reward shareholders with quarterly payouts.
It's difficult to find much more good news, though. Seadrill will undoubtedly benefit from higher oil prices, which will push its customers to increase exploratory and capital spending. Until then, Seadrill appears heavily reliant on debt to continue its operations, and the large debt load should be an immediate red flag for investors. As of March 31, Seadrill's debt stood at $3.8 billion, $239 millionof which is short term. With $401 million, the company has plenty of cash on hand to cover these short-term liabilities, but the reduced backlog and no signs of new contracts make long-term debt maturities a daunting challenge.
Investor takeaway
Seadrill Partners will face difficult years in 2016 and 2017. Low market demand, reductions in backlog, and large amounts of debt will weigh heavily on future profits. Positive cash flow and a high yield are promising indicators, but I will likely steer clear of this offshore driller until I see an uptick in customer demands for offshore production.
The article Seadrill Partners Facing Tough Seas Ahead originally appeared on Fool.com.
David Lettis has no position in any stocks mentioned. The Motley Fool has no position in any of the stocks mentioned. Try any of our Foolish newsletter services free for 30 days. We Fools may not all hold the same opinions, but we all believe that considering a diverse range of insights makes us better investors. The Motley Fool has a disclosure policy.
Copyright 1995 - 2016 The Motley Fool, LLC. All rights reserved. The Motley Fool has a disclosure policy.