Seadrill Ltd Stock Up 11% Today: Here's Why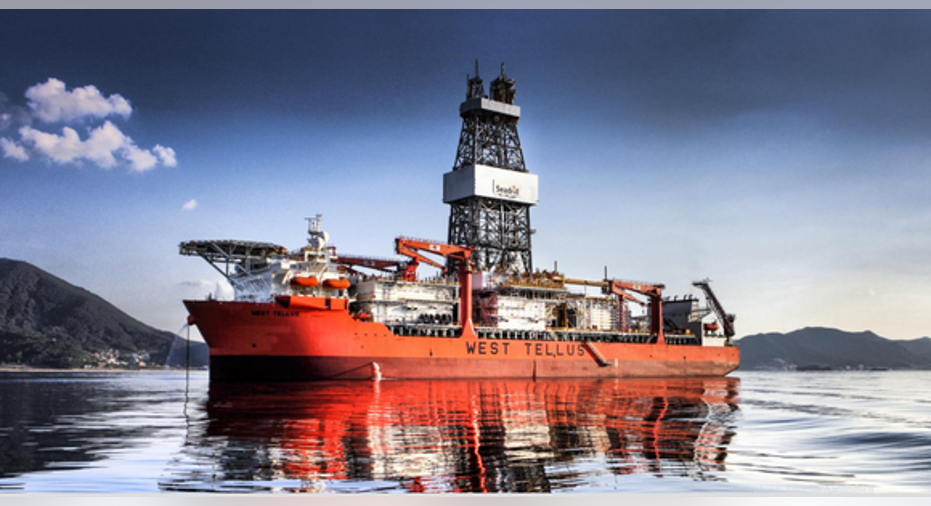 Seadrill will keepWest Tellusunder contract 18 months longer, according to a March announcement. Image source: Seadrill, Ltd.
What: Shares of offshore drillerSeadrill Ltd are up 10.5% at 3:50 p.m. EDT on April 27. That puts the company's stock up about 31% in what has been a very up-and-down 2016 for its shares.
So what: Two things are playing a big role in today's jump. First, oil prices are up again, with West Texas Intermediate up 2.8% and above $45, while the global benchmark Brent is up over 3% to $47.15 at this writing. While that's still far below prices from even 2015, it's a huge jump from late January, when oil bottomed near $26 per barrel.
Second, and much more material to Seadrill than daily oil swings, was the announcement that Seadrill had sold the remaining 8.2% stake it held in SapuraKencana Petroleum for approximately $195 million.
Now what: The bottom line is, oil prices are still likely far below levels where oil companies with offshore prospects are willing to invest in new drilling projects, and that's probably one of the reasons Seadrill sold its stake in SapuraKencana. The company said it will use the proceeds of that sale for general corporate purposes.
Seadrill has managed to reach a couple of agreements in recent months to further help support operations as the offshore downturn plays out. In February, the company signed a new agreement forWest Eclipse that will start in the second quarter, adding $190 million in contracted backlog revenue. More recently, Seadrill extended the contract for drillshipWest Tellus, adding 18 months and $32 million in net backlog. On the downside, the backlog for the existing agreement onWest Telluswill generate $132 million less revenue between next quarter and commencement of the extension.
Bottom line: Seadrill has managed to make deals for some short-term work while the market plays out, but oil prices -- even with steady increases since late January -- are still too low for oil companies to commit to big-money offshore development. Until that changes, the outlook for Seadrill and its offshore drilling competitors remains very uncertain.
The article Seadrill Ltd Stock Up 11% Today: Here's Why originally appeared on Fool.com.
Jason Hall owns shares of Seadrill. The Motley Fool recommends Seadrill. Try any of our Foolish newsletter services free for 30 days. We Fools may not all hold the same opinions, but we all believe that considering a diverse range of insights makes us better investors. The Motley Fool has a disclosure policy.
Copyright 1995 - 2016 The Motley Fool, LLC. All rights reserved. The Motley Fool has a disclosure policy.