Scotiabank Keeps Riding Its Core Banking Business Higher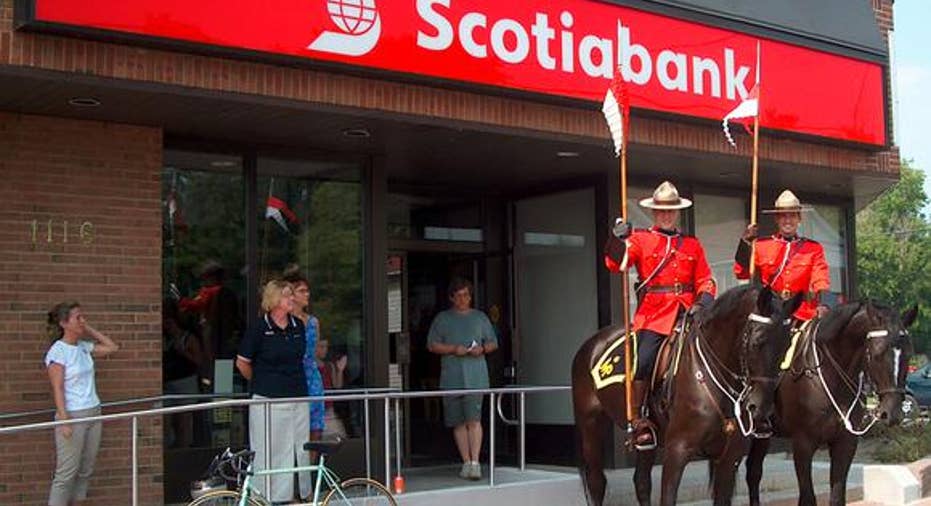 Image: Scotiabank.
Canadian banks have retained a strong reputation that their American counterparts lost during the financial crisis, and Bank of Nova Scotia has taken advantage of its financial health to build up an expanding international business. Coming into Tuesday's fiscal fourth-quarter financial report, ScotiaBank investors wanted to see further evidence that the Canadian banking giant could continue to boost its earnings. At the same time, they also hoped that Scotiabank would drill down on key initiatives and stay financially stable while aiming to grow at a faster rate than Toronto-Dominion and other rivals. The bank did a good job of delivering on its promise, with solid performance in most of its business areas. Let's take a closer look at how Scotiabank did during the quarter and what lies ahead for the Canadian bank in 2016.
Scotiabank keeps scoring bigger gainsScotiabank gave investors much of what they wanted to see from the bank during the fiscal fourth quarter. Total revenue rose nearly 7% to C$6.13 billion, which was substantially slower than the 9% growth that most investors were hoping to see from the Canadian financial institution. Yet on the bottom line, Scotiabank surpassed expectations, with net income climbing 28% to C$1.84 billion. That produced earnings of C$1.45 per share, which was C$0.02 higher than the consensus forecast among investors.
A closer look at Scotiabank's results shows where the company had its greatest success. The key Canadian Banking segment saw net income jump 19% from the year-ago quarter to C$837 million, with gains in both assets and liabilities. On the asset side of the balance sheet, growth in business loans was strongest, with personal loans and residential mortgages also reporting gains. Double-digit percentage gains in checking and savings deposit balances helped bolster the retail banking division, and net interest margins rose thanks to wider spreads in personal lending. International Banking saw even larger gains, with adjusted net income rising by a third. On the other hand, the Global Banking and Markets division saw adjusted net income fall by about a quarter, as U.S. lending, investment banking, and equities slumped compared to year-earlier levels.
Overall, Scotiabank remained healthy. Returns on equity fell slightly but came in at a strong 14.2%, and the bank's Common Equity Tier 1 ratio stayed in double-digit percentages at 10.3%.
CEO Brian Porter expressed his satisfaction at Scotiabank's results. "The Bank continues to perform well given challenging conditions in certain businesses and markets," Porter said, "and we are well-positioned, including throughout the Pacific Alliance countries, for future growth."
What's next for Scotiabank?Porter's plan for Scotiabank in 2016 centers on the bank's long-term strategy toward focusing on customers. As he noted, "in 2016, further investment in technology will continue to digitally transform the Bank [and] position us for even greater growth."
At the same time, though, Scotiabank will have to overcome the challenges that financial institutions are facing in the global financial markets. For instance, in its International Banking segment, Scotiabank noted that economic growth has moderated in key markets, making it more important for the bank to win market share away from competitors. Still, Scotiabank prides itself on having a greater footprint than Toronto-Dominion and other Canadian peers, most of which have stayed closer to home when it comes to tapping into financial markets. Moreover, Scotiabank's foray into Central America and the Caribbean has been encouraging, with the bank's efforts to streamline operations there paying off with better performance in the region.
Scotiabank's commitment to shareholders has also remained solid. The company has boosted its dividend twice this year, and while that has only added 6% to its total payout in Canadian-dollar terms, the yield amounts to more than 4.5%.
Investors didn't react strongly to Scotiabank's latest results, with the stock finishing the day almost unchanged following the announcement. Nevertheless, Scotiabank's results point to the continued resiliency of the Canadian economy despite the poor environment in the commodities markets that fed so much of the nation's growth in recent years. As long as Canada can continue to thrive, Scotiabank will have an opportunity to build on its domestic success and keep extending its reach outward.
The article Scotiabank Keeps Riding Its Core Banking Business Higher originally appeared on Fool.com.
Dan Caplinger has no position in any stocks mentioned. The Motley Fool recommends The Bank of Nova Scotia (USA). Try any of our Foolish newsletter services free for 30 days. We Fools may not all hold the same opinions, but we all believe that considering a diverse range of insights makes us better investors. The Motley Fool has a disclosure policy.
Copyright 1995 - 2015 The Motley Fool, LLC. All rights reserved. The Motley Fool has a disclosure policy.