Saudi King Salman ousts nephew as Crown Prince, installs son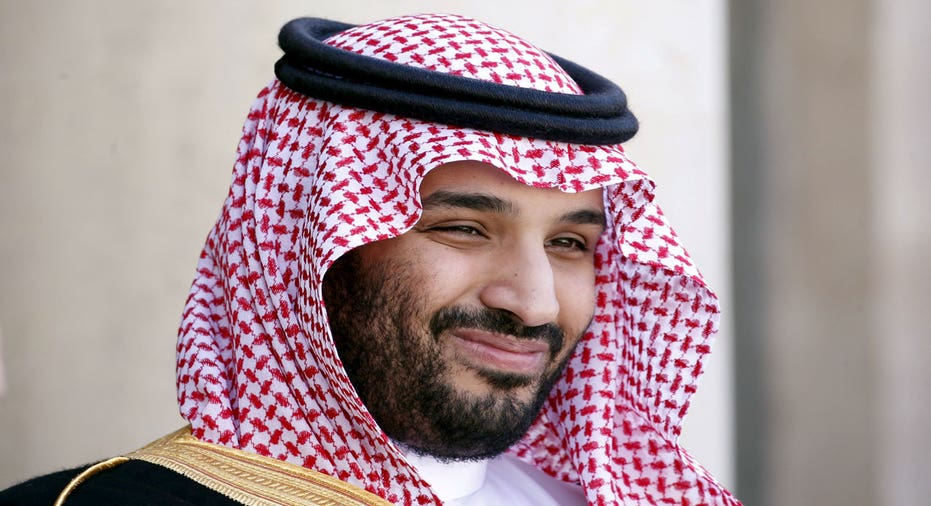 Saudi Arabia's King Salman on Wednesday designated his son as his successor, paving the way for the young, assertive prince to assume the throne at a time when it is facing tumultuous change at home and intensifying rivalries in the Middle East.
The new crown prince, Mohammed bin Salman, is the elderly monarch's 31-year old son and minister of defense. He ascended to the upper reaches of power in the kingdom when his father became king in early 2015. He then set about spearheading an ambitious economic agenda to reduce Saudi Arabia's dependence on oil and carve out a more muscular foreign policy in a volatile region.
He replaces as crown prince Prince Mohammed bin Nayef, a nephew of the king, who was stripped of all his positions, including interior minister. His ouster effectively ends the political career of a royal who was one of Washington's most trusted security partners and was known as the country's counterterrorism czar.
Saudi Arabia's state television broadcast footage of Mohammed bin Nayef pledging allegiance to his successor, in an apparent display of royal unity after the changes announced. The video showed Prince Mohammed bin Salman kneeling down and kissing the hands of Mohammed bin Nayef, who told his cousin: "May God help you."
A senior Saudi official at the royal court said the change of succession was endorsed by 31 out of 34 members of the Allegiance Council, a group of senior princes who advise the king on matters of succession.
By appointing his own son as his designated successor, the 81-year old King Salman upends decades of royal tradition. Since the reign of King Abdulaziz Ibn Saud, the founder of the modern Saudi state who came to power in 1932, the throne has passed from brother to brother among his sons.
One of King Salman's first acts as monarch was to remove a half-brother as his heir and to appoint two younger princes in the line of succession--Prince Mohammed bin Nayef and Prince Mohammed bin Salman--a change that shocked many royals. The king was able to take such bold action partly because of his stature within the House of Saud. He has long cultivated good ties with his extended family.
Prince Mohammed bin Salman's ascension signals a potential generational shift, one that would bring the monarchy more in line with the country's young population. But it also risks a backlash within the vast House of Saud, whose members have long ruled through consensus among its various branches.
Kristian Ulrichsen of Rice University's Baker Institute for Public Policy said the future success of Prince Mohammed bin Salman depends on the support he will receive from within the wider Al Saud family, especially if some of the economic reforms he is associated with prove to be controversial.
"Mohammed bin Salman's elevation to Crown Prince has been on the cards for a while, but still represents an enormous shake-up in Saudi succession dynamics," he said.
As next in line to the throne, Prince Mohammed bin Salman could become a rarity: A young Saudi king. A long list of predecessors have taken power as septuagenarians or octogenarians, allowing limited time to see through their visions for the kingdom's future.
"The benefit now is that we have young leader who has the authority to...plan not 10 years in advance but 40 years in advance and insure there is institutional continuity going forward," said Mohammed Alyahya, a nonresident fellow at the Atlantic Council, a Washington-based think tank.
The royal shake-up coincides with a political crisis in the Persian Gulf region that pits Saudi Arabia and its allies against Qatar. Saudi Arabia is also entangled in a continuing conflict in neighboring Yemen and is challenging rival Iran for regional sway.
Seasoned U.S. diplomats tried to stay out of the succession struggle between Prince Mohammed bin Nayef and the young Prince Mohammed bin Salman, not wanting to risk upsetting their close partnership with the interior minister, who is widely lauded for combating a growing al Qaeda threat in the kingdom over the last decade and a half.
Yet the Saudi monarchy, long synonymous with privilege and patronage, has come under strain in recent years and jockeying has intensified.
In the past two years, Prince Mohammed bin Salman has been the public face of change in the kingdom. He has introduced austerity measures--some of which were reversed later--to help reduce a budget deficit caused by the drop in oil prices. He has also backed the potential listing next year of state oil giant Saudi Aramco, in part to push the economy onto a path of privatization and greater competitiveness needed to generate jobs for the young and attract foreign investment beyond the oil sector.
The economic pressures have precipitated broader social changes. Long an ultraconservative society where women still can't drive, Saudi Arabia is now embracing significant cultural reforms, staging public concerts and is set to open its first movie theaters, once opposed by the religious establishment.
Some senior officials say the secession move is a sign of more big changes afoot. "It is a highly calculated move to make Saudi Arabia as stable as possible," said another senior Saudi official, who asked not to be named. "You need this clarity when you have a big ambitious reform plan you want to achieve,"
Some critics have portrayed the new crown prince as reckless. Saudi Arabia's intervention in Yemen has cost billions of dollars, killed thousands of civilians and so far failed to oust Houthi rebels from the country's capital. And for all the talk of an economic overhaul, the country's economy continues to depend overwhelmingly on oil revenues. Economic growth and job creation, especially among the young, remains lackluster.
Still, Prince Mohammed bin Salman has embraced the role of the royal prying open the kingdom's economy and society after decades of isolation.
He has been been meeting with heads of state as well as global business leaders, such as Facebook's Mark Zuckerberg, to attract more foreign capital to Saudi Arabia and explore investments overseas. In recent weeks, Saudi Arabia's sovereign-wealth fund agreed with Japan's SoftBank to launch a $100 billion fund that will invest in tech companies.
"I admire his energy," a Saudi close to a powerful strain of the royal family said of the new crown prince. "But at the same time it worries me and worries many Saudis that he is over confident."
Write to Nicolas Parasie at nicolas.parasie@wsj.com