Sarkozy's Euro Zone Plan Rebuffed by Merkel, Others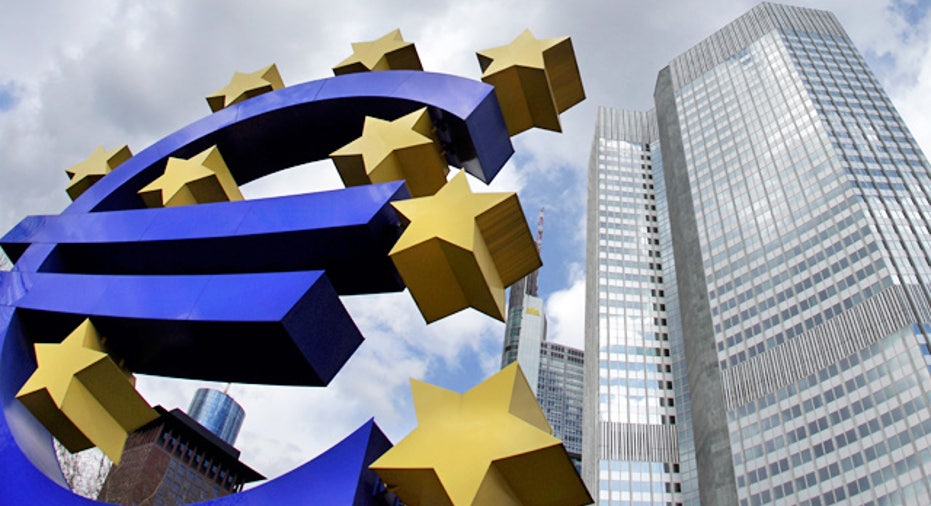 France's push to use more European Central Bank money to fight the euro zone debt crisis ran into strong resistance from Germany and other EU partners on Friday, leaving Paris increasingly isolated before a crucial summit.
The rift between Europe's two biggest powers has already forced leaders to tack on an extra summit in the coming week.
They will now meet twice -- on Sunday and Wednesday -- to adopt a comprehensive strategy to fight the crisis that began in Greece, spread to Ireland and Portugal and is now threatening to engulf bigger economies in the 17-nation currency area.
French President Nicolas Sarkozy appeared isolated after an acrimonious meeting in Frankfurt on Wednesday in seeking to turn the 440-billion-euro ($600 billion) EFSF rescue fund into a bank able to access ECB liquidity to fight contagion, and would have to back down, the sources said.
Germany, the ECB itself and the European Commission all argued that the move would violate an EU treaty prohibition on monetary financing of governments.
"The path is closed for using the ECB to ease liquidity problems," German Chancellor Angela Merkel told conservative lawmakers in Berlin, participants at the private meeting said.
Merkel and Sarkozy will try to resolve their differences over dinner in Brussels on Saturday night, officials said.
Finance Minister Wolfgang Schaeuble hammered home Berlin's message at a preparatory meeting of euro zone finance ministers in Brussels, telling reporters: "We will stick to the situation as it is in the treaty that the central bank is not available for state financing."
A German government spokesman said major decisions at the two-part meeting would only come on Wednesday. Merkel needed time to secure parliamentary support under new rules that stipulate that the Bundestag's budget committee must approve all key EFSF decisions.
The timetable forced the EU to postpone a summit with China next Tuesday, highlighting how the debt crisis is impinging on Europe's place in the world.
Striking a new note of exasperated urgency, Chinese Premier Wen Jiabao told European Council President Herman Van Rompuy in a phone call that European leaders should take concrete actions to contain the crisis and stabilize the euro and financial markets.
The summits' outcome will determine whether investor confidence in the euro area can be restored. It will also influence whether an expected Greek debt write-down triggers a chain reaction of financial turmoil across Europe.
As a first step, leaders of the 27-nation European Union are set to endorse a plan on Sunday to strengthen banks' capital base and may also launch a procedure for longer-term reform of the euro area's economic governance, EU sources said.
European banks will be required to increase their core tier one capital ratio to 9 percent to help them withstand losses on sovereign debt, but it is not yet agreed how long they will be given to raise extra funds.
EU officials said the total amount required was just short of 100 billion euros. Those banks that cannot raise money on the markets will have to turn to national governments.
FRENCH RATING IN SPOTLIGHT
An EU source said France, which has presidential and parliamentary elections from April to June and is desperate to keep its top-notch AAA credit rating, was pressing for banks to be given at least nine months to meet the target.
France fears its credit rating could come under threat if the wrong method is chosen to scale up the bailout fund to prevent contagion spreading to Italy and Spain, the euro zone's third and fourth largest economies.
Ratings agency Standard & Poor's said on Friday it was likely to downgrade France and four other states if Europe slips into recession. It was the second agency this week to cast doubt on Paris' rating after Moody's on Tuesday.
There are also differences between Germany and France and between the EU and the International Monetary Fund over how deep a write-down banks and insurers will have to take on Greek bond holdings to make that country's debt sustainable.
Paris and Berlin called on Thursday for negotiations to start immediately with the private sector over its contribution to a sustainable plan for Greece's mountainous debt.
Underlining the threat the euro zone crisis poses to the global economy, U.S. President Barack Obama held a video conference with Merkel and Sarkozy on Thursday, reiterating that he hopes a solution will be in place in time for a summit of G20 leaders in Cannes, France on November3-4.
The IMF is more pessimistic than the EU about the sustainability of Greek debts and believes that a deeper debt reduction is needed, EU sources told Reuters.
Without that payment Greece faces default, possibly dragging the larger economies of Spain and Italy into the mire and sending shockwaves through the European banking system.
HOW TO SCALE UP
The biggest challenge is agreeing on the method of scaling up the EFSF.
The most likely approach is to use the EFSF to guarantee a portion of potential losses on new euro zone bonds, a way of trying to restore market confidence. But ministers stressed other options were still on the table.
A group of 10 major financial companies, including banks, insurers and global bond fund giant PIMCO, wrote to EFSF chief Klaus Regling on Friday, saying partial insurance of sovereign bonds could be a viable instrument to secure private funding for euro zone states "if implemented in size."
"The ability of the EFSF to potentially write significant amounts of such "insurance" without any further increase to the existing commitments should be an important element in any comprehensive plan by the European government to address the crisis," the letter seen by Reuters said.
By guaranteeing only a portion, perhaps a third or a fifth, of each debt issue, the available EFSF funds could stretch 3-5 times further, increasing it to around 1 trillion euros.
However, analysts are concerned that such a plan could create a two-tier bond market, with bonds that have guarantees trading at a premium to the secondary market -- an outcome that could exacerbate market turmoil.
Despite the pre-summit cacophony, European shares and the euro rose on investors' hopes that European leaders were at last working on a comprehensive plan.
Adding to uncertainty, EU officials said some key euro zone member states were coming to the view that further private sector involvement in Greek debt reduction may have to be forced, not voluntary -- an outcome ruled out up to now.
In July, banks and insurers agreed to contribute 50 billion euros to reducing Greece's debt via a debt buyback and swap agreement, which equated to a 21 percent writedown. That is now seen as insufficient to make Athens' debts sustainable.
Greece remains mired in recession and its overall debt is forecast to climb to 357 billion euros this year, or 162 percent of annual economic output. German government sources said Greek debt should be reduced to about 120 percent of GDP.
($1 = 0.730 Euros)
(Additional reporting by Andreas Rinke and Madeline Chambers in Berlin, John O'Donnell, Julien Toyer, Jan Strupczewski and Luke Baker in Brussels; Writing by Paul Taylor; editing by Janet McBride/Mike Peacock)