Sarkozy, Merkel to Talk in Wake of Greece Move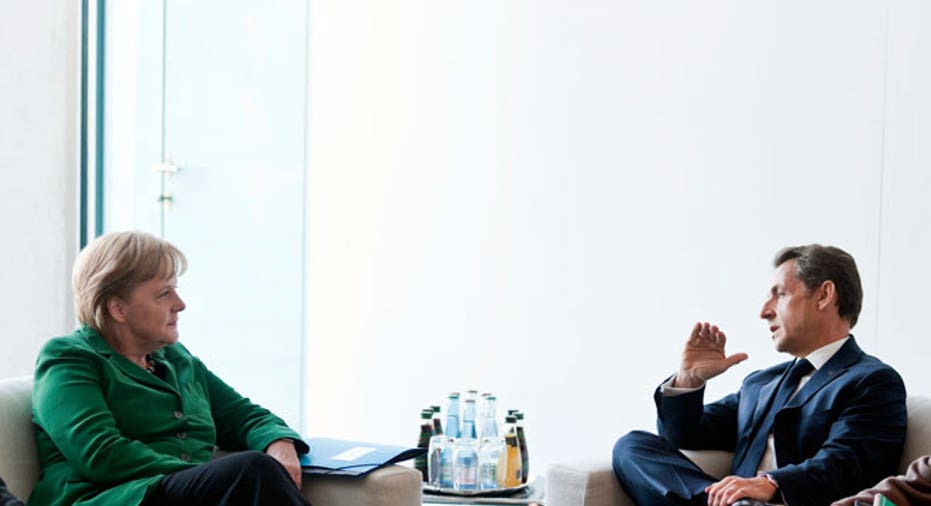 French President Nicolas Sarkozy will speak with German Chancellor Angela Merkel on Tuesday after Greece's decision to hold a referendum on a 130 billion-euro ($180 billion) bailout, the French president's office said.
In a text message it said the two leaders would speak during the day, but gave no further details.
Greece's referendum, which sent markets tumbling across Europe, is expected to take place in a few weeks, adding uncertainty about the bailout to a febrile mood in the European financial sector.
Last week's bailout deal had raised hopes a line could be drawn under banks' Greek losses and euro zone bonds could be sold to China and other investors.
A source close to the French government said Sarkozy would convene his top ministers at 1700 local time (12 p.m. EDT) to discuss Greece's decision, which hit French banks especially hard.
"We have just added fuel to the fire and we don't understand at all the decision of the Greek PM," said Marc Touati, chief economist at Assya Compagnie Financiere in Paris.
"If there is a referendum the 'no' will win. Greece is playing a suicidal game that could lead to its exit of the euro zone so there is fear on French banks, but also on (euro zone) states."
France's Societe Generale tumbled 13 percent and BNP Paribas and Credit Agricole fell more than 10 percent. They are among the most exposed to Greece through sovereign debt holdings and loans.
The Greek government's decision brought a sharp rebuke from a former industry minister and close ally of Sarkozy within his UMP ruling party, Christian Estrosi, who called the move "totally irresponsible."
"When we are in a crisis situation and others want to help you it is insulting to try to save one's skin rather than to face one's responsibilities," said Estrosi.