Samsung Could Make a Big Change to the Galaxy S7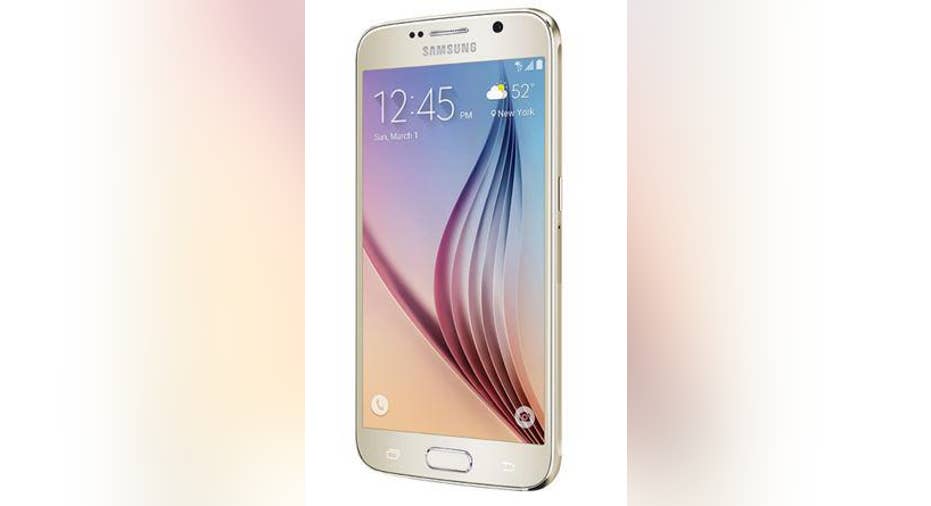 Samsung could be about to make a significant change to its smartphone strategy if a recent report proves accurate. According to analyst Pan Jiutang (via The Times of India), Samsung plans to reduce the price of its next flagship smartphone, the Galaxy S7, by about 10% relative to the launch price of its Galaxy S6.
A more affordable phone could entice some buyers to select Samsung's handset over its rivals, but it highlights the issues facing the Korean tech giant.
Samsung Galaxy S6. Image source: Samsung
Fierce price competitionFrom 2011 to 2013, Samsung's mobile business generated massive profits for the company. Led by its ever-larger Galaxy handsets, Samsung became the biggest smartphone vendor in the world, and Alphabet's most important hardware partner. But then, last year, its mobile business began to unravel. In October, 2014, Samsung reported a stunning 60% decline in operating profit.
The introduction of the iPhone 6 and iPhone 6 Plus -- the first iPhones with larger displays -- likely played a factor, but the bigger contributor may have been the existence of increasingly competent low-cost Android handsets. Chinese firms, led by Xioami and Huawei, saw their handset sales surge as Samsung's contracted. In the first half of 2014, Xiaomi's handset sales rose nearly 300% on an annual basis. Both Xioami and Huawei offer consumers compelling Android handsets at affordable prices. Android fans that may have chosen Samsung's expensive Galaxies could have made the switch to more affordable devices.
These low-cost Android vendors have had little effect on more established economies, however, there are signs of growing price competition even in the U.S. smartphone market. Motorola's Moto X Pure Edition, released earlier this fall, packs hardware competitive with Samsung's Galaxy S6, but is only about two-thirds the price.
Samsung's mobile business has shown some signs of improvement in recent months. In October, Samsung saw its total operating profit jump in the third quarter, as its mobile profits rose 37% on an annual basis, but Samsung's chip business was its most successful unit.
Setting itself apartBy cutting the cost of the Galaxy S7, if it does, Samsung may be betterpositionedto compete with low-cost Android vendors, but it runs the risk of alienating its fan base and further commoditizingits handsets. Samsung's flagship Galaxies generally offer the best hardware available in any smartphone -- with enormous batteries, excellent cameras, and top-notch displays. The Snapdragon 808 processor that powers the Moto X provides adequate performance, but it falls short of the Exynos 7420 in the Galaxy S6.
If Samsung continues to offer leading hardware at more affordable prices, it could help reinvigorate demand for its handsets, but margins could suffer. If it cuts costs, the resulting fallout could be even worse, as it removes the one reason to choose a Galaxy over a cheaper Android phone.
Samsung is expected to unveil the Galaxy S7 sometime in the next few months, perhaps as early as January. A lower price tag could make it more successful than its predecessor, but it could take a toll on Samsung's mobile profits even if demand rises. Samsung had the most success when it was offering features the competition couldn't match -- most notably larger screens. Rather than wage a price war, investors should hope Samsung equips the Galaxy S7 with innovative new features.
The article Samsung Could Make a Big Change to the Galaxy S7 originally appeared on Fool.com.
Sam Mattera has no position in any stocks mentioned. The Motley Fool owns shares of and recommends Alphabet (A and C shares). Try any of our Foolish newsletter services free for 30 days. We Fools may not all hold the same opinions, but we all believe that considering a diverse range of insights makes us better investors. The Motley Fool has a disclosure policy.
Copyright 1995 - 2015 The Motley Fool, LLC. All rights reserved. The Motley Fool has a disclosure policy.