Samsung Claims Its New 10-Nanometer LPP Tech Is Ready for Mass Production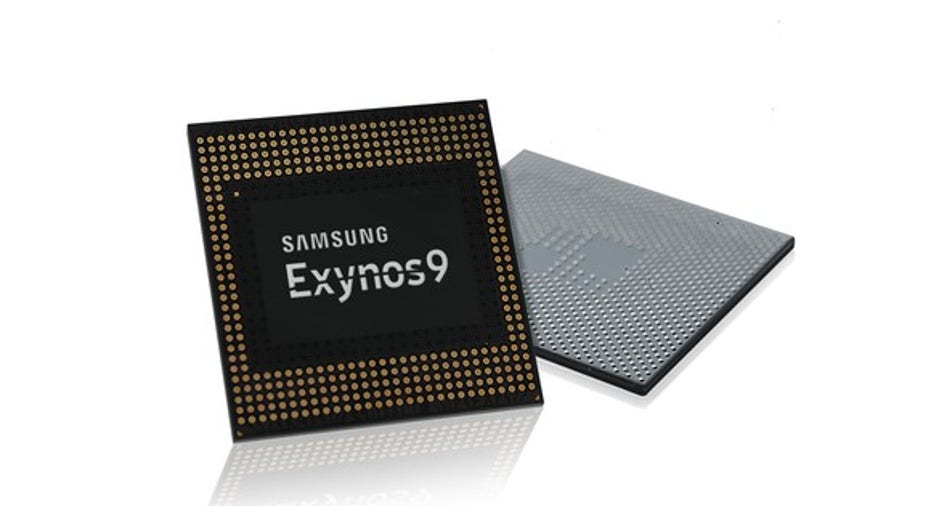 In a press release dated April 19, Samsung (NASDAQOTH: SSNLF) announced that its second-generation 10-nanometer chip-manufacturing technology, known as 10-nanometer LPP -- which stands for "low power plus" -- "has been qualified and is ready for production."
Samsung says this technology "allows up to 10% higher performance or 15% lower power consumption compared to the first-generation 10LPE," or "low-power early," technology, while offering "the same area scaling" as what 10-nanometer LPE provided.
Image source: Samsung.
The South Korean giant also said in the release that Samsung "has started installing production equipment at its newest S3-line in Hwaseong, Korea" and that this manufacturing line "is expected to be ready for production by the fourth quarter of this year."
That's nice, but...
What strikes me as odd is how aggressive Samsung has been lately with its press release related to chip manufacturing technology.
For example, on March 15, Samsung put out a press release titled "Samsung Electronics on Track for 10nm FinFET Process Technology Production Ramp-Up." In this release, Samsung claimed that the manufacturing of its 10-nanometer LPE tech "is on track with steady high yield to meet customer needs on schedule."
Yet the obvious reality runs counter to this claim.Qualcomm (NASDAQ: QCOM), arguably Samsung's most important contract chip manufacturing customer, said on its April 19 earnings call that it can't meet the demand for its newly released Snapdragon 835 chips, manufactured using Samsung's 10-nanometer LPE technology, because of its "ability to ramp volumes at 10 nanometers."
Qualcomm doesn't expect the supply constraints to "begin to normalize" until its fiscal fourth quarter. We're currently in Qualcomm's third fiscal quarter.
Furthermore, in that very same press release, Samsung said it intends to go into mass production on its 10-nanometer LPP and LPU technologies by the end of 2017 and 2018, respectively.
It's interesting that Samsung would put out this press release discussing the qualification of its 10-nanometer LPP technology on the same day Qualcomm's earnings call indicated that it's having trouble meeting demand for its 10-nanometer products -- which, in turn, suggest that the reports of poor 10-nanometer yields are true.
When to expect 10-nanometer LPP products
Given the timing Samsung offered with respect to the equipment installation of its S3 manufacturing line, as well as its claim in its March 15 press release that 10-nanometer LPP would be ready for production by the end of 2017, I expect that Samsung will issue a press release announcing the mass-production start-up of its first 10-nanometer LPP-based chips in the October/November time-frame.
Image source: Qualcomm.
So I'll put the following prediction out there: I believe that the next Samsung Galaxy Note will use the same Exynos and Snapdragon chips that currently power the Galaxy S8 and S8+.
I think the first 10-nanometer LPP chips will probably be a next-generation Exynos chip as well as a next-generation Snapdragon processor. Those chips will almost certainly be bound for the Samsung Galaxy S9 smartphone as well as -- if supply permits -- other flagship Android smartphones released in the spring.
10 stocks we like better than SamsungWhen investing geniuses David and Tom Gardner have a stock tip, it can pay to listen. After all, the newsletter they have run for over a decade, Motley Fool Stock Advisor, has tripled the market.*
David and Tom just revealed what they believe are the 10 best stocks for investors to buy right now... and Samsung wasn't one of them! That's right -- they think these 10 stocks are even better buys.
Click here to learn about these picks!
*Stock Advisor returns as of April 3, 2017
Ashraf Eassa owns shares of Qualcomm. The Motley Fool owns shares of and recommends Qualcomm. The Motley Fool has a disclosure policy.