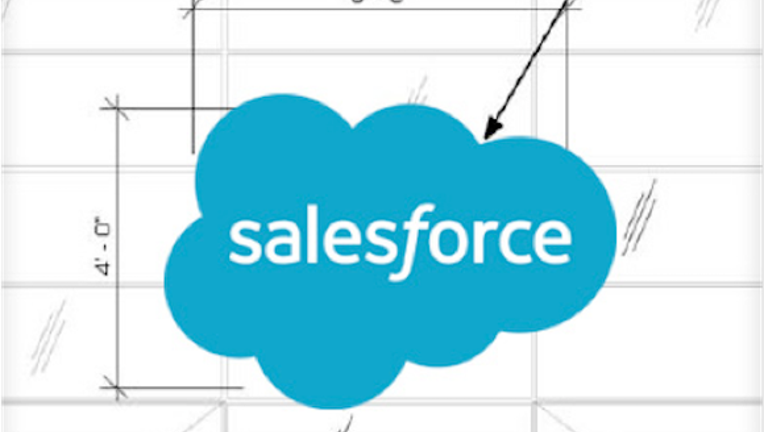 Image source: Salesforce.com
Last week, Salesforce.com (NYSE: CRM) announced the launch of a $100 million venture capital fund. The new Salesforce Platform Fund will support the development of Artificial Intelligence, or AI, based applications on the company's platform.
The new fund will be the fourth from Salesforce Ventures, its strategic venture arm created in 2014. The company has raised $350 million through its four funds, all with a different objective. It's first capital raise was focused on mobile app start-ups and included DocuSign, a popular digital signature software platform which also has a partner solution with Salesforce. Other funds have focused on raising capital for the EMEA market, along with $50 million to build a developer community for its Lightning platform.
All the company's investments have gone to support enterprise cloud companies that align closely to its business. This differs from other company-supported venture arms such as those from Inteland Google,which seek to invest in emerging companies that may not necessarily support the company's core strategic objectives. Salesforce, on the other hand, is looking to expand the capabilities of its products and forge key partnerships. The following statement from Salesforce sums up its strategy for investing in up-and-coming start-ups:
A history of success stories
Although Salesforce Ventures was only created in 2014, the company has been investing in early stage companies since 2009. Since then, it has invested in over 180 companies in 14 different countries. Investment sizes range from $0.2 million to $70 million. Thirty-five of these companies have been acquired, while eight have gone on to IPO successfully (notable ones include Box, Twilio, and Xactly). According to venture capital tracker CB Insights, Salesforce was the 3rdmost active corporate venture capitalist in 2016, exceeded only by Intel and Google. In fact, Salesforce's investments exceeded those of much larger companies such as General Electricand Cisco Networks.
Image source: CB Insights.
The earlier statement noted that the key objective for the company and its investments is not necessarily financial gain but opportunities to improve its platform and partner ecosystem. However, they have also been a financial success -- the company does not specifically call out the value or profitability of these ventures, but its annual report does offer shareholders some valuable insight. According to its most recent 10-K, the estimated fair value of the non-marketable debt and equity securities was approximately $758.3 million. The carrying value, or cost of those securities, was $526 million, leaving the company with an unrealized gain of $232.3 million as of the end of Jan. 2017. This number does not include companies that have gone public or been acquired.
Risks behind the VC strategy
Although aggressively investing in early to-late stage technology has worked out for Salesforce so far, it does have its risks. When financial markets turn and access to capital gets tighter, venture capital markets can come down in a hurry. Some may argue that the VC markets are currently in a bubble, and it's difficult to argue against the naysayers when investors are pouring $150 million into Wi-Fi enabled juice machines that don't work. Additionally, research from PWC and CB Insights indicated that Q4 2016saw total VC deals fall 37% to a 5-year low.
However, financial resources going toward Artificial Intelligence, the recipient technology of Salesforce's latest fund, rose to a two-year high as funding exceeded $500 million in seven of the past eight quarters.Given its focus on an emerging technology along with its track record, the risk-reward spectrum appears to lean in Salesforce's favor.
10 stocks we like better than Salesforce.comWhen investing geniuses David and Tom Gardner have a stock tip, it can pay to listen. After all, the newsletter they have run for over a decade, Motley Fool Stock Advisor, has tripled the market.*
David and Tom just revealed what they believe are the 10 best stocks for investors to buy right now... and Salesforce.com wasn't one of them! That's right -- they think these 10 stocks are even better buys.
Click here to learn about these picks!
*Stock Advisor returns as of May 1, 2017
Palbir Nijjar has no position in any stocks mentioned. The Motley Fool owns shares of General Electric. The Motley Fool recommends Cisco Systems, Intel, Salesforce.com, and Twilio. The Motley Fool has a disclosure policy.