Salesforce.com Inc. Is Expanding Into E-Commerce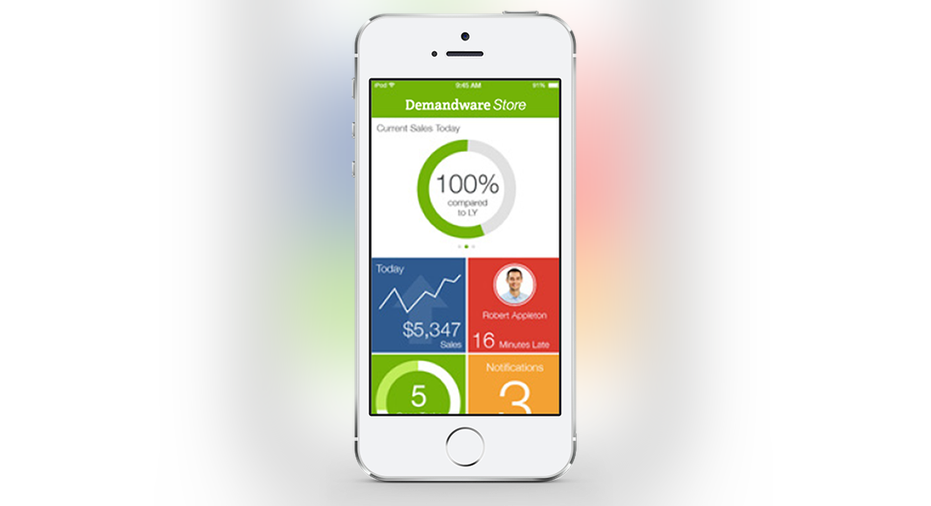 Cloud-based applications company Salesforce.com reached an agreement to purchase e-commerce services company Demandware on June 1. What does this transaction mean for the Salesforce business, and what should investors take away from the news?
An overview of the deal
The deal will cost Salesforce $2.8 billion, and Demandware shareholders will receive $75 per share in cash, a more than 50% premium to where shares traded before the announcement. Salesforce expects the deal to close by July 31.
Image source: Demandware
Demandware is the global leader in cloud-based e-commerce solutions. The company helps retailers streamline their sales processes, integrating website content management to help with consumer engagement, order fulfillment, and other back-office functions. Its analytics also help retailers make better decisions to drive sales. The service is designed to work with omnichannel businesses, helping the physical and digital operations of a retailer to work together seamlessly. Salesforce will use Demandware to start a new business segment, called commerce cloud, to complement its existing sales, service, app, and marketing cloud divisions.
Upon initial inspection, the purchase looks preposterous. Demandware's trailing 12-month revenue sits at $254 million, and the company has been operating with a negative profit margin of 17% over that period. That $2.8 billion is a hefty premium for a company that trades at an even higher price-to-sales ratio than Salesforce.A number of analysts and investors weighed in negatively when the deal was announced.
Why would Salesforce agree to stomach such a high price tag? Does the company see something that investors are missing?
What the Demandware purchase means
The new cloud service brought in by Demandware will be by far the smallest among Salesforce's suite of applications. Salesforce expects the acquisition will add between $100 million and $120 million in revenue for the rest of this fiscal year, which ends in January 2017. The next smallest division, the marketing cloud, generated over $650 million for the company last year.
While the current contribution to the business is expected to be meager, the future revenue potential from Demandware is quite large. According to a Gartner study cited by Salesforce management, worldwide business spending on digital commerce platforms is expected to grow 14% annually and exceed $8.5 billion by the year 2020. What is underpinning the growth expectations for services such as what Demandware offers?
Image source: Salesforce.com
Consumers have been rapidly shifting the way they shop in recent years, and the trend is showing no signs of stopping. Since 2013, U.S. shoppers have been increasing their online spending by 14% each year, with the total amount nearing $350 billion in 2015. That number is expected to grow over 10% each year through the end of the decade, with total online sales in the U.S. approaching $600 billion by 2020.
With this online shift, we can see the reason behind Salesforce's desire to expand into that arena. As expected annual spending on online store platforms tops $8.5 billion, what sort of revenue could Salesforce potentially generate from this business segment?
During its last fiscal year, Salesforce claimed a substantial market share for business enterprise software. The sales cloud led the way with 41% of the market and $2.7 billion of revenue, but the other segments turned in solid numbers as well.
Data source: Salesforce.com quarterly earnings reports
Salesforce has demonstrated its ability to gobble up large portions of the market in a relatively short period. Even if the company claims less market share for its new sales cloud than it has for its service and marketing businesses, future estimates would still put revenue generated at upwards of $800 million a year by 2020.
Another driver cited for the purchase is the potential synergy between the different business segments and the new sales cloud. The company already boasts a long list of large international clients, and it will be able to add to that list with the Demandware buyout. Salesforce hopes that Demandware's retail-centric clients will want to use more tools from its existing portfolio of services and that existing clients will use the new online sales tools being added to the mix.
What investors should keep in mind
All in all, Salesforce has a history of buying up smaller companies and working them into their own ecosystem of cloud software services.Since 2014, the company has made 10 acquisitions, many of them for unknown amounts and undisclosed terms. An acquisition similar to this recent deal came in June 2013 when Salesforce bought ExactTarget for $2.5 billion and turned that company into its marketing cloud. The terms of that buyout and expectations for revenue in the first year were along the same lines as the current Demandware deal. That division has since expanded to $650 million in total revenue during 2015.
Investors will have to be patient to see how the new purchase will fare, but I believe there will be more to this deal than appears on the surface. While the purchase price may look steep, Demandware should be complementary to existing Salesforce offerings, and the company has a strong track record of integrating these purchases and fostering them into strong revenue generators. Investors should be excited to see how the new business segment unfolds in the years to come.
The article Salesforce.com Inc. Is Expanding Into E-Commerce originally appeared on Fool.com.
Nicholas Rossolillo has no position in any stocks mentioned. The Motley Fool owns shares of and recommends Salesforce.com. Try any of our Foolish newsletter services free for 30 days. We Fools may not all hold the same opinions, but we all believe that considering a diverse range of insights makes us better investors. The Motley Fool has a disclosure policy.
Copyright 1995 - 2016 The Motley Fool, LLC. All rights reserved. The Motley Fool has a disclosure policy.