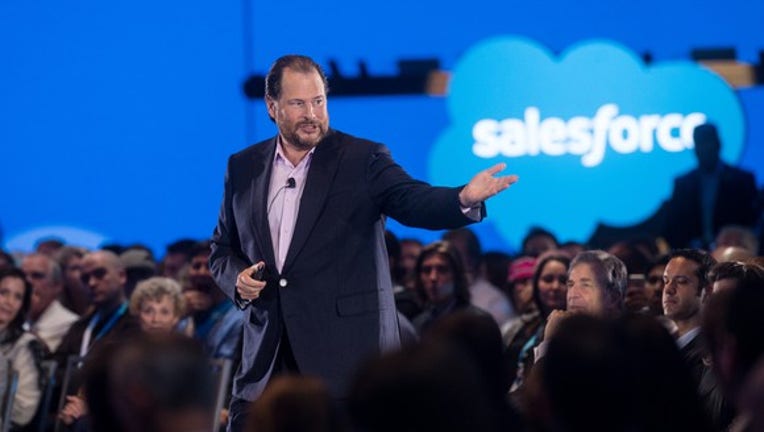 Salesforce.com (NYSE: CRM) reported fiscal 2018 first-quarter results on May 18. The global leader in customer relationship management software continues to enjoy strong demand for its services, prompting management to raise its revenue and earnings outlook for the year.
Salesforce.com results: The raw numbers
| Metric | Q1 2018 | Q1 2017 | Year-Over-Year Change |
| --- | --- | --- | --- |
| Revenue | $2.388 billion | $1.917 billion | 25% |
| Adjusted net income | $203 million | $168 million | 21% |
| Adjusted EPS | $0.28 | $0.24 | 17% |
Data source: Salesforce.com Q1 2018 earnings release.
What happened with Salesforce.com this quarter
Total revenue leapt 25% year over year, to$2.39 billion, as Salesforce enjoyed robust growth across all of its main product lines.
Image source: Salesforce.com.
Notably, Salesforce continues to expand its leading market share of the global CRM industry. In fact, Salesforce expanded its "market share in 2016 by more percentage points than the rest of the top 10 CRM vendors combined," according to the company.
Image source: Salesforce.com.
Those gains are likely to continue, as Salesforce's deferred revenue -- basically revenue that has been booked from contracts but not earned yet -- jumped 26%, to $5.04 billion as ofApril 30. Additionally, unbilled deferred revenue -- essentially business that is contracted but not yet invoiced -- also grew 26%, to $9.6 billion.
Moreover, Salesforce's cash flow generation remains strong, with operating cash flow rising 17%, to $1.23 billion, in the first quarter.
Image source: Salesforce.
Still, Salesforce once again generated a loss on a GAAP basis, with first-quarter net loss per share coming in at $0.01. On an adjusted basis, non-GAAP earnings per share -- which exclude stock-based compensation, acquisition-related expenses, income tax adjustments, and certain other items -- increased 17%, to $0.28.
Salesforce.com Chairman and CEO Marc Benioff. Image source: Salesforce.com.
Looking forward
Salesforce expects second-quarter revenue of $2.51 billion to $2.52 billion, signifying year-over-year growth of 23% to 24%. The company is also forecasting GAAP earnings of $0.00 to $0.01 per share, while non-GAAP EPS is projected to be $0.31 to $0.32. And Salesforce anticipates deferred revenue will increase approximately 22% year over year.
Additionally, Salesforce raised its guidance for fiscal 2018. It now expects:
Revenue of $10.25 billion to $10.30 billion, up from prior estimates of $10.15 billion to $10.20 billion
GAAP EPS of $0.06 to $0.08, up from $0.05 to $0.07
Non-GAAP EPS of $1.28 to $1.30, versus $1.27 to $1.29
"With our outstanding first quarter results, we are thrilled to be raising our fiscal 2018 revenue guidance by$100 millionand raising our GAAP and non-GAAP earnings per share expectations for the year," Chairman and CEO Marc Benioff said in a press release. "Salesforce has once again been named the CRM market leader, and we continue to grow our share in CRM -- the fastest growing enterprise software market."
10 stocks we like better than Salesforce.comWhen investing geniuses David and Tom Gardner have a stock tip, it can pay to listen. After all, the newsletter they have run for over a decade, Motley Fool Stock Advisor, has tripled the market.*
David and Tom just revealed what they believe are the 10 best stocks for investors to buy right now... and Salesforce.com wasn't one of them! That's right -- they think these 10 stocks are even better buys.
Click here to learn about these picks!
*Stock Advisor returns as of May 1, 2017
Teresa Kersten is an employee of LinkedIn and is a member of The Motley Fool's board of directors. LinkedIn is owned by Microsoft. Joe Tenebruso has no position in any stocks mentioned. The Motley Fool owns shares of Oracle. The Motley Fool recommends Salesforce.com. The Motley Fool has a disclosure policy.