Sales Rise at Ford and GM in November -- but December Is the Key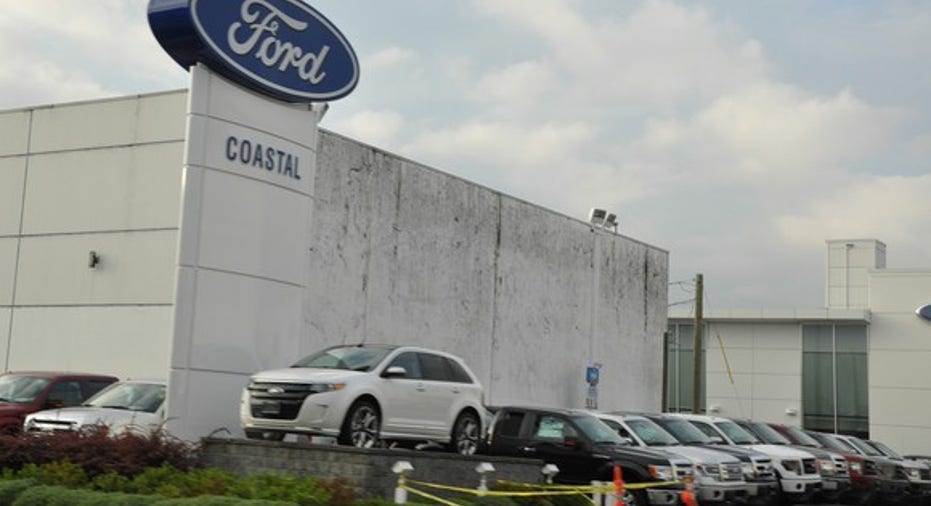 Top U.S. automakers General Motors (NYSE: GM) and Ford Motor (NYSE: F) reported solid growth in deliveries during November. Investors cheered the news, sending both stocks significantly higher on Thursday.
General Motors and Ford Thursday Stock Performance data by YCharts.
However, automakers benefited significantly from extra selling days last month, relative to November 2015. The key question is whether GM and Ford will be able to maintain their momentum during December, when they won't benefit from a favorable calendar shift.
November was a good month
GM's sales in the U.S. surged 10% last month to 252,644 vehicles. Looking just at retail sales, deliveries were up 8% year over year to 197,609.
GM's midsize pickups (the Chevy Colorado and GMC Canyon) continued to be standouts, with sales up 43% year over year in November. But the General reported strong gains across most of its truck and SUV lineup.
Across town at Ford, total U.S. sales rose 5% during November. Retail sales jumped 10%, offset by a planned decline in fleet sales. Even more than at GM, Ford's gains were driven by strong demand for pickups and SUVs. The launch of its next-generation Super Duty trucks helped Ford sell more than 72,000 F-Series trucks during November, up 11% year over year.
Demand for SUVs and pickups remained strong last month. Image source: The Motley Fool.
Is incentive spending a problem?
Many investors have been skeptical about the strength of auto demand lately. They argue that automakers are propping up their sales results by ramping up discounts, which will damage their profitability.
Indeed, GM increased its incentives on full-size pickups by 46% year over year through the first three weeks of November, according to J.D. Power. Its average incentive on full-size trucks sold during that period was $5,753, compared to $4,467 for Ford.
However, GM and Ford have typically averaged around $10,000 of profit per full-size truck sold. The steady shift in customer preferences toward pricier option packages is making the full-size truck business even more profitable these days. Marking down prices by an extra $1,000 or $2,000 won't hurt that much.
More broadly, GM and Ford are benefiting from rising average transaction prices as consumers focus their interest on pricier trucks and SUVs while turning away from small cars. This has allowed GM in particular to earn record profits this year despite offering higher incentives.
Don't underestimate the calendar
Rising incentive spending isn't as much of a red flag as some investors believe. Nevertheless, auto sales were artificially inflated during November. The real culprit was a shift in the timing of weekends and holidays that added two selling days to the month, compared to November 2015.
November auto sales were boosted by a favorable calendar shift. Image source: The Motley Fool.
Thus, while industry sales rose as much as 5% last month, the seasonally adjusted annual rate (SAAR) of auto sales likely declined by about 2%. Adjusting for the extra selling days would wipe out the vast majority (if not all) of the sales gains at both GM and Ford.
GM and Ford need to stay strong in December
Last month's sales results were certainly positive news for General Motors and Ford shareholders. But December will be the real test for both automakers.
First of all, automakers won't be able to rely on extra selling days to drive growth this month. Second, in recent years, December has had the highest sales volume of any month. Indeed, GM and Ford both sold 27% more vehicles in December 2015 than in November 2015. A strong showing in December would be a good sign that automakers may be able to keep sales at or near record levels in 2017.
For General Motors, delivering a good December sales result is particularly crucial. Dealer inventories have been rising sharply at GM in recent months, including an increase of nearly 40,000 units in November. GM ended the month with 874,162 vehicles in inventory, equal to 87 days' supply, compared to 691,133 vehicles (or 69 days' supply) a year earlier.
Automakers typically sell more vehicles than they build in December. GM needs to sell through a good chunk of its inventory this month -- otherwise, it could be forced to raise discounts to a level that really would damage profitability during 2017.
10 stocks we like better than General Motors When investing geniuses David and Tom Gardner have a stock tip, it can pay to listen. After all, the newsletter they have run for over a decade, Motley Fool Stock Advisor, has tripled the market.*
David and Tom just revealed what they believe are the 10 best stocks for investors to buy right now... and General Motors wasn't one of them! That's right -- they think these 10 stocks are even better buys.
Click here to learn about these picks!
*Stock Advisor returns as of November 7, 2016
Adam Levine-Weinberg owns shares of General Motors. The Motley Fool owns shares of and recommends Ford. The Motley Fool recommends General Motors. Try any of our Foolish newsletter services free for 30 days. We Fools may not all hold the same opinions, but we all believe that considering a diverse range of insights makes us better investors. The Motley Fool has a disclosure policy.