Sales Highlights From Ford Motor Company's 3 Key Markets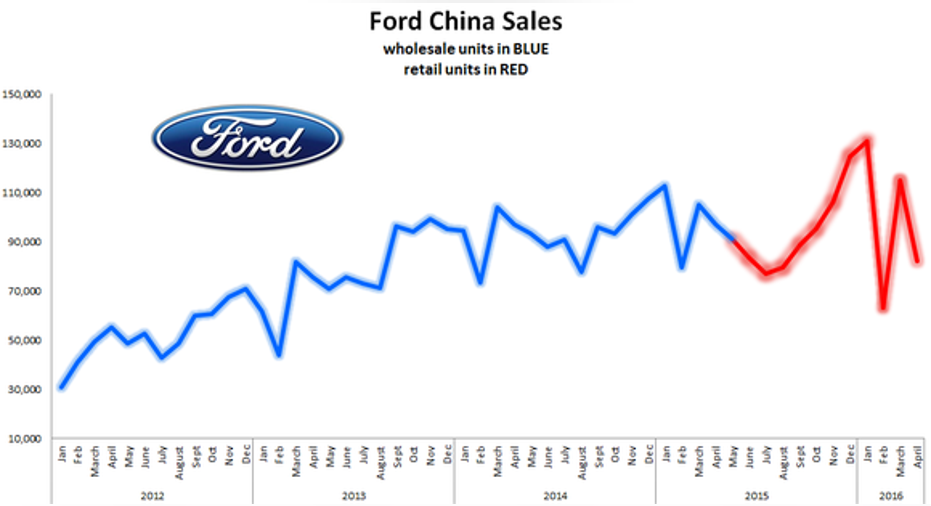 It's a busy world, and it's easy to miss important developments and information regarding stocks in your portfolio. That's especially true for huge companies such as Ford Motor Company which does business in a vast number of markets across the globe. With that said, one of the more important factors for investors to watch is the up and down momentum of Ford's sales in critical markets. So, in case you missed the recent info, here's how Ford's sales fared in its three most important markets: China, Europe and, of course, the United States.
MUSTANG GERMANY'S NO.1 SPORTS CAR AMONG PRIVATE RETAIL BUYERS. IMAGE SOURCE: FORD MOTOR COMPANY.
Europe
On Friday Ford announced its total sales in Europe rose 4.7% during April as Europe's automotive market continues to expand. In Ford's traditional 20 markets, which is mostly western and central European nations, sales moved 6.3% higher to 113,400 vehicles. Expanding on those markets slightly, sales in Ford's Euro 50 markets grew 4.7% to 129,600.
Looking at the highlights, it was a solid month for commercial vehicles, SUVs, performance cars, and higher priced trims.
It was the best-ever April sales for Kuga (Escape); the EcoSport sales moved 120% higher compared to the prior year and the Edge tallied 2,000 confirmed customer orders. Commercial vehicles continues to be a strength for Ford in Europe posting its best vehicle sales since 1993. Ford continues to be Europe's sales leader in commercial vehicles through the first four months of the year, and its CV sales jumped nearly 19% in April.
While investors know SUVs generate strong transaction prices and profitability, it's also a great sign that Ford's premium trims are selling well in the passenger car segment. Consider that the Titanium trim, Mondeo Vignale, Fiesta and Focus ST, Fiesta and Focus Red/Black editions generated 58% of Ford's passenger cars in April in its Euro 20 markets plus Russia and Turkey.
While Ford's sales did rise, and sales of more profitable vehicles appear to be gaining momentum, Detroit's second largest automaker did lose a smidge of market share last month as sales of the overall market outpaced the automaker. However, for the full year, Ford's sales remain ahead of the market, and its profitability in the region should continue to improve on the recent solid quarters.
Ford's Fiesta on a world tour. Image source: Ford Motor Company.
China
Ford's sales have rebounded in China, in part thanks to the government's ongoing cut in vehicle purchase tax, and are up 7% year-to-date, compared to the prior year. That's good enough to reach more than 391,000 units thus far into 2016, but April's results declined 11% to 82,324 vehicles. As you can see in the graph below, thanks to the volatility in Ford's China sales so far this year, it's probably better to judge year-to-date figures.
Chart by author. Information source: Ford China press releases.
Similar to the U.S. and Europe, SUVs really helped pull Ford's results in China higher compared to last year. Year-to-date sales of the EcoSport, Kuga, Edge, Explorer, and Everest combined to surpass 100,000 units for a 27% gain over the prior year. Outside of the SUV segment, Ford's Escort was pretty much a hero, selling 84,835 units year-to-date, which is a 69% increase compared to the same time-frame last year.
Lastly, here is one announcement and one factor to keep in mind: comparisons and trucks. Because of last summer's substantial slowdown in new-vehicle sales in China, starting as soon as next month we'll likely see sizable year-over-year gains during this summer. So, while it doesn't take anything away from the sales gains, remember to take the sales increase percentages with a grain of salt.
Ford also noted it would be sending its F-150 Raptor to China next year, to test out the market for trucks with its high-performance off-road version of the popular full-size truck. It's an intriguing move, as we've mostly written off markets outside of the U.S. as having potential demand for a full-size truck. My expectations for sales of the Raptor in China are very low, but hey, it's worth a shot.
United States
Ford's sales right here at home checked in with a 4% gain over last year's April, topping 231,000 units. Its retail sales jumped 3% which was Ford's best April retail result in the past decade. I bet you can't guess what drove the results?
Just kidding. Of course you guessed SUVs and trucks. Ford sold more than 65,000 Ford brand SUVs last month, which was its best-ever April sales result for the segment. Further, Ford's most profitable product, the F-Series, sold more than 70,000 units for the second consecutive month and the result is pretty impressive when you hear any month the F-Series tops 50,000 units is considered a solid month.
All those sales of larger, more profitable vehicles helped send the automaker's transaction prices higher, too. Ford's average transaction price, not including Lincoln, moved $1,500 higher compared to last year's April, and $700 higher compared to the industry's average increase.
Ford is coming off a record first-quarter earnings result, and the first month during the second-quarter bodes well for investors. Sales of SUVs are booming worldwide and its full-size trucks are rapidly rolling off of dealership lots in the United States. If Ford can continue to sell higher priced nameplates in Europe, expand in China, and generate high transaction prices in the U.S., there's no reason to be pessimistic during the second-quarter.
The article Sales Highlights From Ford Motor Company's 3 Key Markets originally appeared on Fool.com.
Daniel Miller owns shares of Ford. The Motley Fool owns shares of and recommends Ford. Try any of our Foolish newsletter services free for 30 days. We Fools may not all hold the same opinions, but we all believe that considering a diverse range of insights makes us better investors. The Motley Fool has a disclosure policy.
Copyright 1995 - 2016 The Motley Fool, LLC. All rights reserved. The Motley Fool has a disclosure policy.