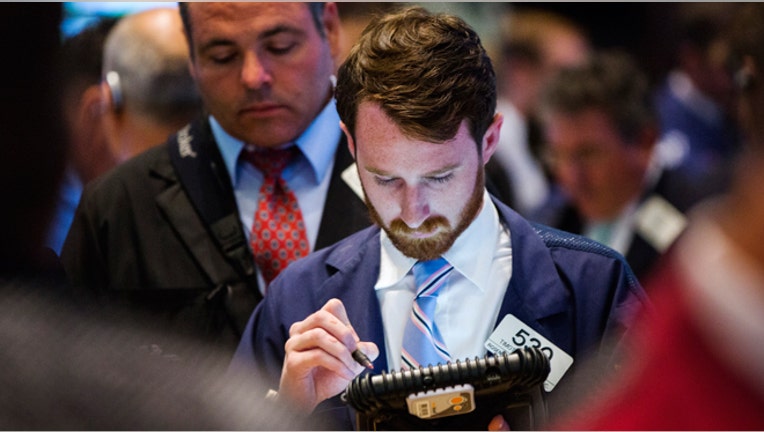 FOX Business: Capitalism Lives Here
U.S. equity markets tumbled 1% on Friday as skittish traders fretted about turmoil in Eastern Europe and mixed corporate earnings.
Today's Markets
As of 2:20 p.m. ET, the Dow Jones Industrial Average fell 160 points, or 0.97%, to 16342, the S&P 500 dipped 17.3 points, or 0.92%, to 1861 and the Nasdaq Composite slumped 75 points, or 1.8%, to 4073.
Wall Street has so far this week posted moderate gains, with the broad S&P 500 advancing about three quarters of one percent. However, sentiment took a hit on Friday.
"Rallies in a skittish tape don't age well," said Michael Block, chief strategist at Rhino Trading Partners. Block cited "confusion" over mixed corporate earnings, along with issues striking new highs on stock-market averages.
Tension between Russia and Ukraine did little to settle Wall Street's mood. Standard & Poor's cut Russia's credit rating to "BBB-," while the country's central bank hiked interest rates by 0.5 percent. The move sparked a selloff in Russian markets that pervaded into Western European markets and then into U.S. stock-index futures, according to Peter Boockvar, chief market analyst at The Lindsey Group.
"The problem now though is the rhetoric and tension seems to be taking on a new level of height and concern," Boockvar said in an e-mail to clients.
In corporate news, software giant Microsoft (NASDAQ:MSFT) posted better-than-expected quarterly results after the closing bell on Thursday. Fellow Dow component Visa (NYSE:V) revealed results that narrowly topped estimates. Amazon.com (NASDAQ:AMZN), the online retail behemoth, logged stronger-than-expected sales and profits that were in-line with estimates.
Ford (NYSE:F), meanwhile, posted weaker-than-expected profits.
United Technologies (NYSE:UTX), the industrial conglomerate, disclosed an investigation by the Securities and Exchange Commission into practices by non-employee sales representatives in China.
There is one report on the economic docket. A reading on consumer sentiment from Thomson Reuters and the University of Michigan at 9:55 a.m. ET is expected to have ticked higher.
Elsewhere, U.S. crude oil futures fell 68 cents, or 0.66%, to $101.27 a barrel. Wholesale New York Harbor gasoline dipped 0.64% to $3.07 a gallon. Gold rose $10.20, or 0.79%, to $1,301 a troy ounce.