Russia-US ties zigzag wildly during Putin's rule since 2000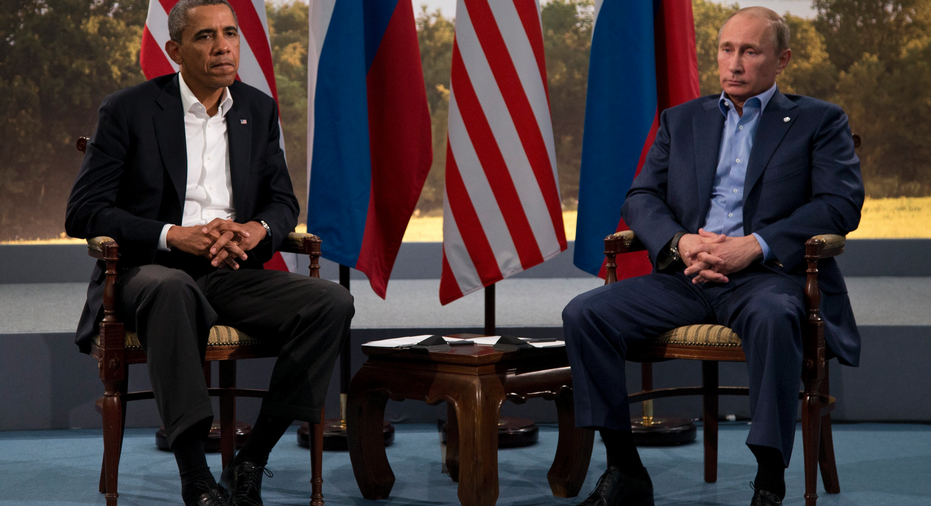 President Donald Trump will become the fourth American leader that Russian President Vladimir Putin has faced since taking the helm in 2000 when they meet on the sidelines of the Group of 20 summit on Friday. Under Putin's watch, U.S.-Russia ties have zigzagged wildly between periods of tensions and relative warmth.
A brief glance at the ebb and flow of those relations since 2000:
___
EARLY HOPES
When Putin was first elected in March 2000, U.S.-Russia ties were bitterly strained over the U.S.-led NATO's bombing of Yugoslavia in 1999. Those tensions contrasted with friendly relations between Moscow and Washington under President Bill Clinton and Russia's first president, Boris Yeltsin, throughout the 1990s.
Putin quickly sought to establish warm ties with Clinton and other Western leaders. When Clinton visited Moscow in June 2000, the Russian president even suggested that Russia could join NATO — a proposal that has failed to get traction. In July 2000, Putin tried unsuccessfully to persuade North Korea to abandon its missile program when he paid a surprise visit to Pyongyang en route to the G-8 summit in Japan.
___
BRIEF PARTNERSHIP
Soon after President George W. Bush's inauguration, Putin met with him in Slovenia in June 2001. The meeting helped establish friendly ties, with Bush famously saying that he came to trust Putin after looking him in the eye and getting a sense of his soul.
Putin became the first foreign leader to call Bush after the Sept 11 attacks, and he welcomed the U.S. deployment to formerly Soviet Central Asia for the war in Afghanistan. In another goodwill gesture, Putin shut down Soviet-era military facilities in Cuba and Vietnam. U.S. missile defense plans cast a shadow over otherwise warm ties, but Russia and NATO signed a 2002 pact that set up a joint council to tackle common threats such as terrorism and nuclear proliferation.
___
TENSIONS RISING
The U.S. invasion of Iraq in 2003, which Russia criticized, marked a turning point and ties began to sour.
Moscow viewed the 2004 Orange protests in Ukraine against a fraudulent presidential vote as an attempt by Washington to expand its clout and hurt Russia's interests in the former Soviet nation. The tensions kept boiling and a brief war between Russia and Georgia in 2008 led to a freeze in Russia-U.S. relations.
___
A RESET AND A NEW COLD WAR
President Barack Obama moved to "reset" ties with Russia soon after his election, visiting Moscow in July 2009.
Even though Putin continued to call the shots as prime minister, Obama focused on building warm ties with Putin's ally, President Dmitry Medvedev. When Medvedev stepped down in 2012 to let his mentor reclaim the top job, Putin accused the U.S. of fomenting mass protests in Moscow against his return to the presidency.
U.S.-Russia relations steadily degraded as the Kremlin moved to stifle dissent, tighten restrictions on foreign nongovernmental organizations and ban U.S. adoptions of Russian children. They plunged to a new low in 2013 when Russia granted political asylum to NSA contractor Edward Snowden despite U.S. requests for his extradition.
When Ukraine's Russia-friendly president was driven from office in February 2014 after months of protests, Putin blamed the U.S. for engineering his ouster. Moscow quickly annexed Ukraine's Crimean Peninsula and offered support to pro-Russia separatist insurgents in eastern Ukraine, triggering Western sanctions.
___
TRUMP AND RUSSIA
The Kremlin has rejoiced over Trump's victory in the U.S. presidential election after his campaign promises to improve ties with Russia. But U.S. congressional and FBI investigations into Trump campaign officials' links with Russia thwarted Putin's hopes for a quick meeting, making the G-20 summit in Hamburg, Germany, the earliest possible venue.
Putin has denied meddling in the U.S. vote and criticized the Democrats for failing to acknowledge the mistakes he says helped Trump win. He has praised Trump and voiced readiness to cooperate with the U.S. on stabilizing Syria, fighting terrorism and tackling other global issues.