Royal Gold, Inc. in 5 Charts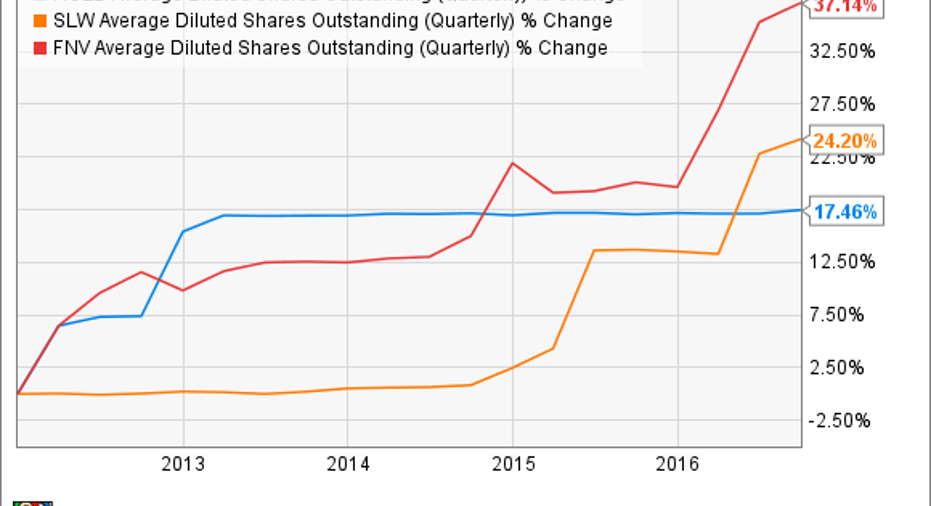 Image source: Getty Images.
Like most gold stocks, Royal Gold, Inc. (NASDAQ: RGLD) is firing on all cylinders this year, and is still up a staggering 75% as of this writing despite slipping by double digits this past quarter. But it's only when you pull up the charts that you realize how resilient Royal Gold has been when compared to streaming peers Silver Wheaton Corp. (NYSE: SLW) and Franco-Nevada Corp.(NYSE: FNV) this year. Both Silver Wheaton and Franco-Nevada have been down by double digits in the past three months and have underperformed Royal Gold by big margins year to date: Silver Wheaton is up about 39% and Franco-Nevada is lagging behind with 20% gains so far this year.
So what's ticking for Royal Gold? A lot, as these five charts reveal.
Record revenue
Royal Gold delivered sparkling quarterly numbers last month, with its fiscal first-quarter revenue and earnings per share hitting record highs.
Image source: Royal Gold's annual meeting presentation, Nov. 2016.
Two factors are driving Royal Gold's sales up: Higher production and a recovery in gold prices. Royal Gold doesn't own and explore mines, but buys gold and silver from miners at low cost in return for financing them upfront.
Royal Gold's Q1 revenues were significantly higher than the year-ago quarter primarily because of streams from the Pueblo Viejo mine, which is jointly owned by Barrick Gold (NYSE: ABX) and Goldcorp. Last year, Royal Gold paid Barrick $610 million in cash in exchange for a certain percentage of the gold and silver produced from the mine. Accordingly, the mine delivered 11,000 ounces of gold and 0.3 million ounces of silver to Royal Gold last quarter, driving its revenue higher.
The good news is that Royal Gold's production should continue to trend higher in coming years, as the next chart indicates.
Solid growth potential
Royal Gold's net gold equivalent ounces also hit record quarterly highs in Q1, driven by new streams from Pueblo Viejo and increased production from Andacollo andMount Milligan mines. As each of these mines has a long life, Royal Gold has already secured bullion streams for several years.
Image source: Royal Gold's annual meeting presentation, Nov. 2016.
Not surprisingly, investors bid Royal Gold shares up in anticipation of stronger production and sales this year and beyond. Moreover, higher sales and low costs have driven Royal Gold's cash flows substantially higher this year.
Expanding cash flows
Royal Gold can generate strong operating cash flows as it buys gold and silver at rates substantially below spot prices. For instance, the streamer paid only about $22.7 million for bullion streams last quarter and generated revenue worth $117.9 million. While that understandably makes Royal Gold's business more profitable than that of a miner like Barrick's, the streamer is only next to Franco-Nevada when it comes to growth in its cash flows this year.
RGLD cash from operations (TTM) data by YCharts.
For investors, higher cash flows have also brought in higher dividends, which is another major factor that's driving Royal Gold shares up.
Rising dividends
Royal Gold raised its dividend by 4.4% last month, making 2016 its 16th consecutive year of dividend increases. The streamer's dividend has grown at an impressive compounded average rate of 20% since 2001.
Image source: Royal Gold's annual meeting presentation, Nov. 2016.
Thanks to its low-cost, high-margin business model, investors can expect Royal Gold's dividend streak to continue in the coming years. The stock's 1.4% dividend yield should add a cushion of safety if volatile metal prices were to weigh down on the stock. There's another reason why investors are optimistic about Royal Gold: limited share dilution.
Low share dilution
As I explained earlier, Royal Gold finances miners up front in exchange for bullion streams. So where does Royal Gold get the money to fund from? Streaming companies typically tap equity markets and issue additional stock to raise money, but that's not always beneficial to shareholders as it dilutes their capital as the company's profits are spread over a higher numbers of shares. Royal Gold, however, has been pretty conservative about issuing stock.
RGLD average diluted shares outstanding (quarterly) data by YCharts.
As you can see, Royal Gold's share count has been more or less intact since 2013, and has risen by a much smaller percentage as compared to other streamers in the past five years. That also means Royal Gold is generating enough profits and cash flows to sustain and expand operations, which is a great sign and has been rightly applauded by the market as reflected in the share premium.
So while many believe gold stocks depend almost entirely on prices of the yellow metal, Royal Gold has proved otherwise by delivering strong operational performance and returns for its shareholders.
10 stocks we like better than Royal Gold When investing geniuses David and Tom Gardner have a stock tip, it can pay to listen. After all, the newsletter they have run for over a decade, Motley Fool Stock Advisor, has tripled the market.*
David and Tom just revealed what they believe are the 10 best stocks for investors to buy right now... and Royal Gold wasn't one of them! That's right -- they think these 10 stocks are even better buys.
Click here to learn about these picks!
*Stock Advisor returns as of Nov. 7, 2016
Neha Chamaria has no position in any stocks mentioned. The Motley Fool owns shares of Silver Wheaton. Try any of our Foolish newsletter services free for 30 days. We Fools may not all hold the same opinions, but we all believe that considering a diverse range of insights makes us better investors. The Motley Fool has a disclosure policy.