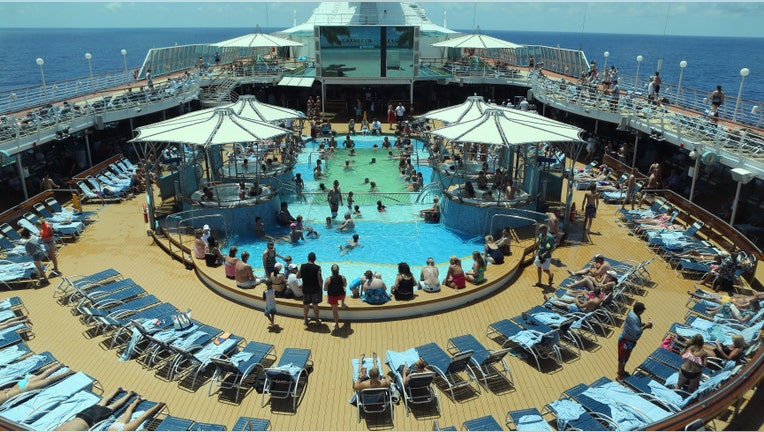 Royal Caribbean Cruises Ltd. cut its 2016 earnings outlook amid higher fuel costs and negative currency effects, including a hit from a weaker British pound, as the cruise operator reported second-quarter earnings rose 24%.
The Miami-based company's shares, down by a third this year, fell 6.6% to $67.14 in recent trading, after it also issued disappointing third-quarter guidance.
Royal Caribbean, whose brands also include its namesake and Celebrity, among others, lowered its 2016 annual share-earnings forecast to $6 to $6.10 from its previous projection of $6.15 to $6.35.
Royal Caribbean said the lowered guidance reflects expected negative fuel and currency effects totaling roughly 27 cents a share, including 14 cents a share related to the depreciation of the pound after Britain voted in June to exit the European Union.
The company also adjusted its 2016 forecast for net yields—a measure of revenue relative to capacity—to reflect the sale of a 51% stake in its Pullmantur Group, whose yields were below the fleet average. Royal Caribbean now expects net yield, excluding currency effects, to improve by 4.0% to 4.5%, compared with its previous projection for net-yield growth of 2.5% to 4%.
The company reiterated its bookings for the rest of the year remain strong, similar to last year's levels.
For the current quarter, Royal Caribbean forecast per-share earnings of $3.10, below expectations of analysts polled by Thomson Reuters for per-share profit of $3.39.
Royal Caribbean said continued strength in North America is helping offset weakness in the Eastern Mediterranean and in Shanghai.
On a conference call, Chief Financial Officer Jason T. Liberty said geopolitical events have been straining close-in bookings and pricing for its Eastern Mediterranean cruises and led the company to make some operational changes in the region.
In China, a market where Royal Caribbean and its rivals have been looking to for growth, Mr. Liberty said overall bookings have been mostly within expectations, though there has been some softness in demand in Shanghai in recent weeks.
Overall, Royal Caribbean reported a profit of $229.9 million, or $1.06 a share, up from $185 million, or 84 cents a share, a year earlier. Excluding restructuring-related charges and other items, adjusted per-share earnings were $1.09, above company expectations for per-share profit of roughly $1.
Revenue increased 2.3% to $2.11 billion, compared with analysts' expectations for revenue of $2.17 billion.
Excluding currency fluctuations, net yields rose 1.1%%, in line with expectations. Net cruise costs, excluding fuel, increased by 1.9%.
Write to Tess Stynes at tess.stynes@wsj.com