Rofin-Sinar Results Suffer as Coherent Merger Looms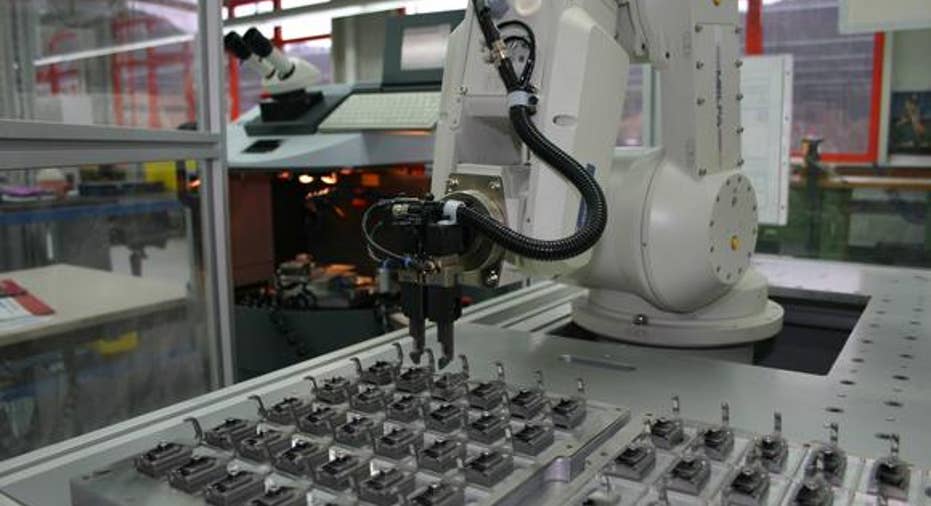 Image source: Rofin-Sinar Technologies.
The laser industry has been a fast-growing segment of the industrial world, and Rofin-Sinar Technologies has sought to benefit from the favorable trends that have raised interest in the laser space. Coming into Monday's fiscal second-quarter financial report, Rofin-Sinar investors were more curious than nervous about how the company would fare, because most shareholders are instead focused squarely on the fact that Coherent has made an acquisition bid for Rofin-Sinar. As a result, even though Rofin-Sinar's results weren't as strong as many had expected, the stock didn't react substantially to the news. Let's look more closely at how Rofin-Sinar Technologies did during the quarter and what lies ahead for its business.
Rofin-Sinar misses the targetRofin-Sinar's fiscal second-quarter results were problematic on multiple fronts. Revenue was down a greater-than-expected 10% to $110.6 million, as most investors had expected just a 3% top-line decline. The drop in sales all but wiped out Rofin-Sinar's profits. Net income plunged 94% to $529,000, and that produced earnings of $0.02 per share. Even if you adjust for costs related to the proposed merger with Coherent and a recent proxy contest from before the buyout bid, adjusted earnings of $0.16 per share were still a third below the consensus forecast among those following the stock.
In explaining the results, Rofin-Sinar pointed to several factors. The company specifically said that results took a hit from the Coherent merger offer, and only partially because of the direct costs of considering the buyout. The company has pushed out some deliveries as a result of the announcement of the transaction, and some of the projects it was expecting to gain final acceptance instead got delayed until the third quarter. As we've seen in past quarters, Rofin-Sinar pointed to weakness in the semiconductor and automotive businesses as weighing on its overall results as well.
Looking at Rofin-Sinar's geographical exposure, the trend that has held true throughout much of the industrial economy didn't show up. In many companies, North America has been a pocket of strength in an otherwise weaker global economy. But among Rofin-Sinar's markets, Europe held up the best, with revenue falling just 1%. By contrast, the Asian market fell 14%, and revenue in North America took the biggest hit, posting a 22% decline.
The same trends we've seen recently with Rofin-Sinar's segments appeared this quarter. The marking and micro applications business saw sales fall 18%, which was worse than the almost 6% drop for the macro applications segment. Sales of components grew a modest 3% from year-ago levels, cushioning the revenue blow to some extent.
CEO Thomas Merk nevertheless pointed to positives. "Our ultrashort pulse lasers gained further momentum," Merk said, "with a meaningful increase in sales." The CEO also noted that textile demand helped keep performance in the low-power carbon-dioxide laser space solid.
What should investors expect from Rofin-Sinar? From a business perspective, Rofin-Sinar is excited about its future. As Merk explained, "We continue to see interest from worldwide customers for our high-power fiber laser products, including an initial purchase order from a new, larger [original equipment manufacturer] that we received in the current [fiscal] third quarter."
Some of that excitement might stem from Rofin-Sinar's immediate future. Although order entry at Rofin-Sinar dropped 19% to $114.7 million, backlogs were up slightly from December levels to $132.8 million. The company's book-to-bill ratio came in at a healthy 1.04 for the quarter.
Yet the big news for the quarter was the merger agreement with Coherent in March. Under the deal, Coherent will pay Rofin-Sinar shareholders $32.50 per share in cash. Rofin-Sinar sees the deal as allowing it to become part of a more diversified business that will have better scale and allow faster growth in the laser industry. Already, the company has gotten FTC approval, although other conditions still remain to be met. Coherent and Rofin-Sinar expect the deal to be complete by the end of 2016.
Because of the merger offer, Rofin-Sinar shares didn't react much to the news. Moreover, the company has stopped issuing guidance or having conference calls because of the pending merger. Only if something happens to get in the way of the deal happening should Rofin-Sinar shareholders expect much reaction to the laser-maker's financial performance for the remainder of what is likely to be its last year as a separate company.
The article Rofin-Sinar Results Suffer as Coherent Merger Looms originally appeared on Fool.com.
Dan Caplinger has no position in any stocks mentioned. The Motley Fool recommends Rofin-Sinar Technologies. Try any of our Foolish newsletter services free for 30 days. We Fools may not all hold the same opinions, but we all believe that considering a diverse range of insights makes us better investors. The Motley Fool has a disclosure policy.
Copyright 1995 - 2016 The Motley Fool, LLC. All rights reserved. The Motley Fool has a disclosure policy.