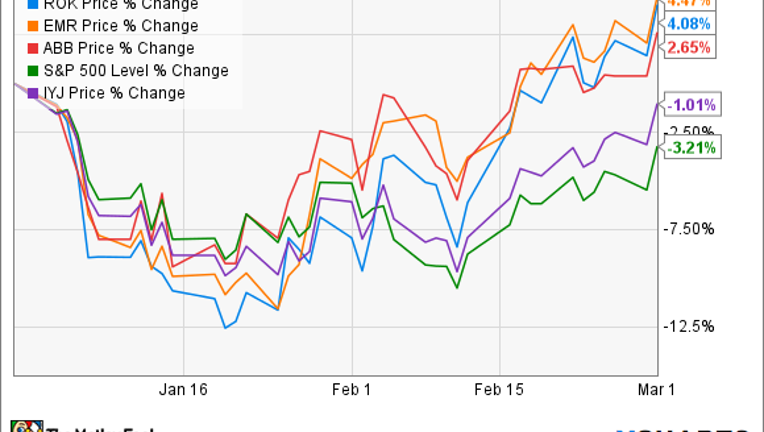 Rockwell Automation lowered its full-year guidance during its first-quarter results presentation, but as I write, the stock is up 4% year-to-date and easily beating the S&P 500 and the broader industrial sector (measured by theiShares Dow Jones US Industrial ETF: IYJ in the graph below). What's going on and can it continue?
A tough start to 2016The first-quarter results weren't pretty. As you can see below, the reported sales and earnings figures showed sharp declines in the higher-margin architecture and software segment, while productivity improvements helped offset revenue declines with control products and solutions. On the other hand, as you can see in the currency-adjusted (organic sales) figures, sales were heavily affected by the stronger U.S. dollar.
| Segment | Sales | Change | Organic Sales Change | Operating Earnings | Change |
| --- | --- | --- | --- | --- | --- |
| Architecture and Software | 642.9 | (9.2%) | 2.7% | 176.2 | (20.4%) |
| Control Products and Solutions | 783.7 | (9.6%) | 3.8% | 119.7 | (4.5%) |
| Total | 1,426.6 | (9.4%) | 3.3% | 295.9 | (14.7%) |
DATA SOURCE: ROCKWELL AUTOMATION PRESENTATIONS.
However, it was the guidance cut that initially upset investors:
Full-year organic sales growth to decline by 1% to 5%, compared to a November forecast for flat to negative 4%
Full-year adjusted EPS of $5.70 to $6.20, compared to November guidance for $5.90 to $6.20
Free cash flow conversion from net income forecast unchanged at 100%
Moreover, some of the commentary on the earnings call wasn't inspiring:
Management sees some growth areas in China, but in areas (automotive and consumer) that are "smaller pieces" of Rockwell's business.
CEO Keith Nosbusch doesn't see a recession comingbut says two-thirds of Rockwell's business has limited visibility -- it's hard for management to know what's coming next.
CFO Ted Crandall outlined why he saw Rockwell's oil and gas revenue falling 20% in 2016, compared to an estimate of 10% in November.
With all of this going on, what's to like about Rockwell Automation?
Valuation remains goodFirst, despite the guidance cut, Rockwell still has a compelling forward valuation. For example, if it hits the midpoints of its EPS and FCF conversion target ranges, as is expected, then its full-year enterprise value (market cap plus net debt) to FCF valuation will be around 17 times. That's not bad relative to its peers, and good if 2016 turns out to be a trough year. Moreover, it makes the stock a decent takeover candidate because a potential buyer -- such as, say, Honeywell International, ABB, or Emerson Electric -- could immediately boost its cash flow and return on invested capital.
EMR EV to Free Cash Flow (TTM) data by YCharts.
Honeywell is obviously on the acquisition trail, and Emerson Electric is restructuring its operations with future acquisitions a key focus.
IIoT still in play Second, Rockwell's status as a backdoor wayto play the Industrial Internet of Things (IIoT) is still in play. In a sense, the cyclical declines in revenue at Rockwell -- particularly in oil and gas and heavy industries -- are masking the underlying trend toward using things like IIoT. Nosbusch answered a question on this on the earnings call:
Industrial sector forming a troughThird, there is some evidence to suggest that the U.S. could be over the worst of it in the industrial sector.
IMAGE SOURCE: TRADINGECONOMICS.COM.
Moreover, Emerson Electric is forecasting a return to order growth in April, with sales turning positive in the second half.
To be fair, Nosbusch outlined how Rockwell's outlook had worsened, saying they "no longer expect year-over-year growth later in the fiscal year," but this looks to be a case of the company previously being too optimistic on guidance. Incidentally, note that Emerson's fiscal year runs through December while Rockwell's runsthrough September. In other words, Rockwell may well see growth in the calendar year.
Finally, it's fascinating how the market is pricing in a recovery in the industrial supply companies -- seen as early cyclical stocks tied to U.S. manufacturing.
Time to buy Rockwell Automation?The guidance cut was a disappointment, but Rockwell's valuation provided shareholders with some downside protection, and I believe the currentvaluation does too. Provided the economy doesn't turn downward -- China seems to be the main concern -- then Rockwell has the potential to outperform. Throw in some added fun with takeover potential and the stock is worth a position in the cyclical part of a portfolio.
The article Rockwell Automation Is Still Attractive Despite Its Guidance Cut originally appeared on Fool.com.
Lee Samaha has no position in any stocks mentioned. The Motley Fool owns shares of and recommends MSC Industrial Direct. The Motley Fool recommends Emerson Electric. Try any of our Foolish newsletter services free for 30 days. We Fools may not all hold the same opinions, but we all believe that considering a diverse range of insights makes us better investors. The Motley Fool has a disclosure policy.
Copyright 1995 - 2016 The Motley Fool, LLC. All rights reserved. The Motley Fool has a disclosure policy.