Robert Half International Still Waiting and Seeing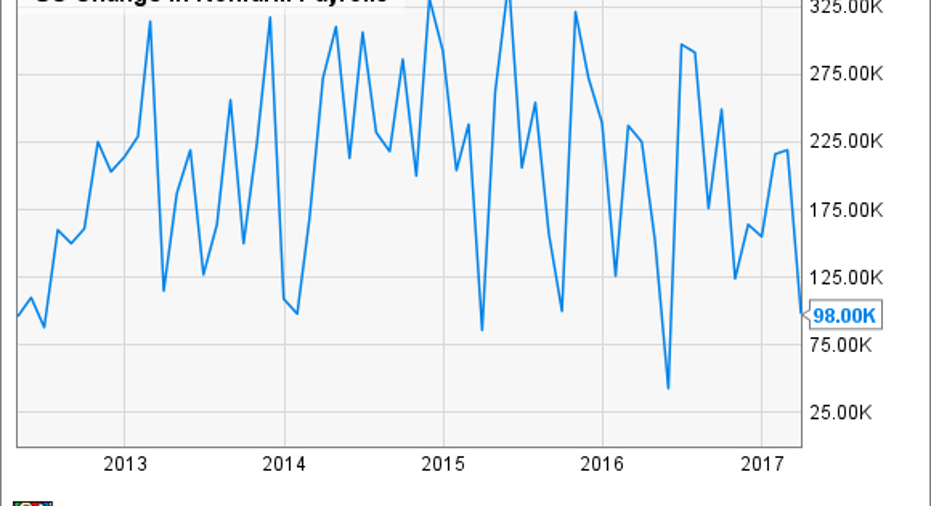 Once again, investors in staffing company Robert Half International (NYSE: RHI) have been left wondering just when the company will see the benefits of a pickup in hiring by its customers. While its first-quarter 2017 earnings were at the high end of expectations, it certainly wasn't due to any increase in temporary or permanent hiring among its client base in the U.S. Let's take a closer look at what's going on.
Robert Half International results: The raw numbers
Starting with a look at the headline numbers from the quarter:
Revenue of $1.29 billion came in at the high end of the guidance range of $1.25 billion to $1.31 billion.
Net income per share of $0.62 came in above the guidance range of $0.55 to $0.61, but bear in mind that the company benefited by $0.01 from new accounting for stock compensation.
Clearly, the headline numbers are a net positive for Robert Half International, but perhaps not so much for those looking for resurgent hiring of white-collar workers in the U.S.
The following chart illustrates that last point: The real strength in the quarter came from revenue growth in international temporary and permanent consulting -- U.S. temporary and permanent revenues remain in decline.
Data source: Robert Half International investor presentations. Chart by author.
What happened in the quarter
CEO Max Messmer said on the earnings call that the U.S. economic environment is stable and the "job market is strong," but "the hiring cycle remains uncharacteristically long as employers take more time to make hiring decisions." This comes even as business optimism -- measured with soft data such as surveys -- has showed a "noticeable improvement in optimism" in the U.S.
In other words, business optimism is more positive than is being reflected in Robert Half's U.S. numbers just yet. Moreover, the nonfarm payrolls data from the Bureau of Labor Statistics (BLS) has been noticeably more positive than Robert Half's U.S. revenue growth:
U.S. Change in Nonfarm Payrolls data by YCharts.
Credit Suisse analyst Anjaneya Singh pointed out the discrepancy with the BLS data, and CFO Keith Waddell made the following points:
The BLS data is "very blue-collar, manufacturing, light-industrial-driven," whereas Robert Half is focused on white-collar accounting, finance, technology, and consulting jobs.
BLS data hasn't correlated strongly with Robert Half data in the past.
The midpoint of guidance for the second quarter implies that an inflection point occurred in the first quarter of 2017.
Expanding on the last point: The guidance for the second quarter for revenue in the range of $1.275 billion to $1.335 billion implies a 3% decline at the midpoint on a reported basis, but when adjusted for days and currency, it's only a 1% decline, compared to the 1.2% decline in reported revenue for the first quarter.
Image source: Getty Images.
Looking ahead
Management outlined that U.S. conditions are relatively improving, with evidence that Robert Half ended the quarter better than it entered it. Moreover, givenincreasing business optimism, it's understandable if its outlook remains positive in tone, even as the midpoint of guidance for the second quarter implies a decline. However, so far in 2017, the companies Robert Half generates revenue from appear to be continuing to take a wait-and-see approach to white-collar hiring, just as investors are waiting to see when revenue growth will turn positive again.
10 stocks we like better than Robert Half InternationalWhen investing geniuses David and Tom Gardner have a stock tip, it can pay to listen. After all, the newsletter they have run for over a decade, Motley Fool Stock Advisor, has tripled the market.*
David and Tom just revealed what they believe are the 10 best stocks for investors to buy right now... and Robert Half International wasn't one of them! That's right -- they think these 10 stocks are even better buys.
Click here to learn about these picks!
*Stock Advisor returns as of April 3, 2017
Lee Samaha has no position in any stocks mentioned. The Motley Fool owns shares of and recommends Robert Half International. The Motley Fool has a disclosure policy.