Rite Aid Shares Slide 8% After Report of Increased FTC Activity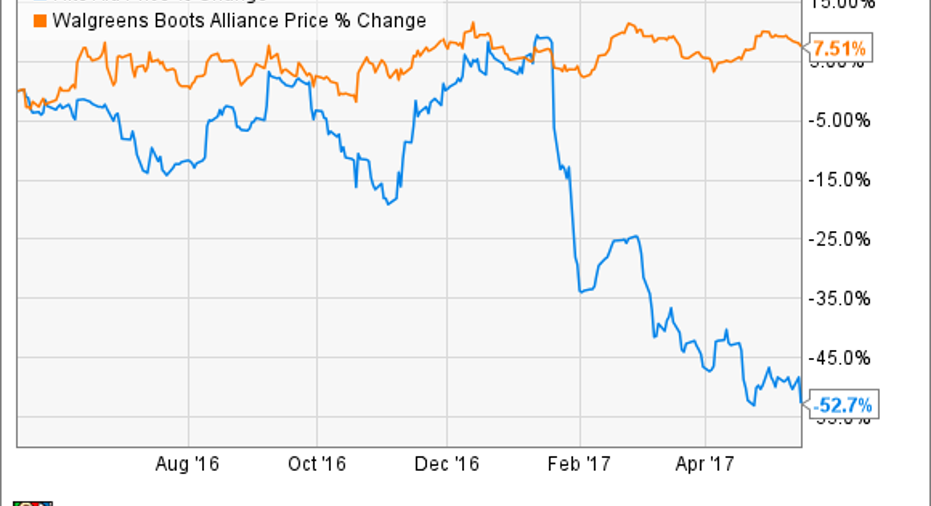 What happened?
Shares of Rite Aid Corporation (NYSE: RAD), one of the nation's leading drug store chains, with a strong presence on both coasts, are down 8% on Tuesday after the Federal Trade Commission reportedly issued civil investigative demands for information about Walgreens' (NASDAQ: WBA) plans to acquire the company.
So what
Civil investigative demands are essentially requests for more information pursuant to a potential lawsuit challenging a merger or acquisition. That doesn't mean it's a sure thing the FTC will attempt to block this deal, but it's certainly not an encouraging development.
"We are pleased to have certified completion of our submission of documents and information to the FTC in connection with the Second Request," said Stefano Pessina, executive vice chairman and CEO of Walgreens Boots Alliance, in a press release. "We will continue to work closely with the FTC regarding the pending transaction."
Image source: Getty Images.
Now what
In my opinion, this deal going through in some form still remains more likely than not, but the details certainly continue to grow cloudier. Between Rite Aid and Walgreens, the former definitely has more to lose in this situation, and the graph below shows investors' increasing pessimism about its outlook as this saga has trudged on.
If the acquisition takes place, Walgreens will become the largest retail pharmacy chain in the U.S., substantially increasing its market penetration and purchasing power. However, if the deal founders, there will be other waysWalgreens could use the cash it was dedicating to it to return value to shareholders, so investors on that side shouldn't lose sleep.
10 stocks we like better than Walgreens Boots AllianceWhen investing geniuses David and Tom Gardner have a stock tip, it can pay to listen. After all, the newsletter they have run for over a decade, Motley Fool Stock Advisor, has tripled the market.*
David and Tom just revealed what they believe are the 10 best stocks for investors to buy right now... and Walgreens Boots Alliance wasn't one of them! That's right -- they think these 10 stocks are even better buys.
Click here to learn about these picks!
*Stock Advisor returns as of May 1, 2017
Daniel Miller has no position in any stocks mentioned. The Motley Fool has no position in any of the stocks mentioned. The Motley Fool has a disclosure policy.