Rising Oil Prices Are Causing This Oil Company to Get a Little Too Amped Up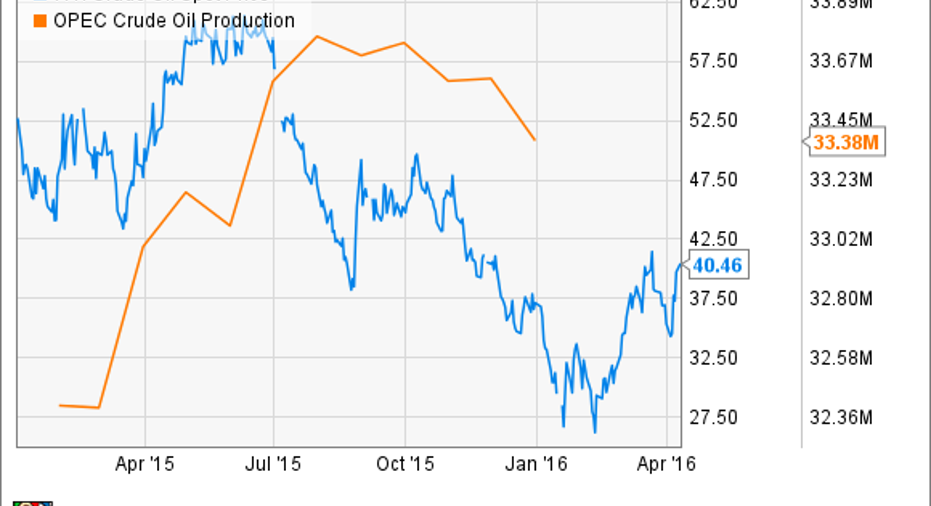 Image source: Pioneer Natural Resources.
Crude oil has been on an epic run in recent weeks. After bottoming out last month in the mid-$20s, it has surged past $40 a barrel on some signs that fundamentals in the industry are starting to improve. It's a rally that has Scott Sheffield, CEO of Pioneer Natural Resources , making plans to accelerate his company's production growth to take advantage of the rebound, with it poised to add as many as 10 more rigs as soon as crude tops $50 a barrel. It's a plan that could come back to burn the company given that the primary reason crude is rising is because of the potential for some artificial support from two of the industry's major players.
Artificially inflated?That artificial support would come by way of a coordinated production freeze currently being worked on by Russia and Saudi Arabia. It's a freeze that's intended to give the oil market some time to work off the glut of crude oil sitting in storage, which is what pulled crude to its lows last month in the first place. The freeze would artificially reduce global oil output in the short term in order to put a floor under the oil price. Once the oil market is in a more natural balance, these producers would resume pumping at max capacity.
Sheffield is very much in favor of the freeze, recently telling The Wall Street Journal that "the best thing that can come out of it is at least they're talking" about ways to fix the oil market. He, like most other oil executives, want the Saudi-led OPEC to at least provide some oil price stability so they can plan for the future. However, his plan to accelerate production is not what OPEC nor Russia have in mind, because both want to protect their share of the oil market, and they have been pumping at max capacity in order to put pressure on shale producers like Pioneer Natural Resources to slow their output growth. Suffice it to say, if OPEC sees shale companies taking advantage of the freeze to accelerate their own production, it could put a swift end to the output freeze, potentiallycausing the floor underneath crude to crumble.
We've seen this story beforeLast year, shale drillers were very quick to put rigs back to work at the first sign crude oil was recovering. Last spring, for example, crude topped $50 a barrel, leading companies like Pioneer Natural Resources and Whiting Petroleum to reload their capex budgets. Pioneer, for example, sold its Eagle Ford Shale midstream assets to give it some extra cash to accelerate its drilling plans. At the time, the company said:
Whiting Petroleum, likewise, sold $300 million assets and decided to plow all of that extra cash into its capex budget, boosting it from $2 billion to $2.3 billion. That extra cash would enable the company to increase its production by 7% over the prior year, despite the fact that the oil market was vastly over supplied.
However, these announcements from shale drillers to accelerate production didn't sit well with OPEC, which subsequently increased its own output. That upended the crude rally and caused it to fall down a seemingly bottomless pit until earlier this year:
WTI Crude Oil Spot Price data by YCharts.
Whiting Petroleum was quick to realize its mistake, with the company cutting $150 million out of its capex budget by the end of July. That said, its decision to grow production at all last year really came back to bite it this year. Because of the collapse of crude, its financial position had deteriorated so significantly that it had to cut its capex budget 80% over last year, and it's planning to wind down all of its fracking operations by the end of the current quarter.
Pioneer, on the other hand, has a much stronger financial position because it has little debt, and it sold assets and issued equity to give it more than enough cash to continue drilling. However, it too could be in trouble in the future if it burns through all its cash to drill wells the market doesn't need right now, nor will it need once oil tops $50 if it hits that level because of an artificial production freeze. Instead, the company should just hold off on accelerating growth until the oil market actually needs this incremental oil production -- and is paying oil companies handsomely to grow. Otherwise, it's just wasting money to drill marginally economic wells only to have that oil sit in storage somewhere for who knows how long.
Investor takeawayPioneer Natural Resources is getting a bit too excited about oil's recent rise. Its plans to accelerate drilling as soon as oil tops $50 a barrel could really come back to burn the company if oil only reaches that mark because of an artificial lift from OPEC and Russia. Instead, the company should hold on to its oil resources until the oil market is fully healed, which is when its shareholders would get the most bang for the bucks it spends on wells to grow production.
The article Rising Oil Prices Are Causing This Oil Company to Get a Little Too Amped Up originally appeared on Fool.com.
Matt DiLallo has no position in any stocks mentioned. The Motley Fool has no position in any of the stocks mentioned. Try any of our Foolish newsletter services free for 30 days. We Fools may not all hold the same opinions, but we all believe that considering a diverse range of insights makes us better investors. The Motley Fool has a disclosure policy.
Copyright 1995 - 2016 The Motley Fool, LLC. All rights reserved. The Motley Fool has a disclosure policy.