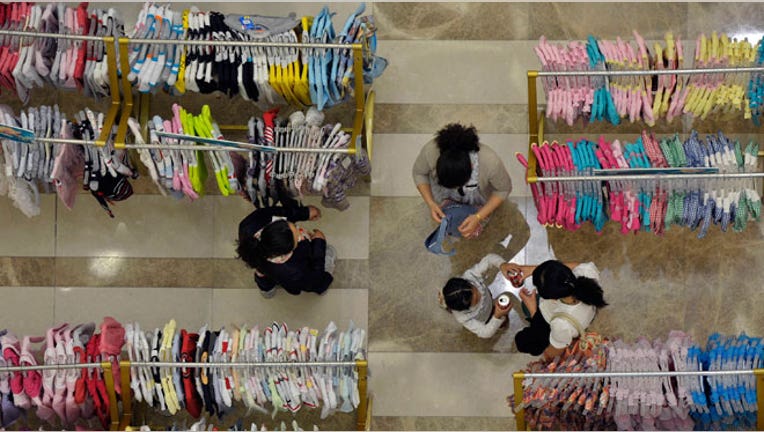 Depending upon where they fall in the income bracket, U.S. consumers have been yanked in opposite directions by diverging forces in 2013.
As Wal-Mart (NYSE:WMT) has discovered, low and even middle income consumers have been spooked by higher gas prices and the expiration of the payroll tax holiday, which is projected to sap $125 billion from disposable income in 2013.
At the opposite end of the spectrum, wealthier Americans are experiencing a windfall created by a stock market flirting with all-time highs and a dividend boom fueled by cash-rich corporations.
"The consumer does face a tug of war," said Josh Feinman, global chief economist at Deutsche Bank's (NYSE:DB) DB Advisors.
This bifurcated dynamic may mean tough times ahead for discount retailers like Target (NYSE:TGT) but a potential opportunity for higher-end companies like Tiffany (NYSE:TIF) and Nordstrom (NYSE:JWN).
"It's having divergent influences on various segments of the consumer space that's for sure," said Russell Price, senior economist at Ameriprise Financial (NYSE:AMP).
Payroll Tax Hike Pain
Overall, retail sales inched up just 0.1% in January from December to a seasonally-adjusted $416.6 billion.
Economists blamed the slow growth in part on the expiration of the payroll tax holiday as part of the fiscal cliff compromise at the end of 2012. The expiration caused payroll taxes to jump to 6.2% from 4.2%, shrinking Americans' take-home pay.
Forecasts are for the jump in payroll taxes to drain about $125 billion in total disposable income in 2013.
"It is a hit to disposable income. This was not unexpected. This was a temporary tax cut. I know people who live check to check don't see it that way," said Feinman.
It's too early to tell precisely how much impact the payroll tax hike will have on consumer spending.
An internal document leaked to Bloomberg News revealed that executives at Wal-Mart believe February sales have been a "total disaster" due to a "potent one-two punch" of increased payroll taxes and delayed tax returns.
"It's not like it gave a tremendous shot in the arm to consumer spending so I don't know that it will cause a nosedive. I think it's a temporary negative," said Feinman.
Gas Prices Creep Higher
At the same time, Americans have been struggling with a number of other economic obstacles, including rising gas prices.
According to AAA, the national average price of gasoline is now $3.78 a gallon, up 44 cents, or 13%, from just one month ago.
Price said every 10-cent increase in the nationwide gas price can subtract $13 billion from consumers on an annualized basis.
George Williams, a father of eight who lives in Elizabeth, N.J., is feeling the pressure from higher payroll taxes and gas prices.
"I need to spend less but I have to make sure the house is full and the kids need clothes," said Williams, who works as a bus driver for Gray Line, a sightseeing company.
Financially stressed consumers are less likely to buy goods from Target or splurge on a family dinner at the Olive Garden, which is owned by Darden Restaurants (NYSE:DRI).
Equity Rally, Housing Recovery
On the other hand, affluent Americans are benefiting from an overall improvement in their finances, especially in the real estate and financial markets. These windfalls are offsetting higher marginal tax rates on high earners.
After plummeting during the financial crisis, the housing market is finally showing signs of life, with home prices in January up 12% year-over-year to an average of $173,600, according to the National Association of Realtors.
The equity markets are also generating solid returns as the S&P 500 climbed for seven consecutive weeks before dipping a bit last week. The broad index has rallied about 10% over the past 12 months and remains near all-time highs.
At the same time, corporate America has been raising dividends with a flurry in an effort to put to work an estimated $1.23 trillion in cash and short-term investments sitting on S&P 500 balance sheets.
Dividend Boom
This month alone big-name companies like Coca-Cola (NYSE:KO), 3M (NYSE:MMM), UPS (NYSE:UPS) and Xerox (NYSE:XRX) have all unveiled plans to raise their dividends.
Peter Michaels, who manages money for very high net worth individuals at Toh Michaels Private Wealth Management, cautions that dividend yields remain low. The overall dividend yield on the S&P 500 is just 2.06%, compared with a long-term average of 4.5%.
Still, Citigroup (NYSE:C) estimates that total S&P 500 dividends soared 24% year-over-year in January, the strongest growth pace of any month other than December when companies raced to accelerate dividend payouts before the fiscal cliff caused tax rates to rise.
Citi said total personal dividend payments could soar about $100 billion in 2013 and rise by a cumulative 25% in 2013-2014.
"The direct impact will be highly concentrated among the top 10% of consumers measured by wealth or income," Steven Wieting, Citi's director of economic and market analysis, wrote in a note to clients. "Among other important drivers such as wealth gains, this suggests a relatively more robust outlook for the highest end of consumer spending activity despite tax hikes."