Revitalized Manning to Carry Broncos Past Falcons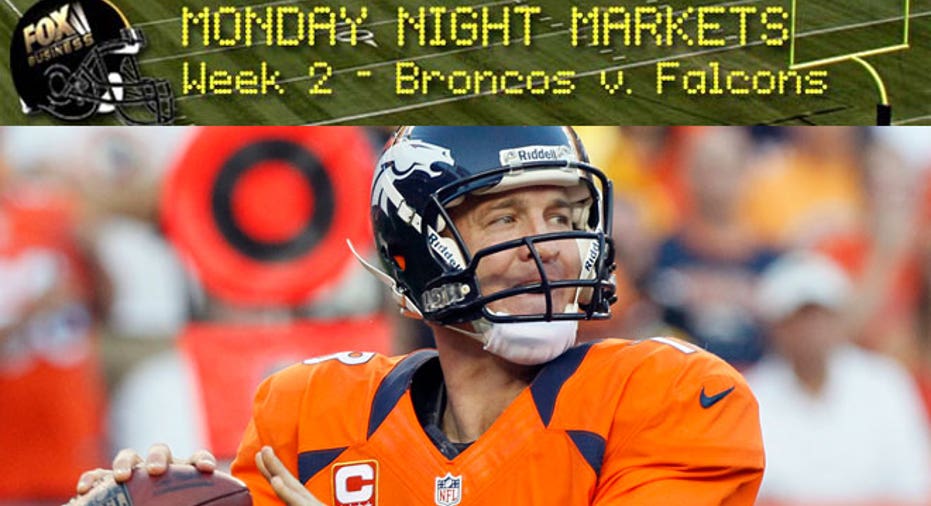 Week two of the NFL season concludes with the Denver Broncos (1-0) heading to the Georgia Dome to take on the Atlanta Falcons (1-0).
The Broncos head into their second prime time game in two weeks off their opening week victory over the Steelers. QB Peyton Manning, who had not played in 20 months due to complications from multiple neck surgeries, passed for 253 yards and two touchdowns for a passer rating of 129.2, second in the league.
Look for Manning to test the Falcon secondary, which is without CB Brent Grimes, by targeting WR Demaryius Thomas who caught five passes for 110 yards and a touchdown last week, averaging 22 yards per catch. The Broncos should improve their rush offense behind RB Willis McGahee against an Atlanta defense that allowed the 152 yards on the ground last week.
On the defensive side, the Broncos recorded five sacks last week behind a pass rush led by DE Elvis Dumervil, LB Von Miller and DT Derek Wolfe and will look contain and keep pressure on Atlanta QB Matt Ryan. Denver gave up 50 yards to TE Heath Miller last week and one of the keys tonight will be how the Broncos contain Atlanta TE Tony Gonzalez.
The Falcons come into their home opener behind QB Matt Ryan who passed for 299 yards and three touchdowns last week. Ryan has the only passer rating better than Peyton Manning, topping the league at 136.4. Look for the Falcons to use the screen pass to counter an aggressive Broncos pass rush.
On the ground Receivers Julio Jones and Roddy white along with TE Tony Gonzalez can spread a defense, so RB Michael Turner should have opportunities to pick up yards after being held to only 32 yards rushing last week. The Falcons will be without starting corner Brent Grimes, so covering Demaryius Thomas will fall to Asante Samuel and Dunta Robinson. One of the key match ups will be the Falcon pass rush led by DE John Abraham against Denver LT Ryan Clady and RT Orlando Franklin. Abraham had a key strip-sack last week and will look to get after the less-than-mobile Manning.
Fox Business has evaluated the win/loss and stock market statistics over the past 20 seasons of Monday night NFL games and come up with a Monday Night Markets (MNM) score for each team based on their record and the prior week's market activity. Let's take a look at what the markets have to say.
The Dow Jones Industrials ended last week up 2.15% and the S&P 500 was up as well, closing out the week with a 1.94% gain with both indexes up two weeks in a row and eight of the last ten. The markets overcame early jitters leading up to the German high court ruling on a permanent Eurozone bailout fund and a surprise drop in consumer credit in July. The German courts eventually approved the creation of the fund and the markets rallied further after Federal Reserve chief Ben Bernanke announced the Fed's new open-ended bond buying plan.
Over the past 20 years, the Broncos have played 38 Monday night games and based on our calculations have a Monday night rank of .429 when the Dow closes the prior week up and .450 when the S&P 500 is up giving them a MNM rank for this week of .440.
During the same 20 year period, the Falcons have played 17 Monday night games and have a rank of .273 when the Dow is up and .300 when the S&P 500 is up giving them an MNM rank this week of .287.
Monday Night Markets picks the Denver Broncos on the road over the Atlanta Falcons.
The Chargers have played 18 Monday Night games over 20 years have a Monday night rank of .500 when the Dow closes the prior week up and .538 when the S&P 500 is up giving them a MNM rank for this week of .519. The Raiders have played 26 Monday night games and have a rank of .389 when the Dow is up and .400 when the S&P 500 is down giving them an MNM rank this week of .395.
Week 2 FBN Staff Picks:
Broncos @ Falcons
Sandra Smith (1-1)
Broncos!
Connell McShane (2-0)
Denver is my pick. Matt Ryan and Atlanta should be tough to beat at home, but I'm not going to bet against Old Man Manning just yet. I had my doubts as to how effective he could be this year, but Peyton certainly looked sharp last week. I'm sticking with him.
Robert Gray (2-0)
Peyton Manning answered many questions about his health and ability with his excellent performance in leading Denver to a week one victory. But tonight they are on the fast track in Atlanta, where the Falcons will use their speed at WR and on defense plus the home field advantage to score a close victory.
The Monday Night Markets (MNM) rank is derived by taking the number of games won during each market condition of up or down during a twenty year period, over the total number of games played.  Each result for the Dow and S&P are averaged to determine a final rank between 0 and 1.