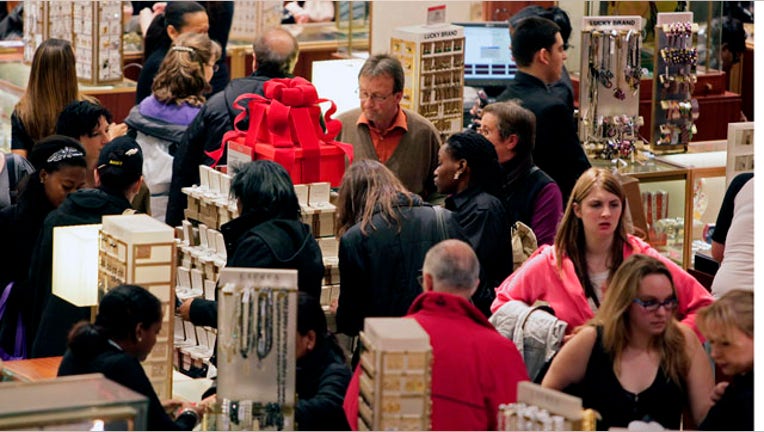 Traditional retailers are pulling out all the stops to attract last-minute holiday shoppers in the final days before Christmas, even as Amazon.com Inc. steps up its own efforts to appeal to procrastinators.
As the deadline to receive packages before Christmas passed for most online orders, retailers with physical stores aimed to make the most of a rare window of advantage over e-commerce players.
Many are pushing deeper discounts, restocking popular products and offering in-store pickup for online orders through Christmas Eve, aiming to make up for any ground lost to Amazon earlier in the season. It marks a final, high-stakes push for holiday shopping dollars, which account for around 20% of the retail industry's annual sales.
Macy's and Kohl's will keep their stores open round-the-clock through Christmas Eve and are offering a raft of last-minute promotions. Wal-Mart Stores sped up shipments of Legos, Barbies and My Little Pony dolls to get them in stores this week. Some chains, including Best Buy, are offering large-scale same-day delivery on Christmas Eve for the first time.
For its part, Amazon said its Prime Now service, which delivers in as little as an hour, will take orders as late as 9:45 p.m. on Christmas Eve in some markets. Deliveries will take place until midnight.
"This is a unique year because Christmas is falling on Sunday, which makes it more difficult to do all of that last-minute online shopping," said Stephenie Landry, vice president of Prime Now. Amazon's quick-delivery service aims to fill in the gap.
Toys "R" Us increased toy inventory held in stores versus last year through the final shopping days and is keeping stores open continuously from 6 a.m. Friday through 9 p.m. Saturday.
"There is a point where people stop ordering online," for home delivery, Toys "R" Us Chief Executive David Brandon said on Tuesday. "When that happens, the last-minute shoppers flood into the stores and it becomes a function of who has the inventory and who has the best shopping experience."
The last week before Christmas could give brick-and-mortar retailers a needed boost after consumers' preference for online shopping accelerated this holiday season, giving more business to Amazon. At the same time lower prices from discounts and deflation ate into sales.
In October, the National Retail Federation forecast that Americans would spend $655.8 billion in November and December, or a 3.6% increase from a year ago. However, in dollar terms, retail sales slowed slightly versus last year in the weeks between Thanksgiving and Christmas, according to data from NPD Group, a market research firm.
"This year's trend clearly demonstrates how extreme promotions, now most noticeable in toys and electronics, are steering retail off the path of growth," said Marshal Cohen, NPD's chief industry analyst. "Even though we are lagging behind so far, don't be surprised if that last week pulls in a lot of business," for brick-and-mortar retailers.
Standing in the baby aisle at a Barnes & Noble store in Wesley Chapel, Fla., Susan Loper was holding three educational toys in her hands and deciding which to buy for her grandsons.
The 70-year-old said she started her Christmas shopping four months ago but realized she wasn't quite finished after assessing her inventory. "I like to buy the same number of gifts for each of them," she said. "So here I am."
The level of promotional activity, especially among apparel retailers, ticked up the weekend before Christmas, according to Simeon Siegel, a Nomura Instinet analyst. Of the 21 retailers he follows, nine offered deeper discounts compared with the same weekend, known as "Super Saturday," a year ago.
Under Armour offered 40% discounts on hooded sweatshirts, compared with 25% a year ago, according to Mr. Simeon, while Kate Spade & Co. advertised an extra 30% off sale merchandise, compared with 25% last year.
Many retailers trimmed their inventories this holiday season after a glut last year forced them to offer deep discounts.
To prepare for battle with Amazon this winter, brick-and-mortar retailers also invested heavily in e-commerce, increasing the number of products sold online and adding fulfillment centers to speed shipping. Wal-Mart added over 10 million products to Walmart.com ahead of the season and more aggressively matched Amazon's prices in recent weeks, according to price-tracking firms.
Amazon gained share online thus far. Between Nov. 27 and Dec. 17, Amazon grabbed around 41% of online sales, up from 38% last year, according to data from Slice Intelligence, which collects data from email receipts of 4.2 million shoppers. In comparison, Walmart.com took in 2.7% of sales, down from 3.2% last year, though the vast majority of Wal-Mart's sales occurred in stores.
One bright spot has been electronics retailers, including Best Buy and Apple, according to Slice. Items such as smart thermostats, Bluetooth speakers and the newest iPhone have sold well, said Ken Cassar, an analyst at Slice.
Some retailers are turning to same-day delivery this week to head off Amazon, including Bloomingdale's and PetSmart, said Daphne Carmeli, CEO and founder of delivery service Deliv Inc. The pet-store chain is even offering it free in 17 metro areas through Christmas Eve.
"That's new. We didn't see that last year," she said. "That's becoming a way that retailers are able to out-Amazon and compete in this world."
Write to Sarah Nassauer at sarah.nassauer@wsj.com, Laura Stevens at laura.stevens@wsj.com and Paul Ziobro at Paul.Ziobro@wsj.com