Retail Is Struggling, but Investors Should Be Excited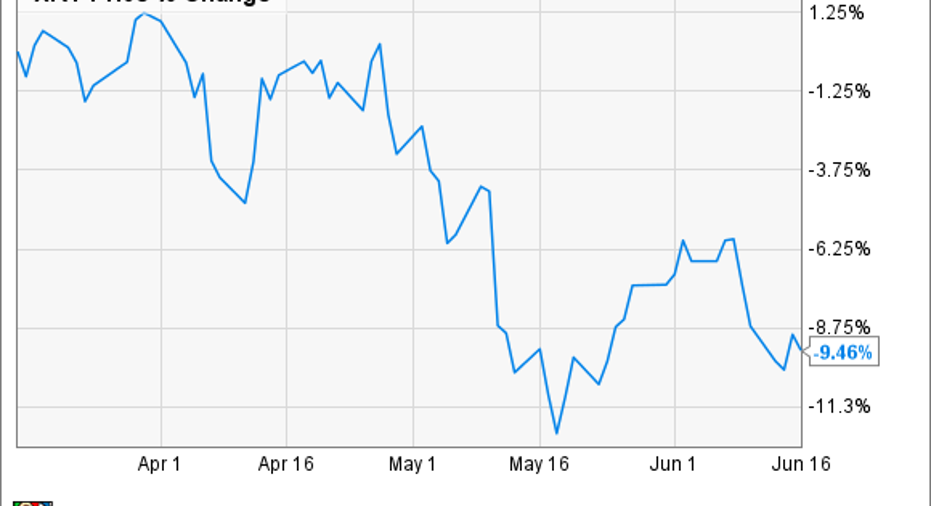 The last month has been difficult for retail stocks. Many traditional brick-and-mortar stores saw declines after posting weak first-quarter sales and profits and issuing bleak guidance for the second quarter of 2016. As measured by the S&P Retail ETF , the retail sector has fallen by as much as double digits in the last month.
Even though retail may be struggling, this presents a great opportunity for investors. Here are some reasons to be optimistic and three stocks that are worth a look.
U.S. consumers are still spending money
There has been a lot of negative publicity about declines in sales at stores like Target and Macy's over the last few months. These companies have also said that they expect sales to stay down during the coming months. The fact is, though, that consumer spending continues to trend upward in the United States.
During the month of May, U.S. retail spending increased half a percent over April and increased 2.5% over May 2015, according to the U.S. Census Bureau. Retail sales for the first five months of the year were up 2.7% over the year-ago period. The overall trend is that people are spending more and that's a good sign for retailers.
Leading the way this year in sales gains are home improvement, sporting goods, and internet-based stores. Businesses like Home Depot and Dick's Sporting Goods have fared well as shoppers flock to home goods and sports apparel. In the first quarter, home improvement, sporting goods, and internet retail are up 11.5%, 8.3%, and 13.3% respectively, according to Census data.
As the U.S. housing market continues to strengthen, home and garden supply businesses have benefited.Sports apparel is en vogue at the moment, and that has helped bolster sales for sporting good chain. While these trends in spendingcould slow or reverse quickly, internet retail is the one area expected to continue growing very strongly through the end of the decade.
Image source: The Home Depot.
Successfully battling the internet problem
While trends in shopping habits can quickly change, digital sales have been on a steady increase. Over the last five years, growth in digital sales has been averaging 14% per year. In 2015, 7% of all retail purchases in the U.S. were made online, and that figure is expected to reach 10% by 2020.
This transition of spending from brick-and-mortar stores to the internet has been difficult for many physical storefrontbusinesses, but some retailers are doing better at taking advantage of the change. Target and Home Depot are two such companies. Over the last two years, Target's online sales increased by more than 30%.
Home Depot's total sales in 2015 increased 6.4%, due in part to its growing online presence and option to buy online and pick up in-store.
As retailers cope with consumers' changing preferences, finding companies that are successfully transitioning to meet these new consumer demands can yield great long-term picks, especially since some of these retail stocks have been punished along with businesses that are not coping well with the internet problem.
Retail stocks on sale
With the recent pullback in the retail sector, it's time to start digging for bargains. Quality companies that are still growing but have had their shares pull back can present an opportunity to find value. Home Depot, Target, and Dick's Sporting Goods have all issued positive long-term guidance, but are toting hefty declines in their stock in recent months. Here is a breakdown of the metrics:
| Company | Stock Percent Drop From 2016 Highs | 5-Year Average Expected Profit Growth |
| --- | --- | --- |
| Home Depot | -9.2% | 16.6% |
| Target | -21.7% | 9.3% |
| Dick's Sporting Goods | -25% | 10.8% |
Chart data source: Yahoo! Finance.
All three companies have stable or growing businesses and are embracing the disruptive internet retail movement. We already discussed the success Home Depot and Target have had in their respective online stores, and Dick's Sporting Goods is seeing positive results as well. The sports retailer saw internet sales increase 8.2% year-over-year in the first quarter, and nearly a tenth of all its business isnowdone online. Besides internet sales, the company is also growing its physical footprint through the opening of specialty stores like Golf Galaxy and Field and Stream.
The companies are expected to grow profits over the next five years. Those expectations come from a combination of slow but steady revenue increases led byincreased business being done online. With internet sales carrying lower overhead costs than a traditional brick-and-mortar store,Home Depot, Target, and Dick's Sporting Goods are finding new ways to utilize their real estate and inventory to drive business forward.Combining an internet presence with physical locations, these companies are starting tooffer faster home-delivery times, pick-up in store options, and the ability for customers to research price and offerings before leaving the house.With those profit growth numbers being the expectation as a result, these retailers look like a deal to me.
An action plan for the summer
Retail businesses that have been showing growth in revenue, are successfully embracing the digital store format, and have issued positive long-term guidance are a good place to put money. The market's worry about the health of consumer spending is persisting going into the summer, but the actual numbers are showing an upward trend. Given the negativity surrounding the retail industry, I think now is a great time to be excited about buying.
The article Retail Is Struggling, but Investors Should Be Excited originally appeared on Fool.com.
Nicholas Rossolillo owns shares of Target. The Motley Fool recommends Home Depot. Try any of our Foolish newsletter services free for 30 days. We Fools may not all hold the same opinions, but we all believe that considering a diverse range of insights makes us better investors. The Motley Fool has a disclosure policy.
Copyright 1995 - 2016 The Motley Fool, LLC. All rights reserved. The Motley Fool has a disclosure policy.