Restoration Hardware Rides Record Results to Big Gains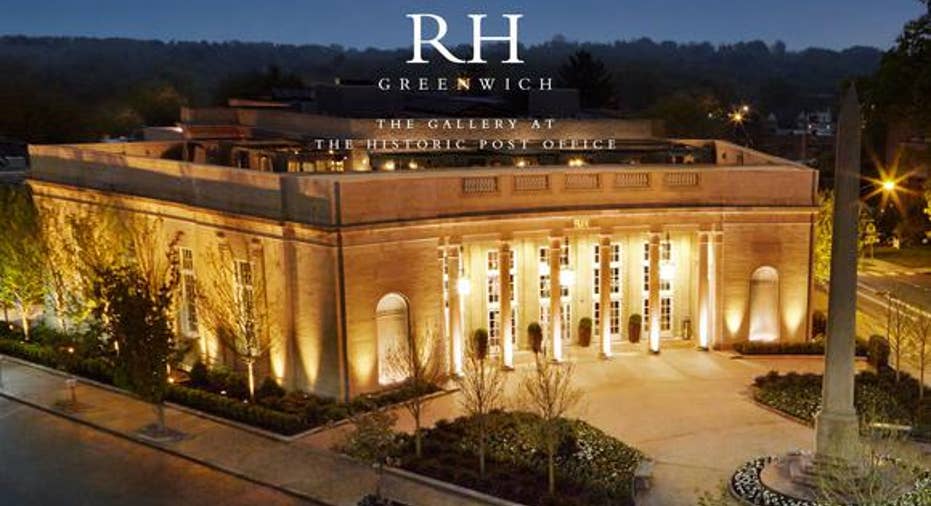 Image: Restoration Hardware.
Home-furnishings retailer Restoration Hardware has had an up-and-down history, but recently, it has taken full advantage of the recovery in the U.S. housing market to capture a strong growth opportunity. Coming into Thursday's fiscal third-quarter report, Restoration Hardware investors remained nervous about some of the adverse trends that other retailers had seen, even though rival Williams-Sonoma had reported solid results from the home-furnishings arena.
Restoration Hardware's financials largely put shareholders at ease, giving them encouraging signs of continued growth that should continue into 2016. Let's take a closer look at how Restoration Hardware did during the quarter, and how it sees the key holiday season playing out.
Restoration Hardware feels quite at homeRestoration Hardware's fiscal third-quarter results were actually mixed compared to the consensus forecast among investors following the stock. Revenue growth of 10%, to $532.4 million, was impressive, but it was well short of the $540 million that most investors had expected to see. On the bottom line, though, Restoration Hardware saw its adjusted net income soar by 37%, to $20.3 million. That helped boost adjusted earnings to $0.65 per share, $0.02 more than analyst estimates.
A closer look at Restoration Hardware's financials reveals other areas of strength. Comparable-brand sales growth slowed to 7%, but that showed the company's ability to keep growing even after posting 22% gains in comps in the same quarter in 2014. Store revenue provided the lion's share of increasing revenue, with segment sales climbing 16%.
Direct revenue grew at a slower pace of just 4%, leaving Restoration Hardware's store network as the company leader in bringing in overall sales. Gains in operating margins were also impressive, with adjusted figures rising to 9.4% from 7.6% in the year-ago quarter.
Restoration Hardware CEO Gary Friedman celebrated the results. "Since our IPO in 2012," Friedman said, "we have outperformed our peers by a wide margin while remaining focused on our two value-driving strategies -- the expansion of our brand and the transformation of our retail stores." Friedman believes that the company has done a great job of "innovating and executing at an unprecedented pace," and has seen strong signs of success in its efforts.
Can Restoration Hardware keep moving forward? Indeed, some of the innovative new initiatives that Restoration Hardware has championed recently are starting to bear fruit. Friedman had positive comments on the RH Modern and RH Teen concepts, saying that early results are extremely encouraging.
"Our early data suggests that RH Modern is trending to add significant incremental revenues," the CEO said, "and opens up the RH brand to an entirely new market." More broadly, Restoration Hardware has seen good results from its next-generation Design Galleries, and expects further success as new locations open in different areas of the country.
Restoration Hardware also released some favorable guidance. For the fiscal fourth quarter, the company expects to see revenue of between $708 million and $718 million, which is higher than the $704 million consensus forecast among investors, and adjusted earnings of between $1.37 and $1.42 per share, which compares to the current estimate of $1.41. For the full 2015 fiscal year, Restoration Hardware guided sales to a higher range of $2.17 billion to $2.18 billion, and narrowed its previous bottom-line guidance to the higher-end of its previous range, now expecting adjusted earnings of $3.11 to $3.16 per share.
Those results are generally consistent with what Williams-Sonoma has said recently. Comparable-brand growth at Williams-Sonoma was especially strong in its West Elm segment, and the retailer managed to top expectations on both sales and earnings. Efforts to promote the Williams-Sonoma brand have also been reasonably successful, and that suggests that the entire industry is in a strong position right now.
Restoration Hardware investors celebrated the news, pushing the stock price up 6% in the first hour of after-market trading following the announcement. As long as the housing-related segment of the retail space manages to overcome some of the challenges that department stores and other all-purpose retailers are facing, Restoration Hardware has a chance to enjoy outpaced gains and impressive growth.
The article Restoration Hardware Rides Record Results to Big Gains originally appeared on Fool.com.
Dan Caplinger has no position in any stocks mentioned. The Motley Fool recommends Restoration Hardware and Williams-Sonoma. Try any of our Foolish newsletter services free for 30 days. We Fools may not all hold the same opinions, but we all believe that considering a diverse range of insights makes us better investors. The Motley Fool has a disclosure policy.
Copyright 1995 - 2015 The Motley Fool, LLC. All rights reserved. The Motley Fool has a disclosure policy.