Republican who revived health bill faces onslaught of anger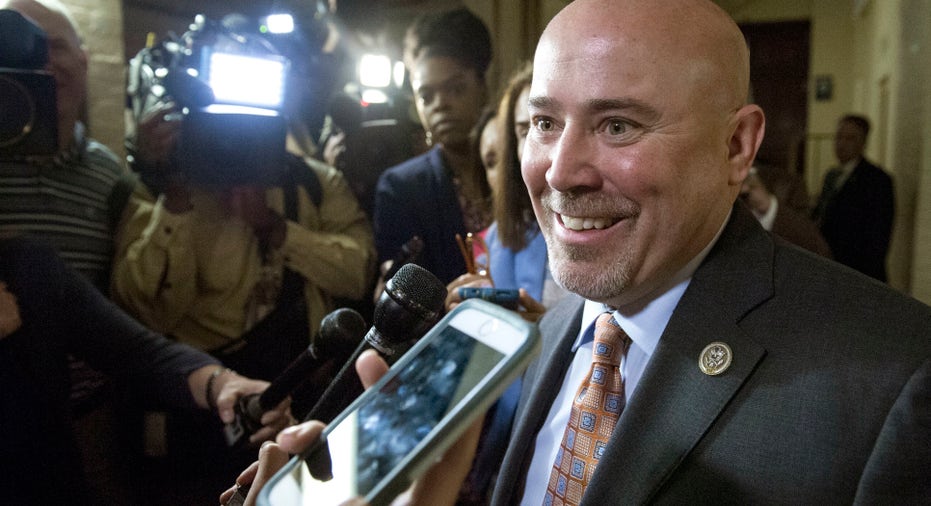 A Republican who headed the effort to revive the health care overhaul passed by the GOP-led U.S. House faced jeers and insults Wednesday as anger boiled over among voters at a town hall in a heavily Democratic part of his district.
Rep. Tom MacArthur faced hundreds of angry voters for nearly five hours, seeking to both sell and defend the health plan that has drawn widespread outrage and fears among those worried they may be at risk of not being able to afford coverage.
A group of protesters outside lay on the ground with tombstones during a die-in, while inside MacArthur answered heated questions about the health bill and President Donald Trump. Some voters chanted "goodbye" to MacArthur, who's being targeted by Democrats ahead of 2018 midterm elections.
"I hear people calling their congressman an idiot," he said. "I wonder, really wonder, how any one of you would perform in Congress."
MacArthur said he came to the Democratic part of the district for his first town hall since the health care bill passed because he wants to represent both sides and he's aware of the "anxiety" over health care.
"Whether it's fun or not, I owe you that," he said.
One member of the audience called out "Shame!" when MacArthur began discussing his daughter Gracie, who was born with special needs and died at age 11 in 1996. MacArthur, who has cited his daughter's death as a reason he got involved in the health care debate, responded, "Shame on you."
Heckles erupted when the former insurance executive said he's "watching an insurance market that is collapsing," which was followed by a shout of "Because you drilled holes in it!" from a member of the crowd.
MacArthur also faced angry questions about Trump, with one person asking him how long he was "going to defend this American nightmare."
"I didn't come here to defend the president," said MacArthur, who added that he thinks the House and Senate should continue investigating Russian interference in last year's election.
MacArthur joined Trump and other Republican congressmen in the Rose Garden at the White House last week after the health overhaul bill passed. He said then he was proud to "stand with a president" who was handling health care differently than Democratic President Barack Obama.
MacArthur was one of only two Republicans among five from the state to back the House legislation, which would dismantle Obama's signature law, sometimes called "Obamacare." The Republican-led Senate is expected to write its own version.
He helped the measure gain support from conservative colleagues by writing an amendment that would allow states to get federal waivers to the requirement that insurers charge healthy and sick customers the same premiums. The change would be for people who let their coverage lapse. MacArthur said those people would be covered by high-risk pools.
The Congressional Budget Office estimated that under initial versions of the House bill 24 million fewer people would have health insurance by 2026. The bill that was narrowly passed by the House this month hadn't received a CBO score.
Among other changes in the bill are elimination of tax penalties under Obama's law and erasure of tax increases on higher-earning people and the health industry.
MacArthur, responding to a question from a constituent concerned about Medicaid rollbacks, said, "This isn't tax cuts for the rich. This is tax cuts for everybody."
The bill includes nearly $1 trillion in tax cuts over the next decade, much of that for the very wealthy. Families making more than $1 million a year would receive tax cuts averaging $51,000, an analysis by the nonpartisan Tax Policy Center shows. The bill would raise taxes for some low-income families.
New Jersey was among dozens of states that opted to expand Medicaid under the ACA. Republican Gov. Chris Christie estimates 500,000 residents have gained coverage under the expansion, which he has touted as part of his efforts to fight the state's opioid addiction epidemic.
Vicky VanWright, a 69-year-old retired second-grade teacher from Willingboro, said the debate over health care and concern over the repeal of the Affordable Care Act motivated her to come out Wednesday.
"As far as health care, it should be for everyone," said VanWright, a Democrat. "I think it should be universal coverage."
She was among the few who stayed into the town hall's final minutes, telling MacArthur she was concerned about the Medicaid population and cuts in the GOP legislation.
"We're not cutting. We're capping," MacArthur responded.
VanWright, who said she has a 35-year-old son with Down's syndrome who benefits from Medicaid programs, said after the meeting that MacArthur hadn't changed her mind or persuaded her to support the bill.
"I don't think he understands what the states will do," she said.
___
Contact Catalini at https://www.twitter.com/mikecatalini