Repressive regimes use national security charges to stifle journalism worldwide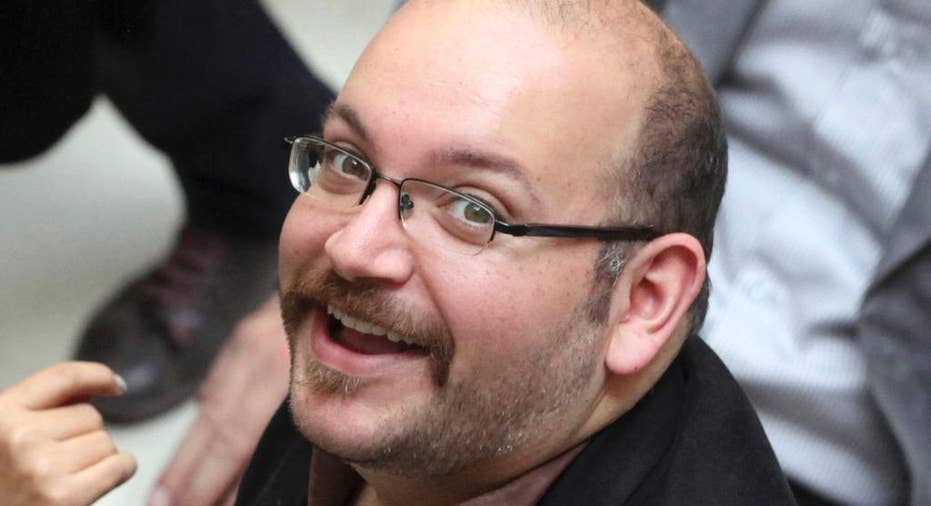 The detention of three Vice News journalists in Turkey last month came with all-too-familiar charges of terror-related crimes. Similar allegations were leveled against three Al-Jazeera reporters convicted last year in Egypt of fabricating news to help the banned Muslim Brotherhood. So, too, against Eskinder Nega, an Ethiopian journalist found guilty of terrorism charges in 2012 after publishing a critical piece about the government.
"We're seeing this more and more, this abuse of national security as an excuse to rein in bad news, basically," said David Kaye, the U.N.'s special investigator on freedom of speech.
Kaye warned that the growing use of anti-terror legislation against journalists is making any kind of critical reporting impossible in some countries.
"On the one hand national security is a legitimate basis for restricting freedom of expression," said Kaye, a professor of law at the University of California, Irvine. "But the state has to demonstrate that it's necessary to do so to achieve a legitimate objective, and they often abuse those rules for what I would say are illegitimate purposes."
Kaye also cited Azerbaijan and Iran as examples where national security legislation has been widely used against journalists.
Figures compiled by the Committee to Protect Journalists show that the number of reporters jailed worldwide steadily increased in recent years, from 81 in 2000 to 221 last year.
They include also the Washington Post reporter Jason Rezaian, who is being held in Iran on espionage charges.
"What we see in terms of worrying trends that's been picking up for a while is the use of overbroad anti-terror laws to prevent coverage and detain journalists," said Robert Mahoney, deputy director of the New York-based CPJ.
Such tactics are particularly common in countries with autocratic leaders, said Mahoney. "They are nominally elected but they are behaving in a repressive way, using the cloak of fighting terrorism to silence critical voices."
In Egypt, where the trial against three Al-Jazeera reporters has drawn international attention, the government led by soldier-turned-president Abdel-Fatah el-Sissi recently introduced new laws making it a crime to publish "false news" on terrorism. According to Mahoney, the laws can be used to punish those who publish legitimate news stories with up to five years in prison for "promoting terrorism."
Western governments have some responsibility for this, said Kaye, the U.N. expert. Since the Sept. 11, 2001 attacks, European countries in particular have imposed strict new anti-terror legislation that often includes greater surveillance, bans on certain literature and limits on free speech deemed as incitement to violence.
"It's no help when you have countries in the West adopting laws that restrict free expression," said Kaye. "In Spain you can't record the police anymore, for example."
While two of the journalists working for Vice News — both British citizens — were released days later and allowed to leave Turkey, their colleague Mohammed Ismael Rasool remains detained. Based in Turkey but of Iraqi Kurdish origin, Rasool has worked for a number of media organizations, including The Associated Press and Al-Jazeera.
The perceived threat posed by al-Qaida and now the Islamic State group have also made Western governments less willing to complain about other states cracking down on access to information, said Kaye. "The situation with IS puts a lot of pressure on governments to maintain coalitions against terrorism," including with authoritarian regimes.
Emre Kizilkaya, a press freedom advocate and local representative of the Vienna-based International Press Institute, or IPI, said the number of journalists jailed in Turkey has traditionally fluctuated in tandem with the governments' security policies.
"Turkey's anti-terror law and penal code are widely regarded as draconian in many aspects," he said. "And some parts of these laws are vague, allowing hawkish prosecutors to easily jail journalists by charging them as terrorists, when the political situation is ripe for such measures. The IPI has repeatedly urged Turkey to enact comprehensive reforms on these laws, which fail to tell a terrorist apart from a journalist who only reports on that group."
Since the arrest of the Vice News journalists, Turkish police have raided the offices of a media company and detained a Dutch journalist working in the Kurdish region. Frederike Geerdink was previously detained in January but later acquitted of charges of engaging in propaganda on behalf of the Kurdish rebels.
"We recognize that Turkey is facing a period of heightened tension. However at such a time it is more important than ever that both domestic and international journalists are allowed to do their vital work without intimidation, reporting on matters of global interest and concern," more than 70 well-known authors wrote in an open letter published Monday by the group PEN, which campaigns on behalf of imprisoned writers.
Mahoney said that while large, international media organizations are usually able to mobilize legal and diplomatic resources to get their correspondents released, local freelancers are often more vulnerable.
Last week, a court in Azerbaijan sentenced an investigative journalist to 7½ years in prison for financial crimes after she had reported on alleged corruption involving President Ilham Aliyev and his family.
Supporters say the charges against Khadija Ismayilova, who contributed to the U.S. government-funded Radio Free Europe/Radio Liberty, are part of a crackdown on dissent in the oil-rich former Soviet republic. The U.N.'s top human rights official, Zeid Raad al-Hussein, called Tuesday for Ismayilova's release and warned that her sentencing was "just the latest example of the crackdown on independent voices in the country."
Gulnara Akhundova, who works for International Media Support, a human rights group, said upcoming elections in Azerbaijan had made the government there very sensitive to any perceived criticism. While the United States, the European Union and human rights organizations have condemned the arrests of journalists in Azerbaijan, Akhundova said only tough diplomacy would really make a difference.
"I don't think anything will ever really improve unless there is real pressure from the West," she said. "What we need is real sanctions."
___
Frank Jordans can be reached at http://www.twitter.com/wirereporter
___
Online:
PEN International: http://www.pen-international.org
IPI: http://www.freemedia.at/
CPJ: http://www.cpj.org