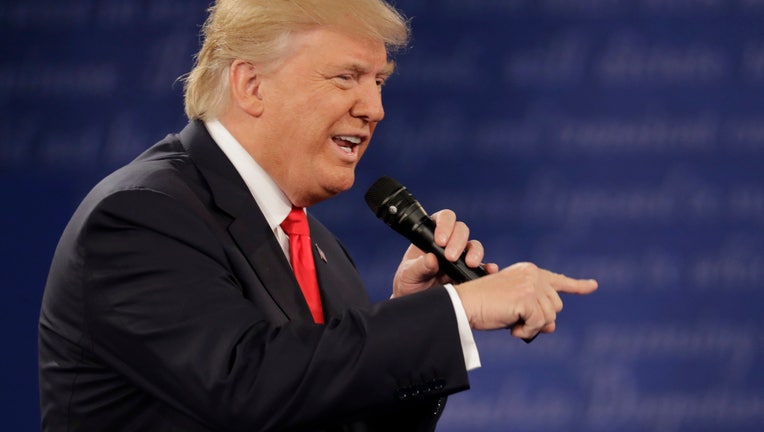 Donald Trump faced fresh controversy Wednesday over his treatment of women when several news organizations reported incidents in which women said he groped, touched or acted inappropriately toward them.
If true, the reports appeared to undermine his assertions in Sunday's town hall meeting with Democratic rival Hillary Clinton that his self-described "locker-room talk" captured on a 2005 videotape in which he bragged about being able to exploit women sexually because he was "a star" didn't represent actual behavior.
The New York Times reported two women's detailed accounts of Mr. Trump groping them. There was a similar account from another woman in the Palm Beach Post.
All three said they came forward after hearing Mr. Trump's denials in Sunday's debate that he had treated women in the way described on the videotape.
Jessica Leeds, 74 years old, a businesswoman at a paper company, told the Times that more than three decades ago, she sat next to Mr. Trump during a plane flight and that he groped her. The newspaper said it spoke with four people to whom she had earlier told her story.
Another woman, Rachel Crooks, said that as a 22-year-old receptionist in 2005, she met Mr. Trump outside an elevator in Trump Tower, where she worked, and that he kissed her on the cheeks and then the mouth.
Trump campaign spokesman Jason Miller issued a statement calling the article "fiction ... a completely false, coordinated character assassination."
"It is absurd to think that one of the most recognizable business leaders on the planet with a strong record of empowering women in his companies would do the things alleged in this story, and for this to only become public decades later in the final month of a campaign for president should say it all."
Early Thursday, the Trump campaign distributed a letter sent to the Times' executive editor, Dean Baquet, demanding a retraction and saying the article is "reckless, defamatory and libel per se." Mr. Trump's attorney said failure to retract the piece and remove it from the newspaper's website would leave him "no option but to pursue all available actions and remedies."
The Trump campaign didn't respond to a request for comment on the Palm Beach Post account.
Jennifer Palmieri, communications director for the Clinton campaign, said: "This disturbing story sadly fits everything we know about the way Donald Trump has treated women. These reports suggest that he lied on the debate stage and that the disgusting behavior he bragged about in the tape is more than just words."
In the videotape, first reported by the Washington Post, Mr. Trump said that he had grabbed women by their genitals and that "I just start kissing them...Just kiss. I don't even wait. And when you're a star, they let you do it."
The Palm Beach Post on Wednesday reported that Mindy McGillivray, 36, said she was groped by Mr. Trump at his Palm Beach, Fla., estate and club Mar-a-Lago 13 years ago. She said she screamed at the television "You liar!" when Mr. Trump denied doing the things he spoke of on the videotape.
Late Wednesday, People magazine posted an essay by one of its former writers about an alleged 2005 incident. The writer, Natasha Stoynoff, covered Mr. Trump and went to interview him and his wife, Melania, for a feature on their first wedding anniversary. During her visit to his Florida estate, she wrote, he brought her into a room and shut the door.
"I turned around, and within seconds, he was pushing me against the wall, and forcing his tongue down my throat," she wrote. A butler then interrupted and she was able to unpin herself, she wrote.
A Trump spokeswoman told the magazine the story was "fabricated" and said, "This never happened."
And BuzzFeed News reported that four contestants in the 1997 Miss Teen USA beauty pageant said Mr. Trumpwalked into the dressing room while the participants, some as young as 15, were changing.
Mariah Billado, the former Miss Vermont Teen USA, told BuzzFeed that Mr. Trump replied with something like, "Don't worry, ladies, I've seen it all before."
The Trump campaign didn't immediately respond to a request for comment on the other news accounts.
Write to Laura Meckler at laura.meckler@wsj.com and Janet Hook at janet.hook@wsj.com