Report: NVIDIA Corp. Prepping New Gaming Graphics Cards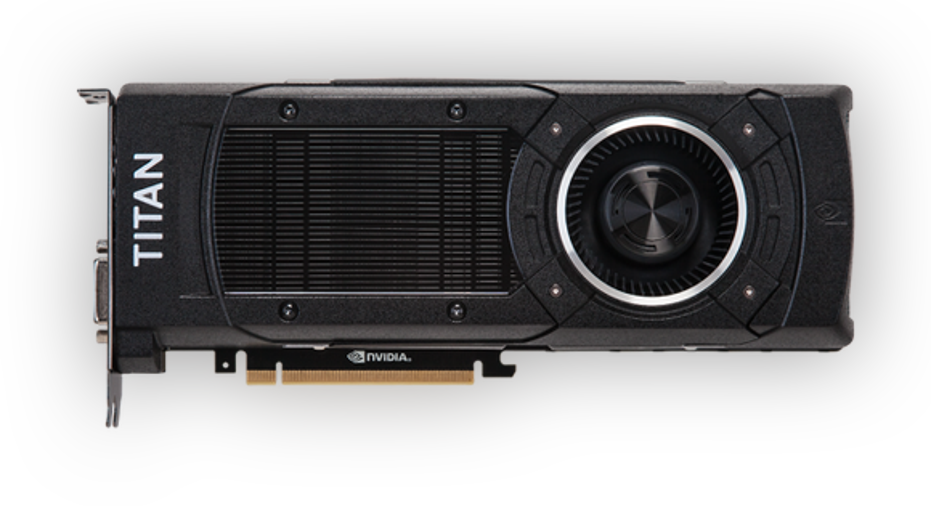 The NVIDIA Titan X. Image credit: NVIDIA.
According to DigiTimes, graphics specialist NVIDIA is planning to announce new gaming-oriented graphics processors based on its Pascal graphics architecture during the Computex 2016 trade show, which begins on May 31.
Per the report, NVIDIA's add-in-board partners -- the companies that create graphics cards around NVIDIA's graphics chips -- will begin showcasing graphics cards based on the graphics specialist's GeForce GTX 1070 and GTX 1080 graphics processors.
The GTX 1070 and 1080 should replace NVIDIA's current flagship GTX 970 and GTX 980, though it's not clear if they will come in at the same prices as the prior generation parts.
Weak industrywide demand in the first half; NVIDIA-driven rebound in second halfDigiTimes says that the overall demand profile for graphics cards will continue to be "weak" during the first half of 2016, with most add-in-board vendors seeing unit shipments drop by 10% from the first quarter into the second quarter.
The second half of the year should be better, though, with DigiTimes claiming that shipments (and profits) improving in the third quarter of the year as a result of a ramp of products based on new NVIDIA Pascal-based graphics processors.
DigiTimes points out that NVIDIA's longtime rival, Advanced Micro Devices , is also planning to put out new gaming-oriented graphics chips based on its own Polaris architecture. However, the publication points out that AMD's Polaris-based products "will be released later than NVIDIA's Pascal and therefore the graphics card players' third-quarter performance will mainly be driven by demand for NVIDIA products."
A significant opportunity for NVIDIAAt NVIDIA's recent financial analyst day, the company's Jeff Fischer gave a couple of interesting data points for investors. First of all, roughly 70% of the GeForce installed base is running graphics cards that are actually based on architectures older than the Maxwell-based ones released in late 2014.
Assuming that these Pascal graphics processors deliver a significant jump in gaming performance (a new architecture and a long-awaited move to a new manufacturing technology suggest that they will), not only should a large chunk of the pre-Maxwell installed base opt to upgrade, but even a reasonable portion of Maxwell owners may choose to upgrade, too.
NVIDIA gets a head startThere had been many rumors industrywide that NVIDIA would be later to the game with next generation graphics processors relative to struggling rival, AMD. The rationale, seemingly championed by AMD bulls, was that AMD had demonstrated working samples of its Polaris-based GPUs while NVIDIA had not yet done so.
However, following NVIDIA's recent announcement that its large, high-performance computing oriented Pascal chip known as GP100 is in mass production today, it seemed unlikely that NVIDIA would be caught flat-footed when it came to launching less complex gaming-oriented Pascal chips.
I suspect that if NVIDIA does get a "head start" on AMD, as DigiTimes claims, this could serve to shift market segment share further into NVIDIA's favor. AMD would then be able to "respond" with Polaris. If Polaris offers competitive performance/price and -- for gaming notebooks -- performance/watt, then that could stem further potential market share loss at that point.
One more thing ...I suspect that the GTX 1080 will offer better performance than NVIDIA's current high-end GTX 980 Ti gaming card. This creates a slight short-term problem for NVIDIA's product stack.
If the 1070/1080 take the places of the 970/980 respectively, then this leaves NVIDIA without viable products at the $650 (GTX 980 Ti) and $999 (Titan X) price points.
On the flip side, the increased performance-per-dollar of the new cards could be quite enticing and drive enough upgrade activity to offset the potential near-term decline in blended average selling prices.
It won't be too long before we know for sure, though.
The article Report: NVIDIA Corp. Prepping New Gaming Graphics Cards originally appeared on Fool.com.
Ashraf Eassa has no position in any stocks mentioned. The Motley Fool recommends Nvidia. Try any of our Foolish newsletter services free for 30 days. We Fools may not all hold the same opinions, but we all believe that considering a diverse range of insights makes us better investors. The Motley Fool has a disclosure policy.
Copyright 1995 - 2016 The Motley Fool, LLC. All rights reserved. The Motley Fool has a disclosure policy.