Report: Apple Inc. iPhone Production to Stay Low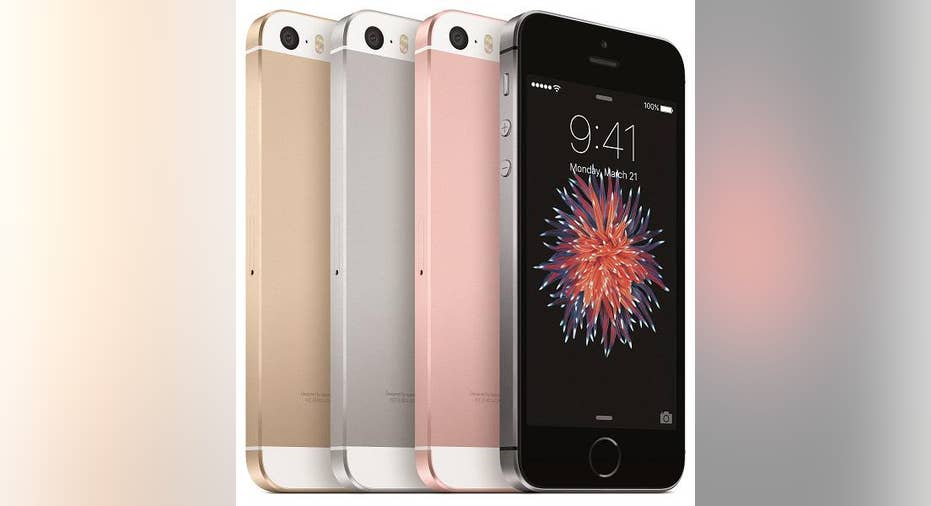 Image source: Apple.
According to Nikkei Asian Review, Apple is expected to "continue its reduced production of iPhones in the April-June quarter in light of sluggish sales." The information about these cuts apparently comes "parts suppliers notified of the plan."
Should long-term Apple investors worry about this news? Let's take a closer look.
Some backgroundThere's no beating around the bush here: The iPhone 6s/6s Plus cycle has proved to be something of a mess for Apple. The company guided to the first-ever year-over-year drop in iPhone shipments in the March quarter, confirming the reports that had been swirling at the time that Apple was cutting production of the latest iPhone 6s/6s Plus phones.
According to CEO Tim Cook on the earnings call about three months ago, the March quarter -- which Apple will report results for on April 25 -- is expected to be the "toughest compare." This, the executive said, was due to two key factors.
First, Apple's supply was heavily constrained in the first quarter of fiscal 2015, so sales that would have been recognized in the first quarter had supply been sufficient were pushed into the second quarter. Second, Cook said that from a currency/macroeconomic point of view, things have deteriorated meaningfully from the prior year.
Going into the company's fiscal third quarter, the year-over-year comparison becomes a little bit "cleaner" since there wasn't any demand push-out into the fiscal third quarter of 2015 to skew the comparison.
It would seem, though, that demand is proving to be more challenging than what Apple had anticipated.
Build plan reductions are bad news for AppleThe initial build plans for the fiscal third quarter that Apple likely shared with its suppliers probably factored in the weakness that the iDevice maker saw during its fiscal first quarter and early on in the fiscal second quarter.
If Apple is now telling its suppliers that it will be ordering fewer parts, this strongly suggests that Apple's internal demand forecasts have been lowered yet again. It doesn't offer guidance beyond a quarter, but the investor takeaway is this: Had Apple publicly shared its shipment expectations for the April-June quarter back in January, it would most likely need to revise that guidance down later this month.
Apple's iPhone business is looking shaky; I'm avoiding the stockIt's becoming plain as day that Apple's iPhone business is not in particularly good shape. Despite the significant technical advancements in the iPhone 6s (significantly updated internals, 3D Touch capability, more marketable cameras, and so on), demand is apparently soft.
To make matters worse, Apple not only has a fairly strong set of flagship phones, but the iPhone 6/6 Plus that were so popular in fiscal 2015 are cheaper than ever in fiscal 2016. Even with a markedly stronger lineup at lower price points this fiscal year compared to last, iPhone sales are still reportedly weaker than originally hoped.
To add even more fuel to the fire, generally reliable KGI Securities analyst Ming-Chi Kuo has been talking a lot about the radical changes that are expected to come to the 2017 iPhone. There has been little leaked from Kuo, or from other sources, about the details of the iPhone that Apple will be releasing this year.
This has led some to believe that the update that it has in store for 2016 isn't going to be as exciting as one would expect from a typical "new number" iPhone. If Apple doesn't make the iPhone 7 series of phones really exciting (not just to techie nerds such as yours truly, but to the general public), then the company could be looking at yet another year of iPhone declines.
At this point, there is simply too much uncertainty around the demand trends for the iPhone to make me feel comfortable about buying the stock. When/if iPhone demand turns a corner, it will be worth revisiting whether Apple stock deserves a place in my portfolio.
The article Report: Apple Inc. iPhone Production to Stay Low originally appeared on Fool.com.
Ashraf Eassa has no position in any stocks mentioned. The Motley Fool owns shares of and recommends Apple. Try any of our Foolish newsletter services free for 30 days. We Fools may not all hold the same opinions, but we all believe that considering a diverse range of insights makes us better investors. The Motley Fool has a disclosure policy.
Copyright 1995 - 2016 The Motley Fool, LLC. All rights reserved. The Motley Fool has a disclosure policy.