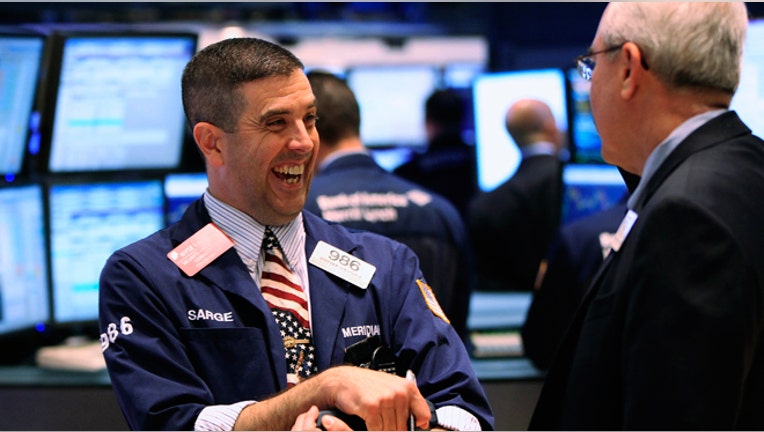 FOX Business: Capitalism Lives Here
Wall Street stormed into 2013 with a euphoric rally on Wednesday as traders enthusiastically cheered a short-term compromise in Washington that clawed the U.S. back from the recession-inducing fiscal cliff.
Today's Markets
The Dow Jones Industrial Average surged 308.41 points, or 2.35%, to 13412.55, the S&P 500 soared 36.23 points, or 2.54%, to 1462.42 and the Nasdaq Composite rallied 92.75 points, or 3.07%, to 3112.26.
The triple-digit burst of buying marked the Dow's strongest one-day percentage rally since June 2012 and the index's largest point gain to start a new year on record. The broader S&P 500 landed at its highest close since September 14.
After months of political sparring on Capitol Hill, lawmakers finally passed a budget bill Tuesday. The move came after essentially 24-straight hours of wrangling in both chambers of Congress as the U.S. technically, if not briefly, slipped over the fiscal cliff.
In a sign of the bullish sentiment in the wake of the deal, buying on Wall Street picked up steam, with the major indexes ending at session highs. The blue chips are now just 5.3% away from their all-time record close of 14164.53 set in October 2007.
"It's clearly therapeutic for a market that looked to be losing its confidence," said Peter Kenny, managing director at Knight Capital Group (NYSE:KCG), who called the rally a "very, very aggressive move to the upside."
Coupled with a strong rally on Monday that was fueled by signs of progress, the S&P 500 has surged 4.28% in just two sessions -- its strongest two-day performance since November 2011.
All 30 blue-chip stocks landed in the green, led by Hewlett-Packard (NYSE:HPQ) and Caterpillar (NYSE:CAT).
Small-cap stocks also enjoyed a burst of buying, with the Russell 2000 surging 2.8% to close at a new all-time record high, surpassing its previous high set in May 2011.
At the same time, at least 90% of Wednesday's New York Stock Exchange volume was in advancing stocks, making it the second straight 90% up volume session. That marks the first back-to-back 90% up volume days in at least five years and could indicate an overbought market.
The deal that is expected to be signed into law by President Barack Obama extends tax cuts on single filers earning less than $400,00 a year and joint filers making less than $450,000. It also delays sequestration -- the painful automatic spending cuts associated with the fiscal cliff -- for two months.
Global markets cheered the news, with markets in Asia, Australia and Europe tacking on big gains in their first day of trading for the new year. Many economically-sensitive commodities roared higher as well.
Market participants were broadly relieved that the deal was passed, averting measures that could have dealt a painful blow to the world's biggest economy. Still, they struck a very cautious tone. Among the reasons for concern were the fact that the bill simply delayed the sequestration and failed to address the debt ceiling.
"Wall Street will likely savor the resolution for the time being, but experience renewed investment agita before the quarter is out, offering better entry levels as the year progresses," Sam Stovall, chief investment strategist at McGraw-Hill's (NYSE:MHP) S&P Capital IQ, wrote in a note to clients.
The U.S. has technically already hit the debt limit, forcing the Treasury Department to take "extraordinary measures" to give Congress headroom until about February. Last time the country pushed the upper bounds of the debt limit, it roiled the markets and cost the U.S. its pristine credit rating with Standard & Poor's.
"Considering there are so many headwinds facing the economy, including the debt ceiling negotiation in 60 days, the smart money knows the bullish sentiment will be short-lived.  The lesson for investors here is 'buyer beware,'" Todd Schoenberger, managing partner at LandColt Capital wrote in an email.
Indeed, according to an analysis by Barclays, fiscal consolidation is likely to hit U.S. gross domestic product by 1.5% this year.
On the economic front, the latest Institute for Supply Management data show U.S. manufacturing activity increased to 50.7 last month from 49.5 in November. The index was expected to rise to 50.3. Readings above 50 indicate expansion while those below 50 indicate contraction
Commodities rallied. The benchmark crude oil contract jumped $1.30, or 1.4%, to $93.12 a barrel. Wholesale New York Harbor gasoline gained 1.2% to $2.795 a gallon. In metals, gold advanced $13.00 or 0.78%, to $1,689 a troy ounce.
Foreign Markets
The Euro Stoxx 50 soared 2.9% to 2711, the English FTSE 100 rallied 2.2% to 6027 and the German DAX jumped 2.2% to 7779.
In Asia, the Chinese Hang Seng surged 2.9% to 23312. The Tokyo Stock Exchange was closed for a holiday.
FOX Business reporter Matt Egan contributed to this article.