Regions Financial Stock Upgraded: 3 Things You Need to Know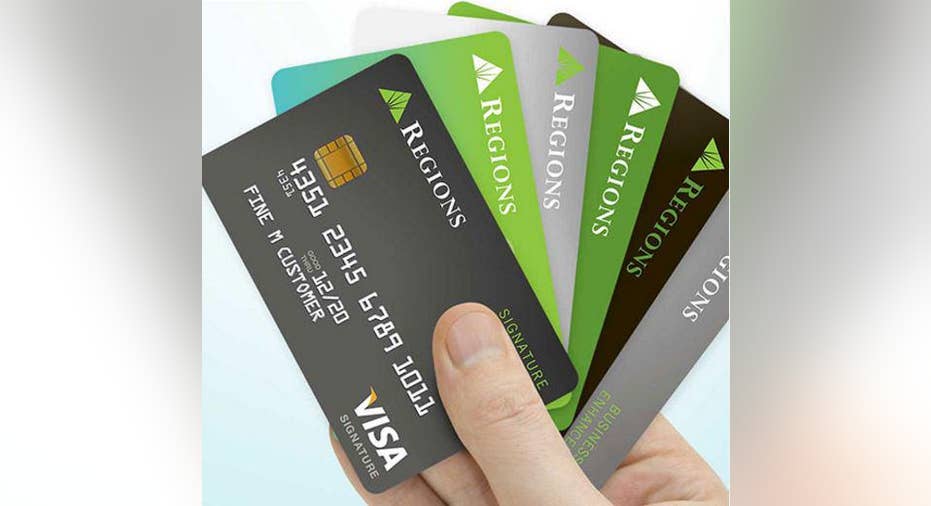 America today in the post-financial crisis has just four big banks: JPMorgan,Bank of America, Wells Fargo , and Citigroup -- banks boasting assets of $1 trillion and up.
Each has something to recommend it to investors. JPMorgan is the biggest, Bank of America the cheapest. Wells Fargo is a favorite of Warren Buffett. Citigroup is the only one of the four to receive a green light (from the Fed last week) for its "living will" plan to wind down in the event of catastrophe.
And yet today, we're going to be focusing on exactly none of these banks. Prompted by an upgrade just out of FBR Capital, today we're going to shift our focus downmarket a bit, and check in on what's happening at Regions Financial stock instead.
Do you feel lucky about Regions Financial stock? Pick a card, any card. Image source: Regions.
The news Regions, you see, just won an upgrade to outperformfrom the banking specialists at FBR. And really, there aren't many analysts out there who specialize more intensively on banks than FBR does.
According to our data on Motley Fool CAPS, FBR analysts have made no fewer than 87 separate bank stock recommendations over the decade we've been watching them -- and succeeded in beating the market by a combined 831 percentage points across these recommendations , an average success score of nearly 10 points per pick.
So what does FBR like Regions Financial stock in particular? Here are three things:
Thing No. 1: Earnings beats are great!Regions reported earnings on Friday, and the news was good. Profits came in at $0.20 per share, $0.02 ahead of estimates -- and according to FBR, meeting the analyst's prediction precisely.
That was 25% year-over-year earnings growth in Q1. Furthermore, management stood by its previous guidance for modest growth in net interest income. That lends some confidence that Regions will be able to at least hit analyst estimatesof $0.20 profit again in Q2.
For its part, FBR is sticking with its estimatethat Regions will earn $0.85 per share in profit this year, and $0.95 in 2017.
Thing No. 2: Cost cuts are pretty swell, tooAs related by StreetInsider.com, what impressed FBR most last quarter was Regions' continue progress in removing costs from its income statement: "Regions appears to be making good headway with its expense management initiatives, with adjusted operating expenses now declining sequentially for three quarters in a row," crowed the analyst. And FBR thinks Regions has a good chance of removing "an additional ~$120 million in expenses to be taken out in FY16 and even more in FY17."
Spread across 1.3 billion shares outstanding, that could work out to as much as $0.11 per share in additional operating profits.
Thing No. 3: Tell us what you really think...When you take all the above and wrap it up in a stock that costs less than 12 times earnings, FBR concludes that "RF shares are too attractively valued to pass up."
The most important thing: ValuationThose are pretty strong words, and FBR is coming out pretty strongly in favor of Regions Financial stock, which the analyst says has the potential to grow 18% in value to $10.50 per share over the course of the next year. But will it, really?
After all, while 12 times earnings doesn't sound like much, Wells Fargo itself -- Warren Buffett's favorite and one of the best banks in the nation with a 12.3% return on equity and a 1.3% return on assets -- only costs 12.1 times earnings. And analysts who follows Wells Fargo see that stock growing its profits at nearly 10% annually over the next five years.
Set down next to Wells Fargo, Regions Financial stock, with a 6.4% ROE, 0.9% ROA, and sub-8% projected growth rate, really doesn't look that much more attractive. Similarly, compared to Citigroup, Regions has an inferior ROE, ROA -- and a growth rate 6 full percentage points slower, all wrapped up in a P/E valuation 40% more expensive than the 8.5 P/E at Citigroup.
The upshot for investorsWhen you get right down to it, as strong as FBR's case may be for Regions Financial stock being cheap, I can't help but conclude that the big banks look even cheaper. Even if FBR is right about Regions being a buy -- and I'm not saying it is -- you still might want to give thought to buying the cheaper, bigger banks first.
The article Regions Financial Stock Upgraded: 3 Things You Need to Know originally appeared on Fool.com.
Fool contributorRich Smithdoes not own shares of, nor is he short, any company named above. You can find him onMotley Fool CAPS, publicly pontificating under the handleTMFDitty, where he's currently ranked No. 315 out of more than 75,000 rated members.The Motley Fool owns shares of and recommends Wells Fargo. The Motley Fool has the following options: short May 2016 $52 puts on Wells Fargo. The Motley Fool recommends Bank of America. Try any of our Foolish newsletter services free for 30 days. We Fools may not all hold the same opinions, but we all believe that considering a diverse range of insights makes us better investors. The Motley Fool has a disclosure policy.
Copyright 1995 - 2016 The Motley Fool, LLC. All rights reserved. The Motley Fool has a disclosure policy.