Refining Stocks Continued to Rally in December, Here's Why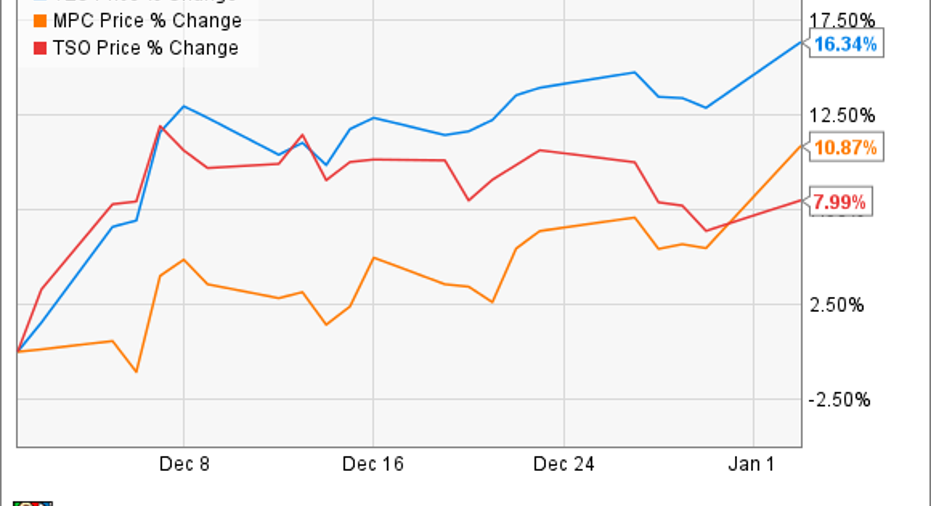 Image source: Getty Images.
What happened?
Shares of America's largest independent refiners -- Valero Energy (NYSE: VLO), Marathon Petroleum (NYSE: MPC), and Tesoro (NYSE: TSO) -- were up big this past month, with both Valero and Marathon posting double digit gains. This was despite the market for refining not exactly cooperating.
So what?
For refiners, one of the worst market conditions is when the price of crude oil gains a lot fast. This is because the price change for refined products typically lags behind crude oil price changes. So one would assume that following the announcement that OPEC would cut production, we would see refiners take it on the chin. That wasn't the case, though, as refiners saw big price jumps. So the best we can speculate is that optimism for the energy industry as a whole was helping to drive these stocks higher.
One thing that is also worth considering is that there could be some pretty significant implications for refiners with the incoming Trump administration. We haven't seen any definite plans as of yet, but there has been a lot of talk about rolling back regulations. Carl Icahn, majority owner of his own refining company, has been nominated as special advisor on regulatory reform. You can pretty easily put two and two together to see that regulations pertaining to refiners -- namely, requirements for the EPA's renewable fuels standard -- could be on the chopping block.
Tesoro did announce that it issued $1.6 billion in debt last month, which will be used to complete the acquisition of Western Refining as well as refinance much of Western's debt. The addition of Western will give Tesoro an even greater market share in the Western United States as well as expand its footprint into the Midwest with a company that has been one of the lower cost refiners in the business.
Marathon, on the other hand, has been under activist pressure to, in their words, enhance shareholder value. Elliott Management had said that the value of Marathon was not reflective of the several aspects of the business and was looking for the company to drop down all its midstream assets to its subsidiary partnership, MPLX. While the company did point to some issues with this plan from Elliott, it did appear to force the company to change tactics as it announced on Jan. 3rd that it will accelerate its drop-down schedule to MPLX.
Now what?
Even though all of these stocks had a pretty good month of December, it's worth keeping in mind that each of them is still selling for valuations ranging from modest to downright cheap.
| | | |
| --- | --- | --- |
| Company | Total Enterprise Value/EBITDA | Price to Earnings |
| Valero Energy | 6.4x | 14.9x |
| Marathon Petroleum | 10.7x | 24.9x |
| Tesoro | 7.6x | 15.3x |
Source: S&P Capital IQ.
It's also worth mentioning here that Valero has close to $6 billion in cash on the books. If we were to back out cash from its market cap, shares would look even less expensive than they do today. Refining stocks normally trade at a significant discount to the broader market because there isn't much growth in the refining industry. That being said, these are cheap valuations for an industry that did go through a tough 2016 profitability wise. As gasoline prices catch up to the rise in crude oil prices, refining margins should grow and produce better results. That would make today's stock prices for some of the better refiners in the business look pretty good.
10 stocks we like better than Valero Energy When investing geniuses David and Tom Gardner have a stock tip, it can pay to listen. After all, the newsletter they have run for over a decade, Motley Fool Stock Advisor, has tripled the market.*
David and Tom just revealed what they believe are the 10 best stocks for investors to buy right now... and Valero Energy wasn't one of them! That's right -- they think these 10 stocks are even better buys.
Click here to learn about these picks!
*Stock Advisor returns as of Nov. 7, 2016
Tyler Crowe has no position in any stocks mentioned. You can follow him at Fool.comor on Twitter@TylerCroweFool.
The Motley Fool has no position in any of the stocks mentioned. The Motley Fool has a disclosure policy.