Receptionist's family sues over fatal Minnesota school blast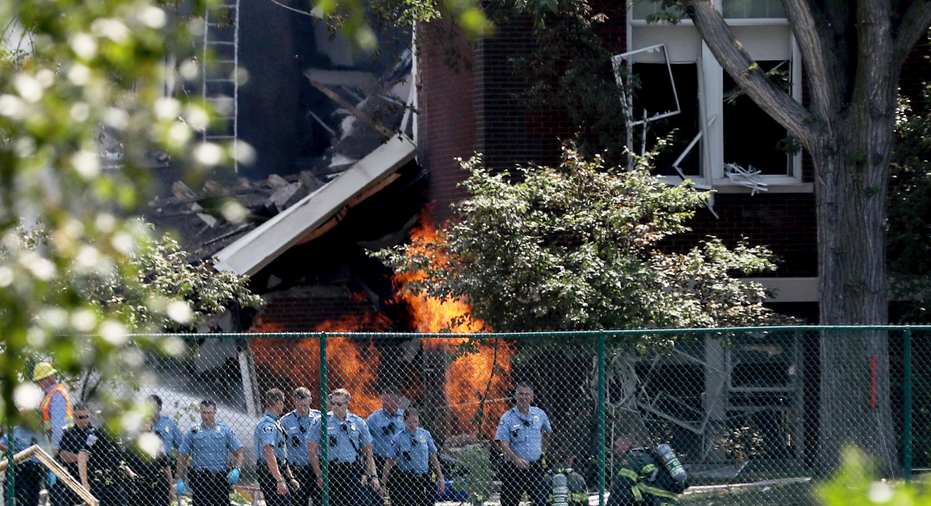 The family of a school receptionist is suing over an explosion that killed her at Minnehaha Academy in Minneapolis this summer.
Ruth Berg's family is seeking at least $50,000 in damages in the lawsuit filed Wednesday in Hennepin County court.
Berg, 47, and 82-year-old custodian John Carlson were killed and nine others injured when the building fell on Aug. 2. The lawsuit alleges that contractors for CenterPoint Energy "ran to save themselves" rather than warn people inside the school about a gas leak before the explosion.
The workers "immediately realized that explosive conditions existed," according to the lawsuit, but "ran to save themselves and ignored the safety of others," including Berg.
In a preliminary report, the National Transportation Safety Board said the explosion happened as two contractors were installing new piping to move gas meters from the school's basement to the building's exterior. A maintenance worker at the private Christian school had smelled natural gas and used a radio to tell others to evacuate less than a minute before the blast, according to the report.
The lawsuit contends that neither CenterPoint nor Master Mechanical, the company contracted to move gas meters out of the building, told school officials about the "high degree of danger" of moving the meter, the Star Tribune reported.
The contractors also failed to close shut-off valves disconnecting the supply line from the old meter, causing gas to accumulate in a confined area and explode, the lawsuit alleges.
Master Mechanical officials said in a statement they are reviewing the lawsuit. CenterPoint spokeswoman Rebecca Virden told The Associated Press that the company "will respond within the legal process."
___
Information from: Star Tribune, http://www.startribune.com