Realty Income Earnings: Predictably Strong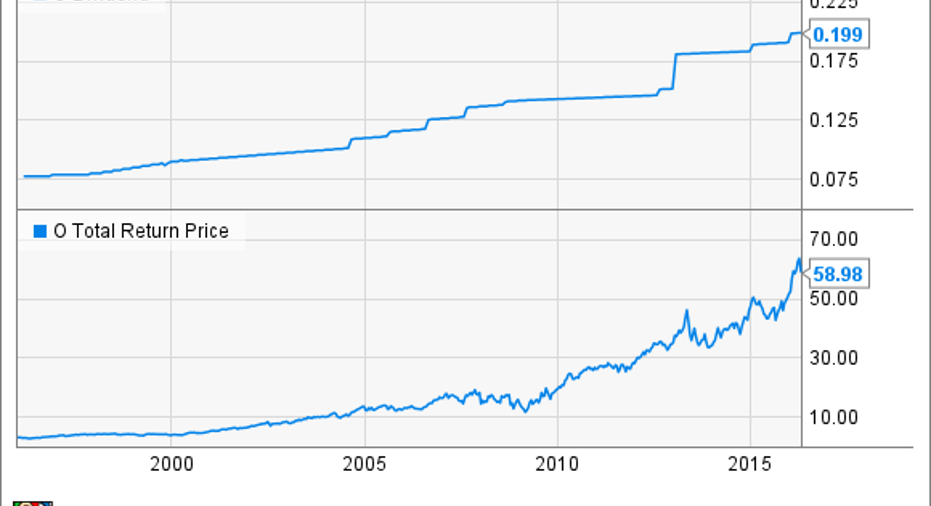 Image source: Mike Mozart.
Realty Income Corporation reported first-quarter results that were about what Wall Street expected, slightly missing on AFFO per share while beating analyst expectations on revenue. Here's what you need to know about Realty Income's first quarter and where the company is heading.
The numbers look good, as predictedRealty Income has a strong history of growing AFFO (the "earnings" of the REIT world), and this quarter was no exception. AFFO grew by 4.5% year over year to $0.70 per share, which was a penny less than analysts anticipated. However, revenue of $267.1 million came in $1.9 million higher than expected, so the numbers look pretty solid overall.
More important than the numbers themselves is Realty Income's consistent growth. A quick look through the company's previous earnings reports shows that AFFO increased by less than 4.5% on a year-over-year basis once in the past 15 quarters.
Not all of the news was great, however. Occupancy dropped slightly to 97.8% due to some unrenewed lease expirations, but economic occupancy (measured as a percentage of rental revenue) is 98.8%, an impressive number. The company doesn't seem worried about the drop at all, and reiterated that it still expects full-year occupancy of approximately 98%.
Investment activityRealty Income completed $353 million in acquisitions during the first quarter, 73% more than the previous quarter, and 68% more than during the first quarter of 2015. According to CEO John P. Case, Realty Income continues to see an "active pipeline of investment opportunities," and was able to complete these acquisitions at attractive investment spreads thanks to the company's low cost of capital.
The new properties are 100% leased, and have a weighted average lease term of 15.8 years. This brings the company's total portfolio to 4,615 properties, located in 49 states plus Puerto Rico.
Predictable, growing dividends are the best kindRealty Income announced an increase to its monthly dividend in March, which represents a 4.8% year-over-year increase. This is the company's 74thconsecutive quarterly dividend increase, and the annualized dividend is now $2.388 per share.
Most significantly, there is no reason for shareholders to believe this will change anytime soon. The payout rate is equal to 87% of last year's AFFO, so there is significant extra cash coming in to justify future increases.
What to expect for the rest of 2016Realty Income kept its 2016 AFFO guidance the same as previously reported, at a range of $2.85 to $2.90 per share. However, keep in mind that it has a pretty consistent history of overdelivering on its guidance by a few cents. It's also worth noting that it has significantly increased its 2016 acquisition guidance from $750 million to $900 million, in order to take advantage of the attractive pipeline of opportunities I mentioned earlier.
The bottom line is that I'm not expecting any big surprises from Realty Income for the rest of the year -- the company will continue to make acquisitions at a similar pace, occupancy will remain strong, and the next few quarters' results will come in at or slightly above the market's expectations. It's rare to find a company that's so predictable yet capable of such strong returns at the same time, and with the consistent growth I've described plus 17.8% average total returns since its 1994 IPO, Realty Income continues to prove quarter after quarter that it's one of them.
The article Realty Income Earnings: Predictably Strong originally appeared on Fool.com.
Matthew Frankel owns shares of Realty Income. The Motley Fool has no position in any of the stocks mentioned. Try any of our Foolish newsletter services free for 30 days. We Fools may not all hold the same opinions, but we all believe that considering a diverse range of insights makes us better investors. The Motley Fool has a disclosure policy.
Copyright 1995 - 2016 The Motley Fool, LLC. All rights reserved. The Motley Fool has a disclosure policy.