Read This Before Investing In E-Cigarettes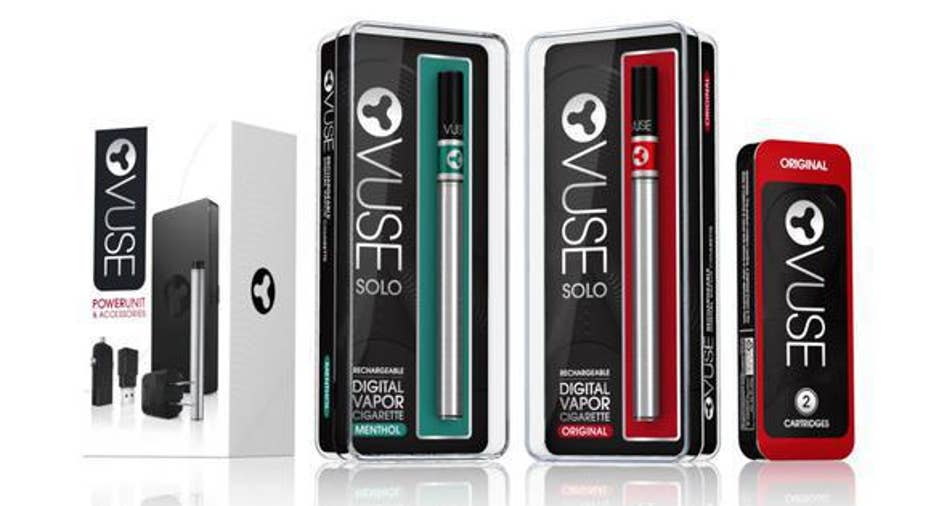 Over the past few years, many major tobacco companies have acquired or launched their own e-cigarette brands to diversify away from traditional cigarettes. Some consumers buy e-cigarettes as "healthier" alternatives to regular cigarettes, but critics claim that e-cigs are still addictive, release toxins, and act as "gateway" devices to smoking. The controversy regarding e-cigarettes won't likely burn out anytime soon, but investors should understand several key facts and figures regarding the industry.
Reynolds American's Vuse e-cigs. Source: Reynolds American.
Meet the market leadersReynolds American's Vuse is the most popular e-cigarette brand in America. The brand controlled 24% of the U.S. market in 2015, according to MSA. All the other top brands in the U.S., including Altria's MarkTen and Imperial Tobacco Group's Blu, control single-digit shares. Vuse was notably oneof the first e-cigs to use a computer chip to regulate puffs and track usage through a mobile app.
Reynolds almost bought Blu through its acquisition of Lorillard, but Lorillard sold the brand to Imperial to avoid antitrust issues. Altria has been trying to catch up to Reynolds by adding new e-cig flavors, doubling its e-cig battery life with the MarkTen XL, and buying other e-cigarette brands like "premium" e-cig makerGreen Smoke.
Neither Reynolds nor Altria's e-cigarette sales are meaningful enough to be reported separately. Reynolds groups Vuse with its nicotine gum under"all other" brands, which generated $368 million in sales, or 3% of its top line, last year. Altria's MarkTen and Green Smoke sales were included in itssmokeless revenue of $1.7 billion last year, which accounted for 7% of its overall sales. However, the vast majority of those sales came from snuff and wine. Therefore, e-cig sales are a promising growth market for tobacco companies, but they don't drive sales growth yet.
Altria's MarkTen e-cigs. Source: Altria.
Market forecasts vs. realityResearch and Markets estimates that the U.S. e-cigarette market could grow at a compound annual growth rate of 33% between 2015 and 2019. Back in 2013, Wells Fargo analyst Bonnie Herzog claimed that "the consumption of e-cigs could surpass consumption of conventional cigs within the next decade."
However, some analysts believe that those forecasts are too bullish. Market research firm IRI recently reported that sales of electronic smoking devices have actually fallen year-over-year for three consecutive months -- declining 0.5% in December, 1.7% in January, and 2.2% in February.
Looking ahead, public bans on vaping, new FDA regulations, and bad PR regarding teen use and e-cig explosions could all hurt e-cigarette sales. During a conference call last year, Reynolds' RJR Tobacco president Debra Ann Crew admitted that "many (e-cigarette) products have simply not lived up to expectations." Therefore, investors should read long-term growth forecasts for the e-cig market with a grain of salt.
Regulations and taxationThe FDA will likely start regulating e-cigarettes later this year. The agency is expected to require pre-market reviews of the devices, ban sales to minors, and require warning labels about the dangers of nicotine. There's also a possibility that e-cigarettes will be classified as "tobacco" products, which means that federal tobacco taxes could also be applied to e-cigs. Several states in the U.S. already tax e-cigarettes as tobacco products.
According to VaporHQ, a pack of cigarettes, which have an average cost of $5.51 nationwide, have anequivalent e-cig liquid cost of $1.40. Imperial's Blu claims that smokerscould "save as much as 50%" by switching over to e-cigarettes. If federal and state governments raise taxes on e-cigs, that cost benefit could fade and sales could decline.
E-cigarettes are still evolvingSome tobacco companies believe that e-cigarette sales haven't met expectations because they lack real tobacco flavor. That's why British American Tobacco recently launched the iFuse "hybrid" e-cigarette, which addssmall amounts of tobacco to "improve" the vapor's taste.
Back in 2014, Philip Morris International launched iQOS, anelectronic device which heats a tube of tobacco called a "heatstick" instead of burning it. Since the device doesn't burn the cigarette to release smoke or ash, PMI markets it as a "healthier" alternative to traditional cigarettes. However, a pack of 20 heatsticks costs about the same as a pack of regular cigarettes. Last year, Altria and PMI teamed up to sell each other's devices -- Altria started selling IQOS in the U.S., while PMI started selling Altria's MarkTen e-cigs overseas.
PMI's IQOS. Source: PMI.
The key takeawayE-cigarettes are an interesting market to watch, but tobacco investors shouldn't place too much faith in its long-term growth. Sales have slowed down, and new regulations and taxes could prevent them from bouncing back. However, innovative new products like hybrid e-cigs or heatsticks might still get the electronic smoking market back on track. Either way, tobacco investors should remember that e-cig sales, while widely discussed, still don't generate that much revenue for big tobacco companies like Reynolds, Altria, or Philip Morris.
The article Read This Before Investing In E-Cigarettes originally appeared on Fool.com.
Leo Sun owns shares of Philip Morris International. The Motley Fool has no position in any of the stocks mentioned. Try any of our Foolish newsletter services free for 30 days. We Fools may not all hold the same opinions, but we all believe that considering a diverse range of insights makes us better investors. The Motley Fool has a disclosure policy.
Copyright 1995 - 2016 The Motley Fool, LLC. All rights reserved. The Motley Fool has a disclosure policy.