RBC Bearings Makes It Through a Sluggish Quarter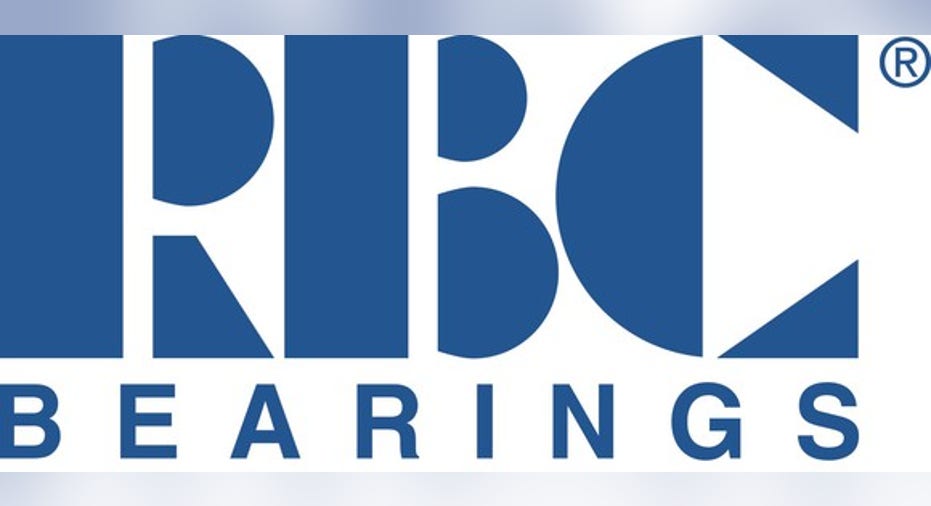 The aerospace and defense industries have been doing well lately, and that's been good news for RBC Bearings (NASDAQ: ROLL). RBC focuses primarily on producing highly technical bearing products and components that require sophisticated design, testing, and manufacturing capabilities, and the Connecticut-based company serves the aerospace and defense industries as well as broader industrial markets. Coming into Wednesday's fiscal third-quarter financial report, RBC Bearings shareholders were prepared to see a slight decline in earnings in what is traditionally a slow period for the business. However, RBC managed to avoid losing ground on its bottom line, and continued strength in aerospace could keep driving its future results higher.
Let's look more closely at RBC Bearings to see how it performed and what lies ahead for the bearings and components manufacturer.
Image source: RBC Bearings.
RBC Bearings stays on track
RBC Bearings' fiscal third-quarter results weren't spectacular, but they showed that the company got the job done. Revenue was up 1.7% to $146.7 million, which was only slightly slower than what most investors had expected to see from the company. Adjusted net income inched higher to $17.4 million, and that produced adjusted earnings of $0.73 per share. That was flat from last year's results but $0.02 higher than the consensus forecast among those following the stock.
Looking more closely at how the company did, RBC Bearings once again saw greater strength in its general industrial business. Segment sales to industrial markets rose 2.7% from the year-ago quarter, and that compared favorably to just a 1.2% increase for the company's aerospace markets. On a product-by-product basis, ball bearings and plain bearings had the best sales increases, growing their top lines by 7% and 3%, respectively. Engineered products eked out a gain of a fraction of a percent, and roller bearings sales fell less than 1% compared to the year-ago quarter. Those results are consistent with what RBC Bearings has seen in past quarters.
RBC had mixed performance with its margin figures. Adjusted gross margin climbed slightly after accounting for integration, restructuring, and inventory purchase accounting adjustments. However, overhead expenses grew as a percentage of revenue by a full percentage point, and boosts in other operating expenses brought adjusted operating margin down nearly half a percentage point to 18.8%.
CEO Michael Hartnett seemed happy with RBC's performance. "We were able to drive solid financial performance in what is traditionally our slowest season fiscal quarter," Hartnett said.
Can RBC Bearings keep up the pace in 2017?
In addition, RBC Bearings is pleased with the way that it has made changes to its business. In the CEO's words, "Our restructuring activities are driven by a strategy to achieve better alignment and rationalization of our manufacturing resources to more efficiently support a period of increasing industrial demand." In particular, RBC expects to consolidate two manufacturing facilities into one, choosing to stop making certain less popular products and produce ongoing efficiency gains.
Yet one area that could stand some improvement is RBC's backlogs. As of the end of 2016, the company had backlog of $349.1 million. That was up slightly from the third quarter, but it's down from year-earlier figures, suggesting that growth could be tougher to come by for RBC Bearings in the future.
One question that investors have to ask themselves is whether RBC Bearings' valuation is getting ahead of itself. The company's stock has climbed by more than 50% over the past year, giving it a trailing earnings multiple of around 30. Many believe that the industrial sector could see a pronounced cyclical upturn that could justify such a high multiple, but given its current sluggish growth pace, investors could be forgiven for thinking that RBC Bearings looks expensive right now.
RBC Bearings stock fell after the report, dropping more than 1% immediately after the regular session opened for trading. Going forward, RBC will have to work hard and capitalize on the huge potential in its components and bearings business that could come from sustained growth in the aerospace, defense, and industrial segments.
10 stocks we like better than RBC BearingsWhen investing geniuses David and Tom Gardner have a stock tip, it can pay to listen. After all, the newsletter they have run for over a decade, Motley Fool Stock Advisor, has tripled the market.*
David and Tom just revealed what they believe are the 10 best stocks for investors to buy right now... and RBC Bearings wasn't one of them! That's right -- they think these 10 stocks are even better buys.
Click here to learn about these picks!
*Stock Advisor returns as of February 6, 2017
Dan Caplinger has no position in any stocks mentioned. The Motley Fool recommends RBC Bearings. The Motley Fool has a disclosure policy.