Raytheon Wins a $1 Billion-Plus Windfall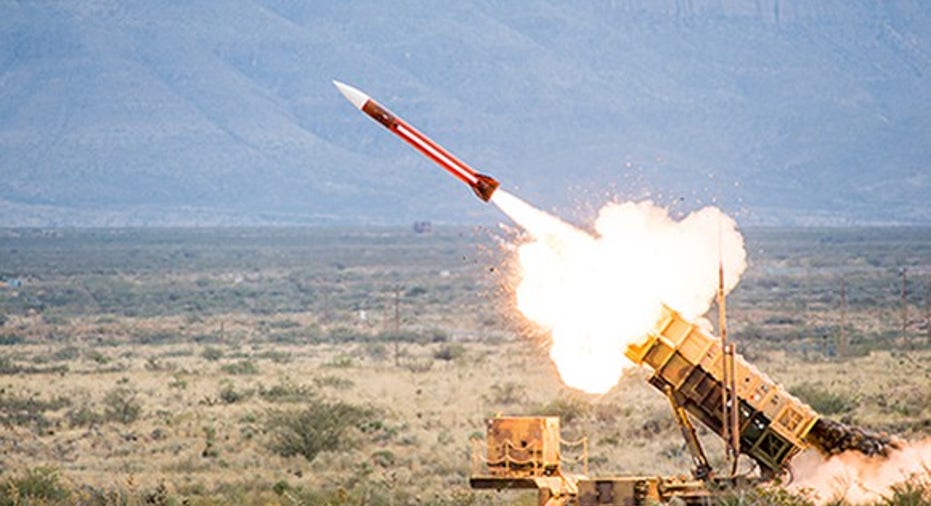 We've got some big news from the world of defense contracting to report to you today, and it comes all the way from the Middle East.
From the Gulf nation of Qatar, to be precise. Over in Qatar, you see, U.S. defense contracting giant Raytheon (NYSE: RTN) has just landed a big win. Late last month, as reported on the Pentagon's daily digest of contracts awarded, Raytheon won a $1.07 billion deal to upgrade "the Qatar integrated air and missile defense enterprise" with a new early-warning radar system.
Used in conjunction with Raytheon's Patriot missile system, an early-warning radar system offers robust defense from aerial assault. Image source: Raytheon.
The system, when used in conjunction with Raytheon's Patriot missile defense system (jointly built with Lockheed Martin, and sold to Qatar four years ago), promises to secure the Gulf nation from aerial and cruise missile attacks from hostile neighbors for years to come.
Not coincidentally, Raytheon's integrated defense systems (IDS) business builds both the early-warning radars and the radars that guide Patriot missiles for Qatar. At just $5.5 billion in annual revenue (but climbing), IDS is (currently) Raytheon's smallest business unit -- but also its most profitable.
In fact, at the 17.3% operating profit margin that S&P Global Market Intelligence lists for IDS, and a projected completion date of June 30, 2021, this contract promises to deliver in excess of $185 million in new profits to Raytheon over the course of the next four years. That's roughly $46 million in profits per annum, or about $0.16 per share once divvied up among the company's 292.9 million shares outstanding.
What it means to investors
Translation: This single contract win could add more than 2% to Raytheon's companywide profits in each of the next four years. That makes this a pretty big deal.
And yet, the day after the contract was announced, Raytheon's stock rose less than 1% -- a level at which it continues to sit to this day. This suggests that investors may have underestimated the importance of the Qatari contract to Raytheon's bottom line.
Mind you, I still think that by and large, Raytheon's stock -- like most other defense industry stocks -- remains overvalued today. Priced at nearly 21 times earnings, and almost 1.9 times annual sales, the stock looks richly priced. (If you're curious why, I explain the methodology for figuring this out here.) But if you happen to disagree with that assessment, and believe there's still value to be found in defense stocks, then given the muted reaction to Raytheon's billion-dollar Qatari contract win so far, Raytheon stock just might be a good place to look for it.
10 stocks we like better than RaytheonWhen investing geniuses David and Tom Gardner have a stock tip, it can pay to listen. After all, the newsletter they have run for over a decade, Motley Fool Stock Advisor, has tripled the market.*
David and Tom just revealed what they believe are the 10 best stocks for investors to buy right now... and Raytheon wasn't one of them! That's right -- they think these 10 stocks are even better buys.
Click here to learn about these picks!
*Stock Advisor returns as of February 6, 2017
Rich Smith has no position in any stocks mentioned. The Motley Fool has no position in any of the stocks mentioned. The Motley Fool has a disclosure policy.