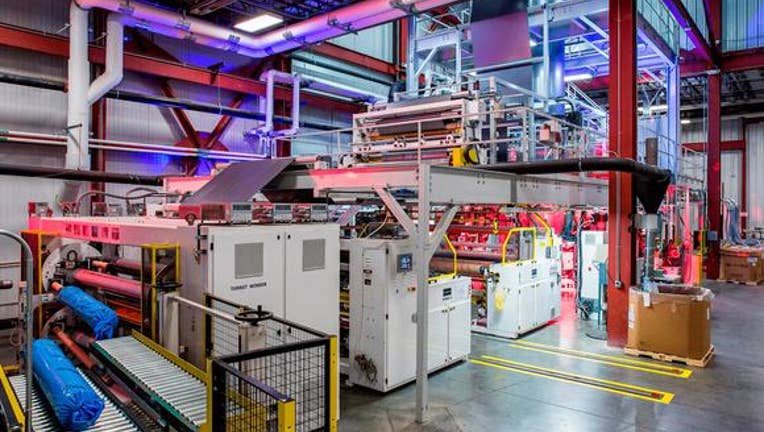 Raven's 7-barrier film line operating in the Engineered Films segment, Image source: Raven Industries
Raven Industries announced fiscal fourth-quarter 2016 results Thursday before the market opened,offering investors yet another tough quarter with the backdrop of sustained economic headwinds. To be fair, Raven managementdid warn three months agothis quarter would remain challenging, but also insisted Thursday that, thanks to the actions it took over the last year, it stands much better positioned to weather those headwinds and take market share in the process.
Let's take deeper look at what the mini-industrial conglomerate achieved in Q4:
Raven Industries results: The raw numbers
| Metric | Fiscal Q4 2016 Actuals | Fiscal Q4 2015 Actuals | Growth (YOY) |
| --- | --- | --- | --- |
| Revenue | $52.8 million | $89.9 million | -41.2% |
| Net income | $1 million | $6.2 million | -83.5% |
| Earnings per diluted share | $0.03 | $0.16 | -81.3% |
Data source: Raven Industries.
What happened with Raven Industries this quarter?
Revenue excluding sales from contract manufacturing -- a low-growth business Raven began the process of exiting in late 2014 -- declined 36.4% to $51.8 million.
Operating income was $0.2 million, down from $6.4 million in last year's fourth quarter, primarily due to lower sales across all divisions.
Restructuring and cost controls reduced corporate sales, general, and administrative expenses by $2.2 million from the same year-ago period.
At Engineered Films:
Revenue fell 37.8% year over year to $25.4 million, driven by lower sales into the energy and geomembrane markets due to the negative influence of commodity oil prices. Sales into the agriculture, construction, and industrial markets climbed 3.9%.
Operating income fell 58.8% year over year to $1.9 million, driven by lower sales volumes, and offset partially by raw material cost developments, reformulation efforts, and cost controls.
At Applied Technology:
Revenue declined 30.3% to $18.4 million. Excluding contract manufacturing, revenue fell 26.1%.
Sales to OEM and aftermarket clients fell 33% and 21%, respectively, and international sales climbed 46%
Operating income fell declined 34.7% to $2.2 million, again as cost controls and restructuring couldn't offset the effects of lower volumes.
Nonetheless, Raven CEO Dan Rykhus insisted the company is encouraged by Applied Technology's momentum and business pipeline, and is seeing "promising developments" particularly in Europe and Latin America.
At Aerostar:
Revenue declined 63.3% year over year to $9 million. Excluding contract manufacturing, revenue declined 49.1% to $8 million, driven by lower Vista Research sales.
Operating loss was $0.2 million, compared to operating income of $4.3 million in the same period last year.
Vista Research sold radar systems to several customers in the same year-ago period, but was unable to sustain those sales this year given order timing and falling government defense spending.
Rykhus called Aerostar's performance for the year "very disappointing," but praised the progress of the new leadership team put into place given a lack of execution from previous leadership.
Though Aerostar sales cycles are long, the division is building a more robust pipeline and "vigorously pursuing new opportunities."
What management had to sayRykhus added,
Looking forwardIn keeping with Raven Industries' past quarters, management declined to offer specific earnings guidance for the coming year. But Rykhus did state the company anticipates roughly flat sales and adjusted operating income for all of fiscal 2017, "with the potential to achieve very modest growth in each."
For perspective, during last quarter's call Rykhus stated the company believed it would return to sustained revenue and earnings growth in fiscal year 2017, regardless of continued market headwinds. But given the persistence of those headwinds in all three of Raven's core markets, it's hard to blame him for remaining cautious regarding the prospect of that growth materializing. Though Raven Industries' challenges won't abate in the very near future, it could emerge a stronger company in the end if it can seize its opportunity to take market share in the meantime.
The article Raven Industries Positions Itself for Another Challenging Year originally appeared on Fool.com.
Steve Symington has no position in any stocks mentioned. The Motley Fool recommends Raven Industries. Try any of our Foolish newsletter services free for 30 days. We Fools may not all hold the same opinions, but we all believe that considering a diverse range of insights makes us better investors. The Motley Fool has a disclosure policy.
Copyright 1995 - 2016 The Motley Fool, LLC. All rights reserved. The Motley Fool has a disclosure policy.