Race is on for succession to Europe's top economic posts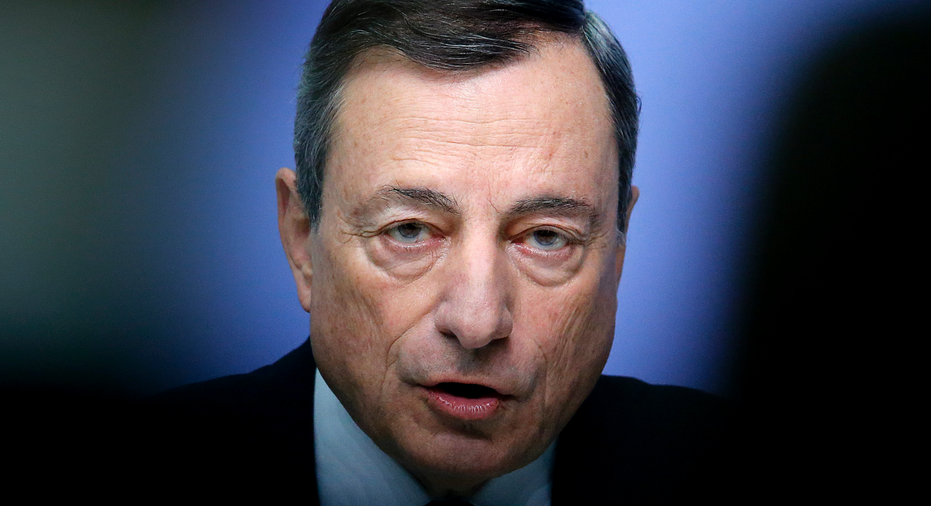 Europe is preparing to find successors for many of its most powerful economic officials, including the influential head of the European Central Bank. Those chosen will make decisions affecting the jobs, savings and pay of 340 million people living in the 19 countries that share the euro.
The starting gun in the race among countries to fill those posts went off over the weekend when Portugal's Mario Centeno took over his new role as head of the eurogroup, the finance ministers from euro countries.
The contest for the other posts, mainly at the European Central Bank, will run for almost two years before every seat is filled in late 2019 — including for the ECB presidency.
The political jousting between countries for these jobs may seem arcane, but the results will affect the lives of ordinary people through decisions interest rates and monetary stimulus.
Current ECB President Mario Draghi, for instance, pushed through a bond-market program that was credited with defusing Europe's crisis over too much debt in 2012. He also advocated a stimulus program that injected new money into the economy through bond purchases, a step that drew protests from stimulus opponents in Germany but which Draghi says helped created millions of jobs and lowered the eurozone's unemployment rate from over 12 percent to 8.7 percent.
The first post up for grabs is that of the ECB vice president, Vitor Constancio, who is leaving when his term expires in May. Then European leaders will need a replacement for the ECB's top banking regulator, Danielle Nouy, in December. After that comes the post of the ECB's top economist, Peter Praet, which comes open in May 2019, followed by Draghi's replacement when his term ends in October 2019.
On top of that, at the national level, Germany in the coming weeks will name a new finance minister to replace Europe's Mr. Austerity, Wolfgang Schaeuble, who has become parliament speaker. So far, Schaeuble has been replaced on an acting basis by Peter Altmaier, a close ally of Chancellor Angela Merkel. If the job ultimately goes to someone from the center-left Social Democrats, the German emphasis on austerity might ease.
That shift away from austerity was arguably visible already in Socialist Centeno's placement as the top eurozone official. He replaced Dutchman Jeroen Dijsselbloem, who was an advocate of tough austerity conditions for Greece in return for being bailed out financially by the other member states and the International Monetary Fund.
Filling the posts is highly political in Europe, as countries with different views on how the eurozone should be run jostle for power.
In that regard, the replacement for Constancio, the ECB vice president, could be a key move.
That's because the ECB's president and vice president typically represent a tandem of one large country and one smaller one, never two small ones or two large ones. There's a similar urge to balance advocates and skeptics of stimulus, and southern countries, which tend to need and advocate for stimulus, versus northern countries, where stimulus efforts raise fears of unwarranted bailouts for what are seen as financially less responsible "Club Med" governments that should instead reform.
Spain is pushing to get Constancio's job, and has a fair chance to succeed. If the vice president's job goes to a southern European country such as Spain, that could strengthen Germany's claim as a northern country to have its candidate take Draghi's job.
And Germany could put forward Jens Weidmann, the head of Germany's Bundesbank national bank and one of the leading opponents of the bond-purchase stimulus program. He has been outvoted, however, on the ECB's 25-member rate-setting council.
Weidmann himself has said it's "too early" to discuss a successor to Draghi.
"The choice for the vice presidency in our view will have clear implications for the choice of the ECB president in 2019," wrote Carsten Brzeski, chief economist for Germany at financial firm ING. "With a Spanish ECB vice president, the chances for Bundesbank President Jens Weidmann to take over Mario Draghi at the end of 2019 would increase."
The European Parliament has expressed concern about the low number of women in top ECB jobs, which could argue for a spot on the executive board for someone like Sharon Donnery, vice president of the Bank of Ireland. Ireland has never had anyone on the top board.
Concern from southern states to Weidmann's hardline stance might lead Germany to drop Weidmann for someone like the Netherlands' central bank head, Klaas Knot, who holds similar views but "has taken a more pragmatic approach than Weidmann and would therefore probably be more acceptable to the southerners," wrote Commerzbank economist Michael Schubert.
Another candidate for Draghi's job could be Bank of France governor Francois Villeroy de Galhau, although France already held the top spot under President Jean-Claude Trichet in 2003-2011.
Schubert said Irish central bank head Phillip Lane might also come into play as a possible Draghi successor. Lane told the Irish Times in July that "it's not helpful to engage in this discussion."
Schubert concluded that "at present, we think the contest for Draghi's succession is entirely open."