Qualcomm Takes Aim At Intel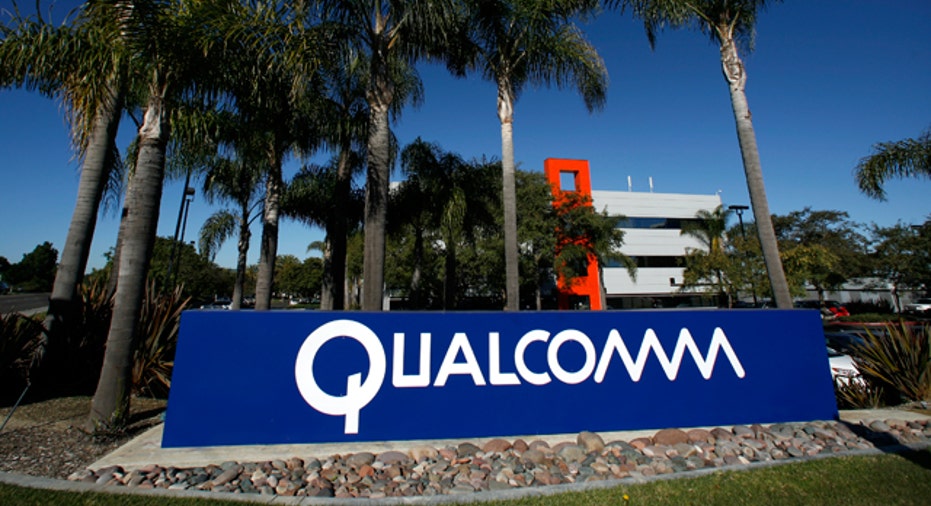 Qualcomm unveiled a chip it plans to sell for server systems, attacking Intel's most lucrative stronghold by employing one of that company's longtime tactics.
The San Diego-based company said its new Centriq 2400 processor is shipping in sample quantities to be tested by big web services, the server buyers that lately shape many technology choices in Silicon Valley. The product is expected to be available broadly in the second half of 2017.
Servers are an attractive market for chip makers because their processors command higher prices and profit margins. At Intel, such chips accounted 29% of revenue but 47% of operating profit in the latest quarter.
Qualcomm is the biggest supplier of processors and wireless communication chips for smartphones. It is keeping mum on many details of the Centriq 2400, a long-awaited entry amid a field of companies looking to take advantage of ARM Holdings PLC chip designs -- which are used in most mobile phones -- for use in servers.
Qualcomm executives said the ARM-based chip, which they demonstrated in prototype servers at a briefing here, would be "competitive" with the speed of Intel's Xeon server chips and superior in terms of energy efficiency.
Taking a page out of Intel's playbook, Qualcomm said the Centriq 2400 uses a new production process that creates transistors with features measured at just 10 nanometers, or billionths of a meter. Smaller transistors allow more functions to be packed on each piece of silicon; Qualcomm said the new chip will have up to 48 processor cores, compared with a maximum of 24 for Intel server chips.
Leading the transition to a new production process is an Intel specialty. Where Qualcomm relies on partners to fabricate its chips, Intel has long introduced manufacturing methods developed in its own factories ahead of rivals. It usually starts by making high-volume PC chips using each new technology, using its latest process to produce server chips considerably later, said Nathan Brookwood, an analyst at Insight 64.
Intel has said it doesn't expect to deliver any 10-nanometer chips until the second half of 2017, with products for servers not likely until sometime in 2018, Mr. Brookwood said.
Qualcomm plans to ship a 10-nanometer chip for mobile phones in the first half of 2017, followed later the same year by the server version.
Qualcomm is "changing the whole paradigm," Mr. Brookwood said: It is using the latest production technology to produce server chips, and it is doing so a relatively short time after the first fruits of that technology have arrived.
Still, Intel's advantages are daunting. It accounts for nearly 100% of chips sold using the so-called x86 instructions that are a foundation for nearly all commercial software. The x86 technology was used in 99.3% of all servers sold in the first three quarters of 2016, the research firm International Data Corp. estimated.
Advanced Micro Devices, which also uses the x86 instructions, is expected to counterattack this year with a new server chip dubbed Zen.
Although x86 and ARM chips employ different instruction sets, AMD's entry is likely to increase the headwinds for Qualcomm and other users of ARM technology, several of which have fielded server chips already but haven't made much headway.
"There has been a lot of hype about ARM in the data center, but very few deployments," an Intel spokesman said, while adding that the company operates in "a highly competitive market and take all competitors seriously."
One issue is that switching to ARM-based servers in many cases requires software changes that many customers are unwilling or unable to make, Mr. Brookwood said. But the biggest web companies, such as Google Inc. and Facebook Inc., have the ability to modify their software and an incentive to encourage chip makers to compete on technical features and price.
"Choice is a good thing for them," said Anand Chandrasekher, the senior vice president and general manager who has headed Qualcomm's server chip effort for four years. The web companies want to "accelerate innovation into the marketplace," he said.
Write to Don Clark at don.clark@wsj.com