QIAGEN NV Continues Its Turnaround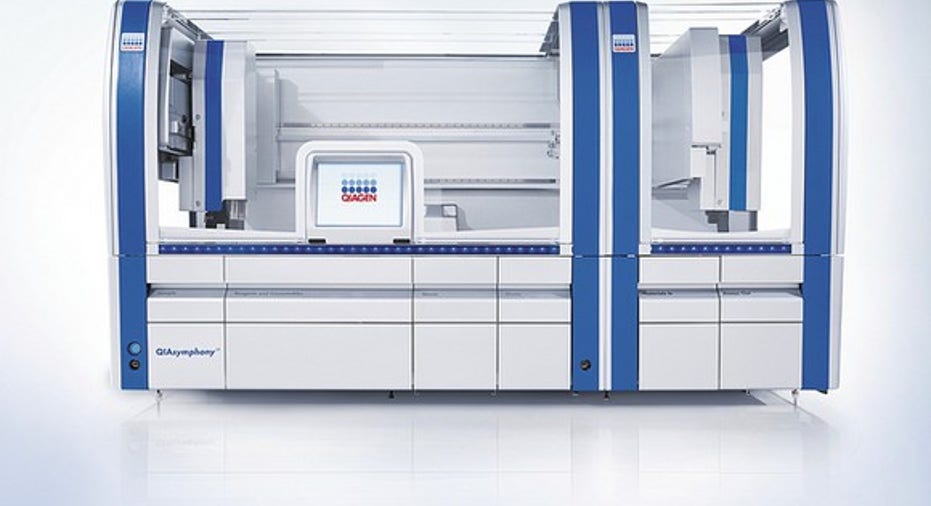 Qiagen (NASDAQ: QGEN) continued its turnaround, with new products overshadowing falling U.S. HPV test sales in the fourth quarter, and a nice increase in earnings -- at least on an adjusted basis.
Image source: Qiagen.
Qiagen results: The raw numbers
| Metric | Q4 2016 | Q4 2015 | Year-Over-Year Change |
| --- | --- | --- | --- |
| Revenue | $366.5 million | $348.5 million | 5% |
| Income from operations | $4.2 million | $57.2 million | (93%) |
| Earnings per share | $0.04 | $0.21 | (81%) |
Data source: Qiagen.
What happened with Qiagen this quarter?
Revenue would have been up 8% at constant exchange rates. The acquisitions of MO BIO and Exiqon provided three percentage points of that growth.
Qiagen's molecular diagnostics segment, which makes up 50% of sales, had a nice quarter, increasing 11% at constant exchange rates thanks to growing sales of its QuantiFERON latent tuberculosis (TB) test.
The company exceeded its 2016 goal of 1,750 cumulative placements of QIAsymphony systems. The installed base is providing a nice double-digit growth in consumables used on the systems.
U.S. HPV test sales fell another 4%, but they've become such a small part of Qiagen's revenue that the decline wasn't particularly meaningful.
The new GeneReader NGS System has captured more than 10% of the market for new benchtop sequencers in oncology applications.
Much of the increased sales is coming from overseas, with Europe/Middle East/Africa combined up 10% at constant exchange rates, and Asia-Pacific/Japan combined up 14% at constant exchange rates.
While the GAAP (generally accepted accounting principles) income and earnings numbers look horrible, they include restructuring costs. Excluding those costs and other things like intangibles amortization on acquisitions, adjusted operating income was up 21% year over year, and adjusted earnings per share were up 22% to $0.39.
What management had to say
Roland Sackers, Qiagen's CFO, said the company could keep its cash conversion rate above 100%: "Looking forward, we feel, I would say, quite good about our cash flow generation opportunities because, on the one side, we have a nice operations globally where we could still see leverage opportunities and therefore no really significant need for larger general capital investments."
The QuantiFERON-TB Gold test was selected by the Republic of Korea Armed Forces for the screening of recruits in 2017, which CEO Peer Schatz sees as a "signaling effect" to other countries looking to eradicate tuberculosis. "I could list at least a dozen that are looking at larger things and many more beyond that," Schatz said, when asked if other countries are considering initiatives to identify patients with latent TB.
Looking forward
Management is guiding for sales to increase 4% to 5% at constant exchange rates in the first quarter, with adjusted earnings expected in the range of $0.18 to $0.20 per share at constant exchange rates.
For the entire year, guidance is for adjusted sales growth of 6% to 7% at constant exchange rates. According to management, adjusted earnings should come in at $1.25 to $1.27 per share, substantially higher than the $0.87 per share earned last year.
New chemistry for the GeneReader NGS System, to avoid Illumina's U.S. patents, is expected to be available this quarter. The company also plans to roll out new gene panels and customized panels this year, and upgrade performance, with the hopes of increasing its overall market share to 20% by 2020.
10 stocks we like better than QIAGEN When investing geniuses David and Tom Gardner have a stock tip, it can pay to listen. After all, the newsletter they have run for over a decade, Motley Fool Stock Advisor, has tripled the market.*
David and Tom just revealed what they believe are the 10 best stocks for investors to buy right now... and Qiagen wasn't one of them! That's right -- they think these 10 stocks are even better buys.
Click here to learn about these picks!
*Stock Advisor returns as of January 4, 2017
Brian Orelli has no position in any stocks mentioned. The Motley Fool owns shares of and recommends Illumina. The Motley Fool recommends Qiagen. The Motley Fool has a disclosure policy.