Qaddafi Army, Rebels Duel, Oil Tanks Hit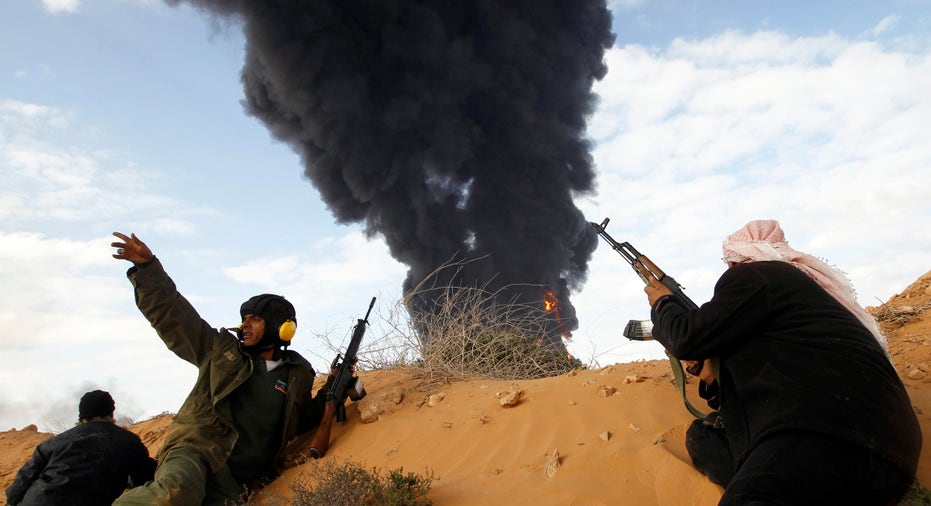 Forces loyal to Muammar al-Qaddafi launched a bombardment near rebel positions around the east Libyan oil terminal of Es Sider on Wednesday, blowing up storage tanks at the facility.
Rebels retaliated by firing back with rockets as a fireball exploded from one of the oil tanks and the sky above the terminal filled with black smoke. A witness said one of the smoke plumes was the biggest he had seen in the conflict so far.
It was not clear if an air strike, rockets or artillery had caused the explosions at Es Sidr. Rebels blamed al-Qaddafi forces.
An air strike was reported on the nearby oil town of Ras Lanuf, which has sustained several attacks in the past days.
Rebels fired anti-aircraft guns at warplanes high overhead.
Rebel forces retreated from Es Sider, a town they controlled, after the volley from the direction of the town of Bin Jawad where pro-al-Qaddafi forces had dug in. In the past the rebels have returned once firing has finished.
After having fired their rockets, rebels turned away and drove off their multiple-rocket launcher to reload before returning to the front line along a barren stretch of desert and scrub about 550 km (340 miles) east of Tripoli between Bin Jawad and Ras Lanuf.
Rebels had earlier staged periodic hit-and-run attacks on dug-in Gaddafi forces and resupplied their front line with guns and ammunition.
At a rebel checkpoint at Ras Lanuf, there were six anti-aircraft guns, two mortar launchers and boxes of ammunition at the gate waiting to go forward.
"We're in a defensive position right now because of the heavy artillery ahead. We moved forward another five km (three miles)," rebel Colonel Masoud Mohammed.
REBEL PUSH BLOCKED
Rebel fighters were buoyed by three victories as they stormed west after forcing Gaddafi troops to flee the city of Benghazi mid-February, but the push to take the leader's hometown of Sirte was stopped in its tracks by planes and tanks.
Rebel fighters are armed with heavy machine guns, rocket propelled grenade launchers and anti-tank and aircraft weapons, often mounted on 4x4 pick-up trucks. But Gaddafi has deployed warplanes and heavy armour against his rivals.
A Reuters correspondent saw an armoured personnel carrier travelling away from the front. Another two sources, unarmed rebel volunteers, said there had been minor skirmishes at the front line at dawn, but no major military confrontations.
A rebel coordinator was giving instructions to fighters who had been armed with heat-seeking Sam 7 missiles: "Fire your missile, then fall back."
There was plenty of frustration expressed at the West's caution about installing a no-fly zone to ground Gaddafi's warplanes which would stop air strikes and prevent his commanders from ferrying troops by air.
"I really wish we had a no-fly zone. The foreign powers must have a deal with Gaddafi over oil," Nasr Shelmieh told Reuters.
"They had a no-fly zone in Iraq. Why is al-Qaddafi their darling and Saddam Hussein was not?" volunteer Naji Saleh said near Ras Lanuf, referring to the air exclusion zone imposed on Iraq for more than a decade.
MORE DISCIPLINE
"There's much more discipline," one witness said of the rebel fighters. "Much less show off shooting too."
In one group, some rebels had just read out a message from unnamed Islamic scholars. The scholars said: "Protect the secrecy of our plans and movements from journalists ... We confirm the importance of orders in the field."
Their message was: "We forbid random movement and firing," adding: "You must obey orders in the field."
The rebels were forbidding journalists from moving along to the front line.
In the rebel-held stronghold of Benghazi, Libya's second city where the uprising started in mid-February, loudspeakers at the court house headquarters beseeched God to protect "revolutionary fighters in Zawiyah."
The body of a Benghazi man killed in fighting around the oil town of Ras Lanuf while fighting arrived from the front and his coffin was placed before the courthouse where about 400 people were gathered.
Women ululated, often done in celebrations. "This is a kind of celebration, because he died in God's service," said Faraj Saber, a business consultant, 48.
There was a protest of about 50 children in front of the courthouse, some with their mothers.One of the children read a speech from the first floor window of the courthouse.
"Libya has always been fearless and determined in the eyes of her enemies," the child said, adding: "Libya flies its flag with pride and freedom in the face of darkness ... We will not surrender. We will die with honour."