Q&A: World Trade Organization's role in Trump trade tussle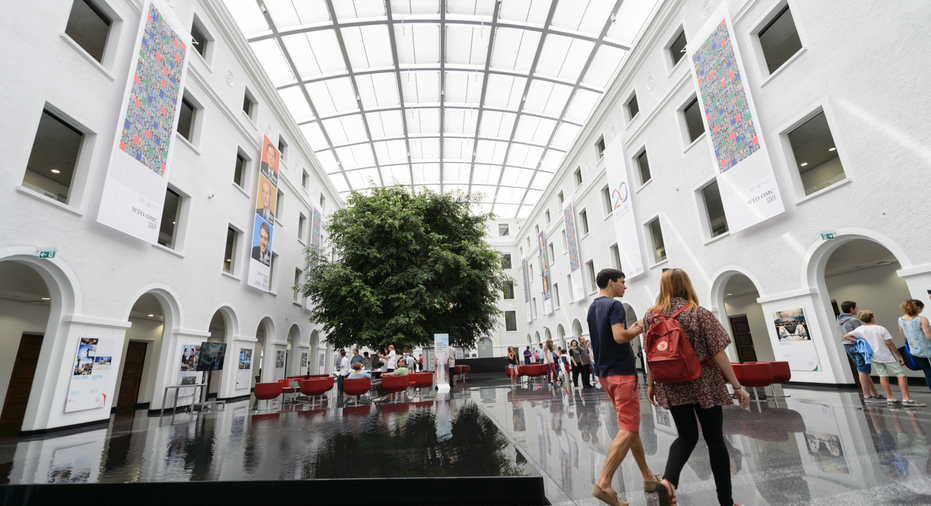 U.S. President Donald Trump's decision to slap tariffs on imports of aluminum and steel has drawn scorn and concern from around the world, and nowhere less than in the stately lakeside offices of the World Trade Organization in Geneva.
The WTO sees the tariffs as a new threat to the global trade order it was created over two decades ago to oversee by setting rules and solving disputes.
Ever since the campaign trail, Trump has threatened to pull the world's largest economy out of the WTO, which the United States was instrumental in building in the first place.
Alan Wolff, the American who serves as deputy director-general at the WTO, says there are "serious risks to the world trading system" if major countries embrace conflict over cooperation.
But "it is far too early to make arrangements for the WTO's funeral," he wrote in a post on the Council of Foreign Relations' web site.
Here's a look at the WTO, and what's its role will be in the trade tussle.
___
WHAT IS IT?
Launched Jan. 1, 1995 as the successor to the General Agreement on Tariffs and Trade, the WTO has a mission to facilitate free and fair trade through the establishment of rules, settling of disputes, and getting countries to talk to work out their differences. The 164 member-state body has courted controversy over the years, notably as a bugaboo of anti-globalists who see it as an emblem of the injustices and exploitation that can be wrought by capitalism.
___
IS TRUMP BREAKING WTO RULES WITH THE TARIFFS?
Officials at the trade body say it's too early to tell whether the United States is violating the organization's rules, mainly because it hasn't received a formal filing. Countries that allege the U.S. is acting unfairly can use WTO councils, committees and its dispute settlement system — which essentially rules on trade squabbles — to seek and obtain redress.
Trump is justifying his moves, at least officially, on grounds of national security. WTO rules allow a country to set tariffs for national security reasons, though it has so far never ruled on a case when that exception was invoked.
Trump argues the United States needs robust steel and aluminum industries to reinforce domestic production of warships, fighter planes and other national defense requirements. The European Union counters that the U.S. move is more about protecting U.S. companies, not national security.
___
WILL COUNTRIES USE THE WTO TO STRIKE BACK?
In all likelihood, yes.
The Trump administration's move to slap 25 percent tariffs on imported steel and 10 percent on imported aluminum is set to take effect by the end of next week.
The next move would be in the hands of WTO member states. They may decide to use WTO mechanisms that could allow for retaliatory tariffs against the U.S. to challenge Trump's decision.
WTO Director-General Roberto Azevedo last week warned members to be careful: "Once we start down this path, it will be very difficult to reverse direction. Then eye for an eye will leave us all blind and the world in deep recession."
No decisions have yet been taken, however, and there is still time for dialogue, WTO officials say.
___
HOW BIG WOULD THE RETALIATION BE UNDER THE WTO?
Countries could fight back with tariffs on U.S. goods worth a sum equivalent to the trading loss they would suffer from the U.S. tariffs.
Chad Bown, of the Peterson Institute for International Economics, has used information provided by the Trump administration to estimate that would be $14.2 billion per year.
His projection includes a possible $3.2 billion impact on Canada — the largest single provider of foreign steel to the United States — as well as $2.6 billion on the EU, $1.1 billion on South Korea and $1 billion on Mexico. China, he writes, would only suffer $689 million in estimated trade losses. Canada and Mexico appear likely to get an exemption, and other countries and trading partners have been seeking exemptions, too.
The EU says it's prepared to respond with "rebalancing" tariffs on about 2.8 billion euros ($3.4 billion) worth of U.S. steel as well as farm and other products like peanut butter, cranberries and orange juice. The EU argues that under WTO rules, it would have 90 days to enact its own measures once Trump's tariffs come into force.
___
COULD THE WTO BE USED TO MAKE THE U.S. BACK OFF TARIFFS?
Yes, though it could take a while.
If a U.S. trading partner wants to go through the WTO's dispute settlement process, it could make a "request for consultations" that would start a 60-day period to talk about the issue.
If there's no deal, it could ask a dispute panel to rule on the tariffs — which generally takes about 18 months. An Airbus-Boeing dispute, for example, has been going on for more than a decade.
Ultimately, the judges in the WTO's dispute settlement process could rule that the United States should end the tariffs. Washington could refuse to implement such a ruling, but would then face the possibility of sanctions.
At the very least, Trump is buying time: it can take months or even years before disputes get resolved through WTO bodies or are settled outside between the sides. At times, the disputes simply fizzle as participants lose the ambition to resolve them.
His administration has already caused headaches for the WTO's dispute settlement process: It has balked at appointing new members to the seven-member appellate body, which now has only four members. In practice, that slows the body's ability to rule on disputes.