Q&A: How Trump says he'll break from his business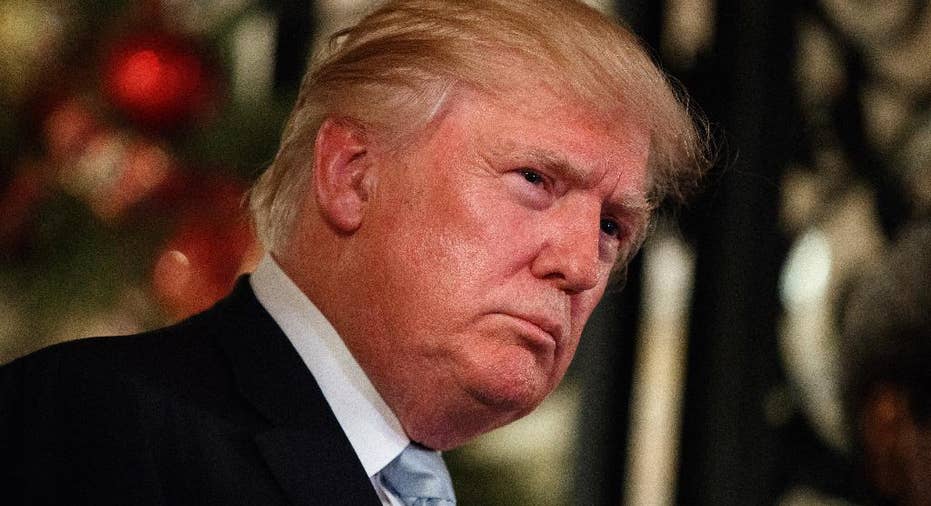 Donald Trump says he is leaving his famed business behind.
Well, sort of.
That is the muddled message from the president-elect's news conference Wednesday about plans to separate himself from his business while in office to avoid conflicts of interest.
Trump and his lawyer portrayed his moves as extraordinary. Ethics lawyers who've worked with previous presidents in both parties had other opinions: uninspiring, inadequate.
The clash of views reflects different ideas of what "separation" should mean and how far Trump should go to avoid the desire for private profit coming before the pursuit of public good.
Trump says handing over management control, stopping international deals and appointing a watchdog of sorts to monitor conflicts is enough, and far more than required under law. His critics say that he should do what most modern presidents have done: sell his business holdings completely.
A look at what Trump says he'll do, and why the debate over it is so heated and important:
__
WHAT DOES TRUMP'S PLAN INCLUDE?
Trump outlined three parts to allay conflicts.
First, he said he will put his business assets in a trust and hand over management control of his company to his two adult sons and a longtime Trump Organization executive. Second, he has vowed to wall himself off from communications about his company, including discussing it with his children. Third, he promised no new deals overseas. The company will also appoint an ethics officer who would have to approve any deals in the U.S. that would raise concerns about conflicts.
Trump announced several smaller moves, like a liquidation of his securities portfolio. He also said he would also donate any profits from foreign government payments at his hotels to the U.S. Treasury.
At the news conference, Sheri Dillon, an attorney who helped prepare the Trump plan, called the steps "extraordinary."
"President-elect Trump wants there to be no doubt in the minds of the American public that he is completely isolating himself from his business interests," she said.
___
SO WHAT IS THE PROBLEM HERE?
Ethics lawyers who have worked for presidents in both parties say the plan leaves Trump far too open to shape regulations, taxes and foreign policy to enrich himself, and for other people to try to curry favor with him. He has hotels and resorts in the U.S. that can be sued in U.S. courts and must follow labor regulations. As president, he will appoint people with big influence over those areas.
Foreign governments could create plenty of trouble, too. They could seek to influence him by rewarding or punishing his business interests in their countries. Trump has struck deals for hotels, residential towers and resorts in South Korea, the Philippines, Uruguay, Turkey and many other countries.
Even if Trump always acts in the public interest, these legal experts say, there will be damage. Rightly or wrongly, people will harbor doubts about the real motives behind U.S. policy, and all the second guessing could compromise the moral authority of the office of the president.
Walter Shaub, the director of the Office of Government Ethics, pointed to this ephemeral, crucial quality of a president in a speech following Trump's news conference.
"Officials in any administration need their president to show them that ethics matters, not only through words but through deeds," he said.
___
SO WHAT CAN TRUMP DO?
Ethics lawyers say he should follow the precedent of previous presidents and sell his holdings, though it's not clear that would be easy.
President Jimmy Carter sold his Georgia peanut farm when he took office. Soon after he was inaugurated, Ronald Reagan cashed out his personal holdings — worth about $740,000 — and put the money in a blind trust.
Trump's holdings are far bigger, and far more complex.
With interests in hundreds of companies in about 20 countries, no modern president comes close to having owned so much, and had it spread so far around the globe.
Real estate can't be sold quickly like stocks, and it would be difficult to separate the Trump buildings from his gilded name above their entrances. But aside from that, Trump lawyer Dillon said, selling would raise the ethical question of whether the price he was receiving was a fair one, or one designed to gain advantage with the new president.
She also said moving too quickly could create a "fire sale" environment that devalued the company to which he has dedicated his entire adult life.
"President-elect Trump should not be expected to destroy the company he built," said Dillon, a lawyer at with the firm Morgan Lewis & Bockius.
___
SO IS THIS THE LAST WE'LL HEAR OF TRUMP'S PLANS?
Hopefully not, given all the unanswered questions from the bare-bones plan outlined.
Trump says he will donate profits from hotel stays by foreign diplomats to the U.S. Treasury, but how is Trump defining profits? Will there be any tax benefit accruing to his business from the donation and, if so, doesn't that compromise his position as president? Will there be any way of checking that Trump doesn't talk to his sons about the company?
It's possible that Trump may alter his plan. In his speech, OGE's Shaub did strike an optimistic note. He said he would be happy to provide Trump "constructive feedback" should he change his mind.
___
Bykowicz contributed from Washington.