Protester in Trump rally scuffle denies being Clinton plant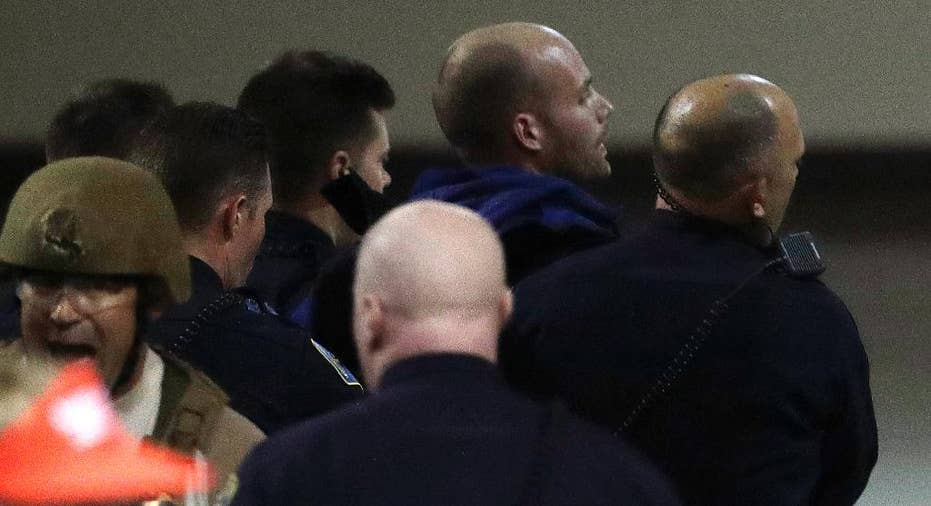 A protester involved in a scuffle at a Donald Trump rally in Reno, Nevada denied accusations Sunday that he is an operative for Democrats.
"It's absolutely ludicrous," Austyn Crites said in a phone interview with The Associated Press. "I stand by my principles, and that's the reason why I felt compelled to go in there to hold up the sign."
The registered Republican was holding a "Republicans Against Trump" sign at the Saturday night rally while the GOP nominee for president spoke. A disturbance broke out and two Secret Service agents surrounded Trump and whisked him away.
The candidate returned later to finish his remarks.
Trump campaign manager Kellyanne Conway told CNN the protester was "a Democratic plant or operative" but offered no details or proof.
Crites, 33, said he has donated money to Clinton's campaign and canvassed for her last week for "a total of three hours." But he has never met with Clinton or any campaign aides.
In a statement, the Secret Service said a person in front of the stage had shouted "Gun!" but that no weapon was found after a search of the person and the immediate area. The agency did not identify the person when reached Sunday. But the investigation into the incident remains ongoing.
According to Crites, he was getting booed when things suddenly turned violent. People grabbed at his arms to get the sign down and then someone tackled him. He said that's when people kicked him and even grabbed at his crotch.
"As I'm down there being choked, I hear something about a gun," Crites said. "I'm telling people 'There is no gun, there is no gun. There's just a sign. I only have a sign.'"
Secret Service agents and Reno police took him to a backstage area and found no weapon on him. He was released after about an hour and a half.
Since the incident, Crites said he has been the subject of conspiracy theories and negative messages from online trolls. Crites said his Facebook page was deactivated after someone reported that it belonged to an impostor.
Crites said he would be supporting the GOP if another Republican — such as Sen. Ted Cruz or Sen. Marco Rubio — was running.
"I actually liked Donald Trump when he was just a businessman who wrote about business," Crites said. "There was no ill will toward this man whatsoever until he started divisive rhetoric which I have zero tolerance for."