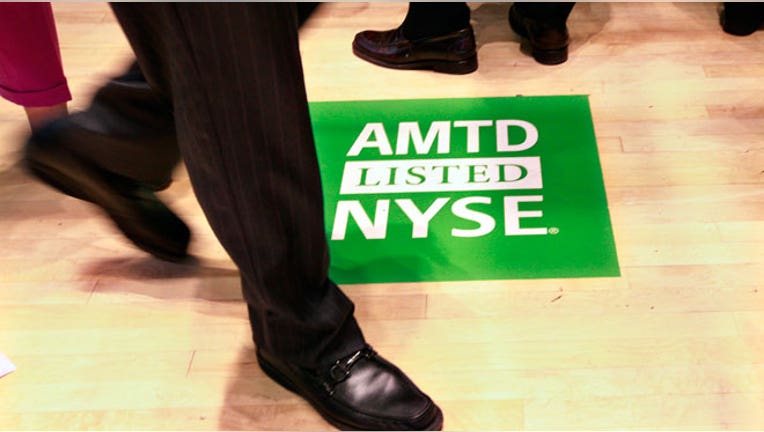 Despite swelling total assets, online brokerage TD Ameritrade (NASDAQ:AMTD) logged a 3.3% dip in fiscal first-quarter earnings on Tuesday as transaction revenue dipped.
Still, shares of TD Ameritrade jumped 2% in early trading as the quarterly results surpassed Wall Street's expectations.
The company said it earned $147 million last quarter, compared with $152 million in the year-earlier period. On a per-share basis, earnings were unchanged at 27 cents. Analysts had been calling for EPS of 24 cents.
Revenue inched down 0.3% to $651 million, topping the Street's view of $636 million.
"In the face of continued investor uncertainty, we maintained our strong organic growth momentum and had record sales of guidance and advice solutions, all while keeping our expenses in check," CEO Fred Tomczyk said in a statement.
The brokerage said its commissions and transaction fee revenue dropped 5.9% to $273 million.
On the other hand, TD Ameritrade reported record net new client assets of about $16 billion, representing an annualized growth rate of 13%. Client assets now stand at about $481 billion, up 18% year-over year.
"Strong cash flow, combined with a clean and stable balance sheet gives us the flexibility to return or deploy capital to the benefit of our shareholders while maintaining our ability to be opportunistic," Tomczyk said.
Shares of Omaha-based TD Ameritrade rallied 3.09% to $19.02 Tuesday morning, leaving them up a hefty 13% so far this year.
Rival E*Trade Financial (NASDAQ:ETFC), which is set to report results on Thursday, has gained 14% in 2013.