Priceline Stock Gets 2 Buy Ratings in 2 Days: 3 Things You Need to Know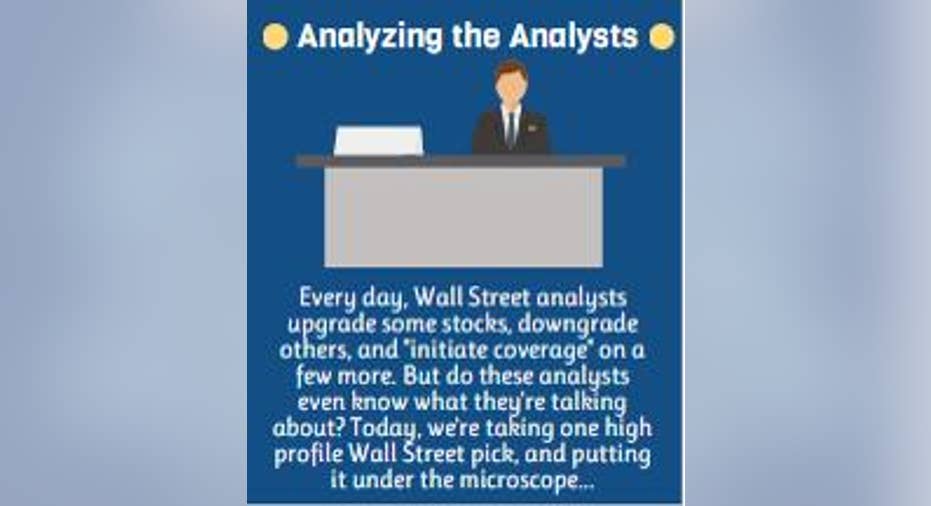 The stock market is down over the past year, butPriceline Group stock is up. Up 16% in fact, and according to two of Wall Street's best and brightest minds, there are more gains in store.
Yesterday, analysts at Piper Jaffray reiterated their buy rating on Priceline stock, and insisted the shares, which cost $1,368 per share today, are worth at least $1,500. As related in a note on StreetInsider.com, Piper believes that "bookings and operating margin guidance" coming out of Priceline lately are "overly conservative." And this, according to the analyst, creates "a favorable risk/reward" for the stock as Priceline is unlikely to do worse than it has told investors to expect -- but could very well do better.
That opinion appears to have convinced a second analyst, Barclays Capital, to rate Priceline a buy as well. Echoing Piper's sentiments, Barclays this morning announced that it is also upgrading Priceline stock to overweight -- and assigning the very same $1,500 price target to the shares.
Here are three things you need to know about the new upgrade.
In addition to its namesake site, Priceline boasts five other online booking sites, including Kayak and OpenTable. Image source: Priceline Group.
Thing No. 1: Why so glum, chum?
Echoing what Piper wrote yesterday, Barclays blames "disappointing" second quarter guidance from Priceline itself for investors' "excessively pessimistic outlook [regarding] lower demand and margin pressures."
It doesn't help, of course, that according to data from S&P Global Market Intelligence, Priceline's gross marginwasin fact down from Q3 2015 in Q4, and flat against Q4 in Q1 -- and that operating profit margins were down sequentially in both of the past two quarters. Given the recent history, projections of the trend continuing in future quarters don't seem very far-fetched.
Thing No. 2: This, too, shall pass
And yet, as Barclays explains in a write-up covered by TheFly.com this morning, this is an "overly bearish" view of what's likely to happen. As Barclays reports, demand problems at Priceline were tied to the shifting dates of Ramadan this year, and the timing of global sporting events (Euro 2016, the Copa America 2016, and of course, the Olympics) which affect the timing of travel. Once these events pass, Barclays sees demand for Priceline's services stabilizing, and profit margins returning to growth over the longer term.
In fact, Barclays believes a surge in travel could begin to re-emerge as early as Q3, or even late Q2.
Thing No. 3: What the heck is a "take rate"?
One final factor that convinces Barclays that its call is the right call (and that Piper Jaffray got it right as well), is something called a "take rate." This refers to the rate at which potential customers who log on to Priceline and are presented with an offer to buy tickets, rent a car, or reserve a hotel room, and take Priceline up on the offer.
It's usually expressed as a percentage-- number of accepted offers divided by number of contacts with the consumer. And according to Barclays, this percentage has begun stabilizing. Revenue and profit margin should logically follow suit in short order.
The most important thing: Valuation
Whether or not you agree with Barclays' and Piper Jaffray's views of how business is shaping up at Priceline.com today, here's one thing we should all be able to agree on (but may not):
According to Barclays, a fair price to pay for Priceline stock historically has been the stock's P/E ratio divided by its long-term growth rate = 1 -- the fabled 1.0 PEG ratio. Currently, Priceline stock sells for a P/E ratio of 27, which means that if the stock is growing its profits at 27% or so a year, then it should be a safe time to buy Priceline.
But here's the thing: Most analysts who follow Priceline stock do not believe it will grow at 27% -- but rather, at 15.5%. Fact is, even valuing Priceline on prospective profits rather than actual profits (a practice I would not recommend), Priceline's forward P/E ratio of 17.5 still isn't quite cheap enough to justify a buy rating on a 15.5% growth rate.
When you get right down to it, then, I'm honestly not sure why Barclays is even attempting to make a valuation argument in favor of Priceline stock today. Even if the analyst is right about the downward trend in demand and profit margin reversing, the price still doesn't look right -- and it's not yet time to buy Priceline stock.
The article Priceline Stock Gets 2 Buy Ratings in 2 Days: 3 Things You Need to Know originally appeared on Fool.com.
Fool contributorRich Smithdoes not own shares of, nor is he short, any company named above. You can find him onMotley Fool CAPS, publicly pontificating under the handleTMFDitty, where he currently ranks No. 288 out of more than 75,000 rated members.The Motley Fool owns shares of and recommends Priceline Group. Try any of our Foolish newsletter services free for 30 days. We Fools may not all hold the same opinions, but we all believe that considering a diverse range of insights makes us better investors. The Motley Fool has a disclosure policy.
Copyright 1995 - 2016 The Motley Fool, LLC. All rights reserved. The Motley Fool has a disclosure policy.